Critic's Notebook: Golden Globes Winner Predictions From 'Mrs. Maisel' to 'Handmaid's Tale'
Happy new awards year! With the star-studded Golden Globes upon us (Sunday, January 7 on NBC), let's try to make sense of the top TV nominations—which, as usual with the quirky Hollywood Foreign Press Association, are rife with shocks and surprising newcomers, many deserving. If you're playing along, it never hurts to take a few leaps of faith. The Globes often zag where the Emmys zig, though this year there may be more overlap than usual.
BEST COMEDY
This category is the Globes at their least predictable, welcoming two brand-new shows barely a month old when nominated: Amazon's delightful period piece The Marvelous Mrs. Maisel and Showtime's gritty SMILF. Also in the mix: NBC's sparkling revival of Will & Grace, which earned 27 Globe nods during its initial run but never won. Netflix's lustrous and cinematic Master of None brings welcome diversity along with ABC's repeat nominee black-ish. Most shocking snub: HBO's Emmy darling Veep was completely shut out, but at least it's well represented in the Screen Actors Guild (SAG) Awards nominations later this month.
Should Win: Master of None Most Likely to Win: The Marvelous Mrs. Maisel (The Globes love Amazon, having honored Transparent and Mozart in the Jungle in past years.)
BEST DRAMA
With one very notable exception, this is the same list as last year, and the question is whether the Globes will follow Emmy's lead and reward Hulu's harrowing breakout hit The Handmaid's Tale. Netflix's The Crown won a year ago and remains a viable alternative, although NBC's This Is Us, the Stranger Things sequel on Netflix and the spectacular penultimate season of HBO's Game of Thrones are considerably buzzier.
Should and Most Likely to Win: The Handmaid's Tale, for its #MeToo relevance.
BEST ACTRESS IN A COMEDY
Insecure's Issa Rae is the sole holdover from last year, and the Globes' reputation for singling out fresh talent (like Jane the Virgin's Gina Rodriguez and Crazy Ex-Girlfriend's Rachel Bloom) could give the edge to The Marvelous Mrs. Maisel's brash star, Rachel Brosnahan, or SMILF's prickly Frankie Shaw. First-time nominee Pamela Adlon (Better Things) is the auteur of the group, directing every painfully funny episode of her second season. But of this group, only GLOW's Alison Brie managed to wrestle her way to a SAG Award nomination.
Should Win: Adlon Most Likely to Win: Brosnahan
BEST ACTOR IN A COMEDY
Eric McCormack is the only Will & Grace star nominated, but even cohosting a recent Globes anniversary special may not help him rise above competition that includes Master of None's Aziz Ansari, repeat nominees Anthony Anderson (black-ish) and William H. Macy (Shameless), and dark horse Kevin Bacon of Amazon's I Love Dick. Last year's winner, Atlanta's Donald Glover, wasn't eligible, but Ansari is the sort of comic visionary this category was created for.
Should and Most Likely to Win: Ansari
BEST ACTRESS IN A DRAMA
One of the tough toss-ups, pitting last year's regal victor (Claire Foy of The Crown) against Emmy champ Elisabeth Moss (The Handmaid's Tale), who's the odds-on favorite. But Maggie Gyllenhaal's dynamic performance as a prostitute in HBO's The Deuce could be a spoiler, and Globes voters are just unpredictable enough to finally go for Outlander's Caitriona Balfe on her third try. While Katherine Langford of Netflix's 13 Reasons Why seems a long shot, the Globes are known for singling out young talent. And where's Laura Linney of Ozark?
Should and Most Likely to Win: Moss
BEST ACTOR IN A DRAMA
Freddie Highmore could be a Globes poster boy. After being ignored for five seasons as the deranged young Norman Bates on Bates Motel, Freddie Highmore is suddenly an overnight sensation, movingly carrying network TV's biggest new breakout hit as an autistic savant surgeon on ABC's The Good Doctor. Steep competition includes This Is Us Emmy winner Sterling K. Brown, returnees Bob Odenkirk (Better Call Saul) and Liev Schreiber (Ray Donovan), and a sneaky sleeper candidate in Ozark's wry Jason Bateman.
Should Win: Highmore or Brown Most Likely to Win: Highmore
BEST LIMITED SERIES/TV MOVIE
In a repeat of the Emmys, it's a diva-licious showdown between HBO's addictive Big Little Lies (the most nominated show, with six) and FX's caustic Feud: Bette and Joan (with four). USA's darkly disturbing The Sinner is a surprise entry, but like FX's Fargo and SundanceTV's disappointing Top of the Lake: China Girl sequel, it isn't likely to make much noise.
Should Win: Feud Most Likely to Win: Big Little Lies
BEST ACTRESS, LIMITED SERIES/TV MOVIE Again, it's an Oscar-heavy face-off between the ladies of Lies (Emmy winner Nicole Kidman and Reese Witherspoon) and the Feud femmes (Jessica Lange and Susan Sarandon), with Sinner's Jessica Biel the odd murderess out. Lies and Kidman have the momentum, but maybe the 75-year-old institution will have the perspective to recognize Lange's astonishing transformation into the doomed Joan Crawford.
Should Win: Lange Most Likely to Win: Kidman
BEST ACTOR, LIMITED SERIES/TV MOVIE
Anyone's guess. Robert De Niro was surprisingly denied an Emmy for his chilling work as Bernie Madoff in HBO's The Wizard of Lies, but he could be upstaged again by a strong crop: Geoffrey Rush as Genius's Albert Einstein, Jude Law's charismatic The Young Pope and, in tour de force multiple roles, Ewan McGregor (Fargo) and Kyle MacLachlan (Twin Peaks: The Return). MacLachlan won for the original series in 1991, so don't be shocked if there's a repeat.
Should Win: De Niro Most Likely to Win: MacLachlan (but which one?)
BEST ACTRESS IN A SUPPORTING ROLE
If the Globes, like the Emmys, go on an expected Big Little Lies sweep, look for Laura Dern to repeat her Emmy win opposite co-star Shailene Woodley. But this perpetually puzzling mixed-bag category, featuring players from episodic series as well as movies and minis, pits then against another Emmy winner, The Handmaid's Tale's fierce Ann Dowd, as well as This Is Us repeat nominee Chrissie Metz (overdue a win anywhere) and Wizard of Lies' Michelle Pfeiffer.
Should Win: Dowd Most Likely to Win: Dern
BEST ACTOR IN A SUPPORTING ROLE
One former winner in this category (Mr. Robot's Christian Slater) and an Emmy winner (Lies's Alexander Skarsgard) take on Feud's Alfred Molina, Stranger Things' David Harbour and Fargo's snaggle-toothed scene-stealing villain, David Thewlis, who most years would be a shoo-in.
Should Win: Thewlis Most Likely to Win: Skarsgard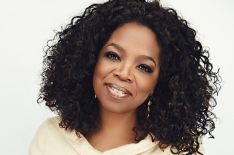 See Also
Watch the clip where Morgan Freeman makes the announcement about Oprah's award!
75th Golden Globes Awards, Sunday, January 7, 8/7c, NBC