Roush Review: 'Feud: Bette and Joan' Revisits a Catfight for the Ages
In Hollywood, hell hath no fury like a desperate diva.
And while Ryan Murphy's deliciously vicious Feud: Bette and Joan wallows in the outrageous spectacle of legendary actresses sparring in a catfight of epic bitchiness, the eight-part series saves its true venom for a merciless boys'-club movie industry that abandons its fading stars, manipulating and
exploiting them for publicity and profit.
"I came here for red meat, not pabulum," snaps viper vulture columnist Hedda Hopper (the brilliantly brittle Judy Davis), representing all of us voyeurs tuning in to watch Bette Davis (Susan Sarandon) and Joan Crawford (Jessica Lange) go at it on the set of 1962 camp classic What Ever Happened to Baby Jane?
See Also
Ryan Murphy puts women on top in his latest anthology series 'Feud'
"Together, they're an event," promises the movie's embattled journeyman director Robert Aldrich (Alfred Molina), and he's not kidding. Feud doesn't disappoint in its vivid depiction of this rivalry for the ages. Sarandon nails with aplomb Bette's brash, blunt, no-bull warrior's bravado and pride in her craft as she fearlessly embraces the grotesque title role, seeking a career comeback and unapologetically coveting a third Oscar.
She has no patience for the neurotic paranoia of her costar, an embittered fallen silver-screen goddess. Lange is the true revelation here, allowing Joan's pathos to fester into pathology, playing without vanity a woman of supreme vanity, pickled in vodka and marinating in envy. This delusional Norma Desmond, who cloaks her mansion in plastic slipcovers, demands respect, especially from an unyielding Bette—"even if I have to kill both of us to get it," says Joan in one of many moments when Feud plays like an homage to the sort of "woman's picture" that made them famous.
That was then, this is the '60s, and everyone knows the macabre horror picture may be their last chance for relevance. The high stakes add a tragicomic sting to the shenanigans as the stars sabotage and smear each other in the press to the delight of a craven studio that has lost ground to TV.
It builds to Oscar night in the riveting fifth episode, with Bette nominated and Joan seething at being passed over. ("Define snub," Bette gloats.) What happens next escalates Feud into an all-out war, harrowing but magnificently entertaining.
Feud: Bette and Joan, Sundays, 10/9c, FX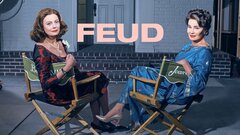 Powered by