Alexis Bledel Is Returning for 'The Handmaid's Tale' Season 2
Jeezus, hasn't Ofglen been through enough? Old Ofglen, obviously—a.k.a. Ofsteven, a.k.a. Emily.
On Thursday, Hulu announced that Alexis Bledel's character will be back for Season 2 of The Handmaid's Tale. Bledel's performance was one of the high points of the hit dystopian series, stunning viewers familiar with the actress from her role on Gilmore Girls.
The last we saw of her, Emily was being dragged out of a car she'd stolen, after running down a soldier with it repeatedly in a farmer's market as stunned—and probably inspired—Handmaids watched. Whatever happened to her next, well, it would have been just the latest atrocity the character had to endure. Over the course of the season, she, like all the Handmaids, would have undergone a literally torturous indoctrination process before being ritualistically raped every month. After being caught in a secret affair with one of the the "Marthas"—the class of women who serve as domestic servants under Gilead's theocratic regime—she was forced to watch her lover be hanged, and then, in one of the show's most unforgettably disturbing scenes, we learn that she was forced to undergo some sort of genital mutilation, presumably a cliterodechtomy. It seemed like a suitably tragic end for the character, until she returned a few episodes later.
In its first season, The Handmaid's Tale made a habit of dodging characters' untimely ends. Both after her brutal operation and her little joyride, it felt like that might be the last we'd see of Bledel's character. But the show keeps insisting on bringing her back. Janine (Madeline Brewer) seems similarly hard to kill. You'd think her swan dive into a freezing river would be the end of her, but no. And the religious psychos of Gilead definitely seem like they'd keep a braindead woman alive if she could still pump out babies, which is what it seemed like the show was implying when Aunt Lydia (Ann Dowd) visited the comatose Janine in the hospital. (Is that even medically possible? I don't really know how being braindead works, surprisingly.) Instead, there's Janine in the finale, avoiding another brutal exit from the show when the Handmaids refuse to stone her.
I guess there are a couple ways to think about this particular trend. The more cynical way to read these characters' persistence is that the producers aren't willing to kill off two of their most dynamic characters, even when it makes sense emotionally. Both Bledel and Brewer deliver captivating performances, and it really would be a shame to see the last of them on the show. But on the other hand, the show risks losing its impact if there's no risk to the characters. Each further horror begins to feel less potent if we can be confident that Emily and Janine will eventually pop up again to endure more.
On the other hand, you could choose to think that their continued survival is testament to their strength, their resilience. Some critics have expressed ambivalence about what Emily Nussbaum termed the "go-girl" element that the show has added to the story from Margaret Atwood's original novel. In the book, Offred (played in the show by Elisabeth Moss) is much more passive, much more ambivalent about feminism, particularly in her memories of her radical mother. It was more of a study in the small ways a woman kept herself from going insane. That theme of self preservation has been transformed in the show to a brewing collective resistance. Yes, it can feel heavy-handed at times. But maybe that's the kind of inspiration we need right now.
So, yes, maybe it would have made more sense for dramatically for the narrative to have left Emily, bereft and maddened at the end of Episode 3. But, seriously, is there anyone out there who doesn't want to see Alexis Bledel finally take some kind of really satisfying revenge on Aunt Lydia, the Commanders, the patriarchy? Maybe we'll get something like that in Season 2.
The Handmaid's Tale will return for Season 2 on Hulu.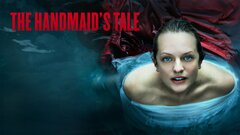 Powered by