'Insecure': 4 Ways Issa Dee's Dating Life Is Just Like Ours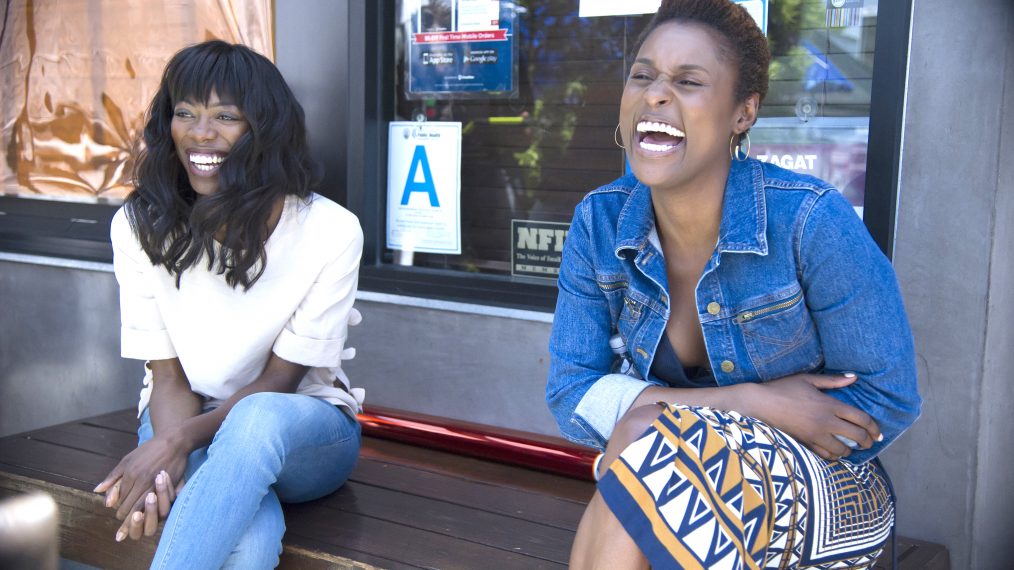 [Spoiler Alert: Some plot points from "Hella Great," the Season 2 premiere of Insecure, are discussed below.]
"Hella Great," the second season premiere of Insecure, documented the superficial nature of finding a mate, the awkwardness of that first date and the fleeting initial romance that can transition into a hookup. Interestingly, Master of None and Insecure both tackle the dating app culture in their second-season storylines. Dev (Aziz Ansari) gives us the male gaze point of view in Master, and Issa (Issa Rae) offers the gazed-at point of view in Insecure. It's all so awful, that the use of a dating app in the end causes both Dev and Issa to embrace the single life in their respective shows.
The pitfalls of resorting to dating apps is tragicomically familiar, and so in the Insecure Season 2 premiere, we could identify with Issa's single af struggles. Below are four familiar ways that her dating life is just like ours.
1. Self-editing on dating apps
Whether your go-to social media platform is Twitter or Snapchat, the version of ourselves we share on social media is curated to the point where the final edited version bears little relation to reality. In the season premiere, Issa goes on several dates that are doomed from the start. Issa isn't engaged in conversation with any of her counterparts and candidly bursts into freestyling about her infidelity with Lawrence (Jay Ellis). In the rap, Issa goes so far as to advise the men to not engage with her because she has unresolved tension with her ex-boyfriend. The rap was a fantasy she had about being honest with the men, but it's clear she didn't express herself fully and will be walled-off from closure until she addresses the drama with her ex-boyfriend.
2. Summarizing our personality attributes is limiting
Women and men are complicated. And it doesn't help that each thinks only the other side is complicated. Issa is frustrated by that when she interacts with men virtually; she thinks she has to come off as witty, sexy, confident, and demure all in the same sentence in order to hold their attention. If we based our other life decisions on our dating profiles, we would be a barely walking contradiction. And Issa isn't having any of that, and is vocal about the shortcomings of this complicated approach to dating.
3. Comparing every date or hookup to that with your ex
Comparing the standards that your ex met to every new date or hookup that follows your breakup is an unhealthy way to start fresh but seems an inevitable response to a split, as Issa learns. A rebound is not the way to go. Even if Lawrence was guilty of leaving the toilet seat up or staining their couch, Issa still feels partial to him because of their extended partnership.
4. Former partners can wedge themselves back into your life at the wrong time
This is a skeleton in the closet that plagues every romantic relationship in life. It's bound to happen, and Issa learns this the hard way. Like Issa's best friend Molly (Yvonne Orji) says, men only "want you back when they know you're doing good without them." It would be an exaggeration to say that Issa is doing roaring well without Lawrence, but she's surviving independently. At the end of the episode, Lawrence visits Issa in order to pick up his jury summons, as he could get put into jail if he doesn't respond. They end up having sex, but it's tense and uncomfortable to watch. Their reunion deserved more in-between time in order for them to confirm whether they were to ready to continue seeing other people or to commit to each other.
We encourage Issa to continue dating, but we ask one thing: that she responds to every awkward situation the way she fantasies about responding. Honesty— especially with yourself—can be very liberating.
Insecure, Sundays, 10:30/9:30c, HBO
Powered by