'The Flash,' 'The Good Doctor' & More TV Shows With Plans to Resume Production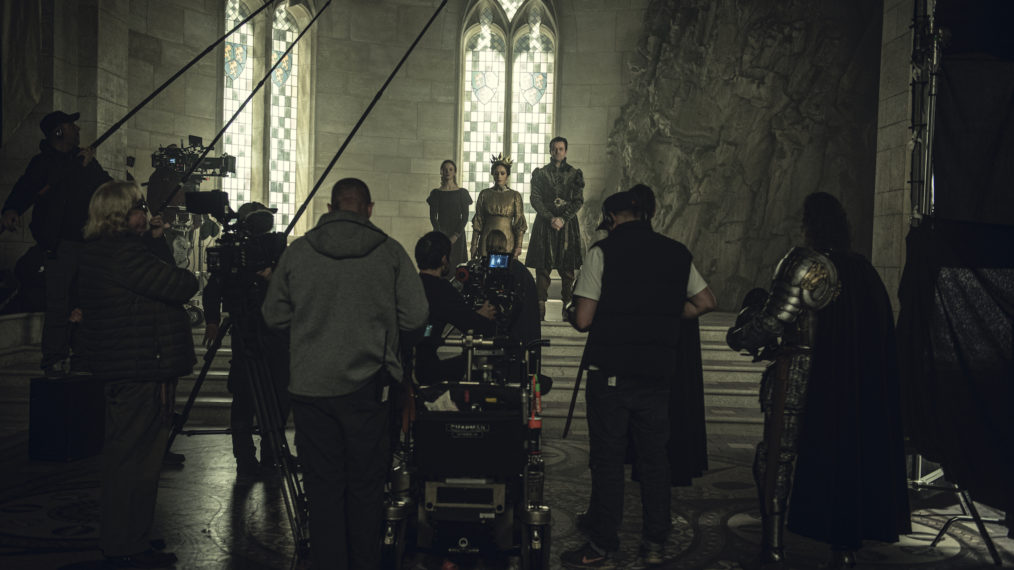 Due to the pandemic, production shut down on TV shows in March, but now, people are returning to work.
Guidelines are in place to ensure the health and safety of all involved, and some shows have their own as well. Here, we're keeping a list of which shows have already started filming again or have at least announced plans to do so.
See Also
A new survey reveals producers are split on whether to reflect our current reality or keep TV an escapist medium.
A Million Little Things
Production started on Season 3 on August 27.
All American
Production on Season 3 is set to start on September 28.
America's Got Talent
The NBC talent competition series filmed Judge Cuts for its 15th season, with some changes. Judges Simon Cowell, Howie Mandel, Heidi Klum, and Sofia Vergara were seated in accordance to social distancing guidelines, and they, host Terry Crews, and everyone else wore masks when not speaking on camera. The quarterfinals aired from August 11 through September 3, and the semifinals (also live) will begin September 8.
The Bachelorette
There may be quite a few question marks about the upcoming season—Is Clare Crawley out and Tayshia Adams in? There hasn't been an official announcement—but production has begun, with everyone quarantined at a resort in California for its duration.
Batwoman
Filming on the second season with Javicia Leslie taking over as the titular hero (but as new character Ryan Wilder) began September 3, showrunner Caroline Dries announced.
Big Brother
The Season 22 premiere (on August 5) will see the houseguests moving in. They'll be quarantined for a period prior to production and tested several times before entering the house. They'll also be tested weekly during the season and have no contact with crew. The supplies will be disinfected before being delivered. There will not be a studio audience for the live show.
Big Sky
Production on the new ABC drama began on September 27.
The Bold and the Beautiful
The Bold and the Beautiful briefly resumed filming June 17 with guidelines in place that include changes to how scenes requiring close contact will be handled before pausing due to testing. They have switched labs; cast and crew will be tested regularly during production.
The Conners
Production on Season 3 of the ABC comedy began August 17, with filming slated for later in the week without an audience, Deadline reports.
Days of Our Lives
The soap began filming again on September 1. The NBC soap had enough episodes banked from before production shut down to last into October, so the cast and crew didn't have to rush back.
The Flash
Production on the seventh season — the premiere will include footage filmed prior to the shutdown — has a tentative start date of October 1.
General Hospital
Production resumed the week of July 20 on the ABC soap, and new episodes started to air on August 3.
The Good Doctor
Production started on Season 4 in Vancouver on September 2.
Jeopardy!
Production resumed on the game show the week of July 27, with changes in place to ensure proper distance between contestants as well as between them and host Alex Trebek.
Legends of Tomorrow
Filming on Season 6 is set to begin on October 6.
Lucifer
Production was scheduled to resume on September 24, for both the Season 5 finale and the sixth and final season, and it did as planned.
The Mighty Ducks
Production was underway in March on the new Disney+ series, and it resumed on September 1.
NCIS
A tentative start date for filming Season 18 has been set for September 9, but that'll depend on the situation in Los Angeles when the time comes.
NCIS: Los Angeles
Filming for Season 12 began on September 3.
Riverdale
Executive producer Roberto Aguirre-Sacasa shared on Twitter that pre-production on Season 5 began August 17 and virtual table reads began September 2. An exact start date for filming has yet to be announced.
Sex Education
Originally scheduled for May, production on Season 3 could begin in August. However, Sony's president of international production Wayne Garvie anticipates that it's likely they, like other shows, will have to deal with "false starts — productions starting up and then stopping again."
Supergirl
Production on the sixth and final season is scheduled to begin at the end of September.
Supernatural
Production has completed on the final two episodes of the CW drama mid-August.
S.W.A.T.
The CBS procedural began filming Season 4 on August 4, after initially scheduled for the midseason (until Survivor had to delay production). Photos and videos from set show the cast wearing masks until they're on camera.
The Tonight Show Starring Jimmy Fallon
Fallon returned to filming—without an audience—in studio at Rockefeller Center mid-July. (He produced episodes from home prior to that.)
See Also
The six-part live-action prequel is set in an elven world 1200 years earlier.
Van Helsing
Production has resumed on the fifth and final season in Kamloops and Vancouver, Canada. "We started on our covid protocols and PPE collection shortly after shutting down," Michael Frislev, executive producer and co-chairman of Nomadic Pictures, said in a statement. "The entire cast and crew have been through our covid safety training and were tested prior to going to camera. Our extensive and detailed protocols have been blessed by all BC unions, guilds, ActSafe BC and WorkSafe BC."
Wheel of Fortune
Production was set to resume the week of August 3, with changes in place on the set to ensure proper distance among Pat Sajak, Vanna White, and the contestants. That includes adjustments made to the wheel.
The Witcher
Production on Season 2 began on August 17, as Netflix previously revealed it would with a fun announcement. "I'm dusting off my lute and quill, I have some news, some mead to spill: After all the months we've been apart," the streaming service said. "It's time for production to restart. The Witcher and his bard — who's flawless, will reunite on set 17 August."
Wynonna Earp
Production on Season 4 shut down halfway through, but it has resumed on the final six episodes in Calgary.
The Young and the Restless
The CBS soap is back in production, with new episodes set to resume airing on August 10.