'The Flash' Star Danielle Panabaker Talks Cooking Up 'Christmas Joy' on Hallmark
Killer Frost must be so proud! The Flash's Danielle Panabaker is getting the cold-weather, holiday-movie season officially underway this weekend with her Hallmark Channel original, Christmas Joy. And even though Thanksgiving is still three weeks away, we're here for it!
In the film, based on author Nancy Naigle's book of the same name, Panabaker stars as Joy Holbrook, a young executive (with a fabulous last name) who returns home to help her injured aunt get ready for their small town's annual Christmas Cookie Crawl. Of course, Joy is no pro when it comes to the kitchen, but that isn't stopping her from baking up a storm… or potentially heating things up with an old friend (Matt Long).
It sounds like the recipe for the perfect Saturday-night treat! Below, Panabaker tells us how she fit the movie into her already-packed schedule and what it was like flexing her comedy muscles again. Plus, she talks directing an upcoming episode of The Flash!
OK, you got married last year, have been shooting The Flash since the end of summer… when did you find the time to film a Hallmark holiday movie?
Danielle Panabaker: Oh my goodness. Sometimes I wonder why I make the choices I make. [Laughs] No, you know what? I actually was able to roll straight into it. No joke. We wrapped The Flash on a Friday night and Monday morning I started Christmas Joy.
What?!
[Laughs] The benefit was that it was in Vancouver, so the week we filmed the season finale of The Flash — where I also happened to be shadowing the director — I was also able to do a couple wardrobe fittings for Christmas Joy and meet with Monika [Mitchell, Joy's director]. I think Monika and I met two or three weeks before we started, which is unusual on a Hallmark schedule, but I was in Vancouver, I was like, "Let's get coffee!"
I've wanted Greg Berlanti to get Matt Long on one of the Arrowverse shows ever since they canceled Jack and Bobby.
I said the same thing!
He is so good.
I know. My husband was actually geeking out when they told me Matt was gonna be my costar. My husband was like, "Oh my god. I loved Jack and Bobby!" It was nice.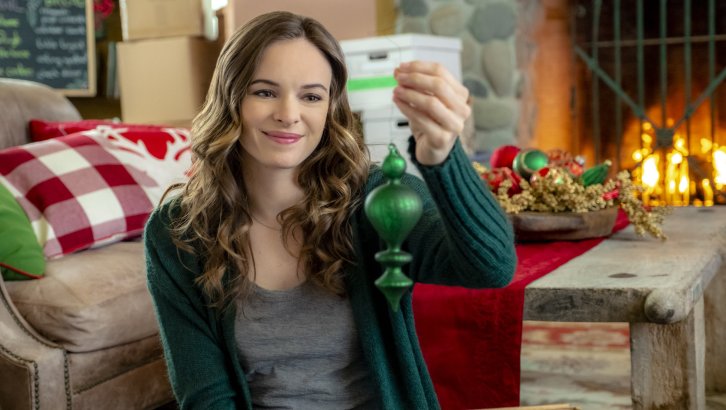 I'm excited that he's doing this with you because that will put him on Greg's radar again. Now, Hallmark Channel movies — they used to be punchlines but now, we live for them.
I have to say, Hallmark really knows their brand in the same way that The CW kind of knows what they're doing with these superhero shows. Hallmark knows their brand and knows what their audiences want. I also have to say, in a time of Time's Up, Hallmark treats their women really well. That was nice to realize.
The female leads are always executives, professionals and working moms. They are women who have lives.
Yep, absolutely.
So in Joy, you're a young executive going back home. I'm assuming she comes from a small town, right?
Originally, yes. Small town in North Carolina, Crystal Falls.
And then she gets roped into participating in the town's Cookie Crawl? Is like those big Cookie Swaps people get into over the holidays?
Yeah, I feel like people have talked about this sort of cookie thing. The irony is that cookies, and specifically Christmas cookies, were a huge part of my childhood. My mom was not dissimilar to the character of my aunt in this movie. My mom would make, no joke, a dozen different types of cookies. And at times, thousands of them! This all felt very familiar to me.
Do you have a favorite recipe?
I have a lot of different favorites, it sort of depends on what I'm in the mood for. One of the classics that's really my favorite is the peanut butter with the Hershey's Kiss in it. I die for chocolate and peanut butter.
Not exactly something you guys have on the craft services table at The Flash, is it?
[Laughs] I mean, there are definitely goodies and treats on our craft service table. I do have to say, we have amazing caterers, so it's there. I just try and look the other way.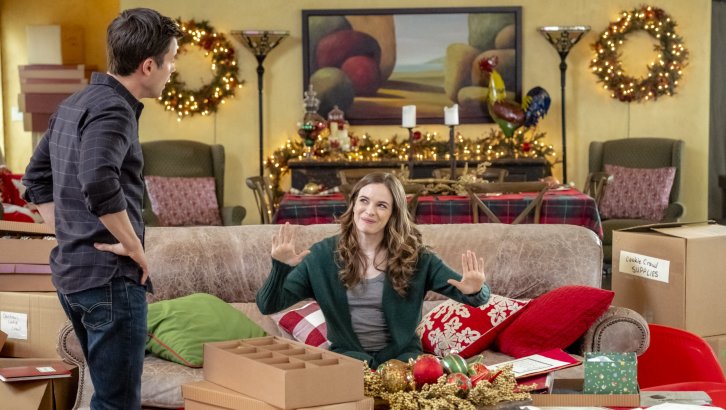 Of course! Now, what is Joy's relationship with Matt's character?
The way it sort of plays in the movie is that Joy's mom passed away when she was younger, and Matt's character sort of looked after her when she was struggling and having a tough time. And then they both went their separate ways. Matt's character actually got married. Now it's 10 years later and Joy's coming back to help her aunt and Matt is divorced and back living at home with his parents. They sort of keep running into each other when Joy returns home.
Are these reunions tense or are they happy to see each other?
I think they're happy to see each other. Their "meet cute" in the hospital where Ben works is really sweet. Then Joy sort of makes a fool of herself. I actually haven't seen the movie yet, but I had a lot of fun, so I hope it plays as well as I thought it did. They're happy to see each other, but I think he's a little skeptical of this city girl and she's too focused on other things. It doesn't quite strike at first.
She' s single-minded in her cookie-baking endeavors?
[Laughs] She is very passionate about her career and her job keeps her very busy, so she's trying to work out of her aunt's house and keep up with all of her aunt's responsibilities. On top of that, in order to help her aunt, she's taking on the preparations for the Cookie Crawl, which is not necessarily something that she has great expertise at. She's got her hands full.
And this is you getting to do comedy!
Oh, it was fun. We don't often get to laugh a lot on The Flash. We try, but it's not always a particularly jovial atmosphere with the villains and all that [Laughs]. When I first sat down with Monika and Matt, I said, "I hope we laugh every day." That was my goal for this. "I hope we have fun." And I think we really did.
How was it filming this in Vancouver during the spring, while trying to make it look like winter?
It was a really windy winter, really cold. It snowed in Vancouver more than I'd ever seen it before, so I was like, "Oh, it'll be fun." And then of course, April and May up here were just gorgeous. Everyone was like, "Where's the snow? Where's the snow?!" and it just kept melting. We couldn't keep the snow, couldn't keep it up!
I know so many people who watch The Flash with their kids, it's kind of cool they know they can watch this together.
That's awesome.
And a movie like this is a next-level thing where you watch it with your friends, you watch it with your kids, you watch it with your parents. You know, like you said, the Hallmark brand is such a good escape.
They really are. They make you feel good. They just sort of give you that warm, fuzzy feeling. Have you seen the drinking games that go along with it? You have to look it up. It's, take a sip every time a character is named after a Christmas [icon]. Take a drink every time there's a near-miss kiss, every time there's ice skating. Take a shot if the movie stars Candace Cameron-Bure or Lacey Chabert. It's really cute. [Laughs]
I want to see a crossover movie, where characters from past Hallmark movies who had to go home over Christmas in the past get stuck in the same magical town together.
Oh, that would be awesome.
And they all have Hallmark challenges, like one has to figure out if the mayor is actually really Santa Claus, and the other one has to figure out how to save the small-town toy store from the handsome but lonely businessman. I want a crossover like you guys do in the Arrowverse.
That's incredible. And shoot it in Vancouver. I'm here all the time. I'll just pop by!
Do you ever get out of that city?
I try to. My husband lives in L.A., so we're in a long distance relationship, essentially. Most weekends, one of us is on an airplane.
Do you have holiday plans?
It's so funny, we were just emailing about that. We have plans for Thanksgiving. His dad is Jewish, so Thanksgiving tends to be the bigger holiday. Not totally sure what we're doing for Christmas yet. It's crazy, this year has flown by.
And are you part of the Shethority squad?
I am! Caity [Lotz] has done an incredible job. I think it's so great to see. There is this mentality, and I don't know where it comes from and I don't know why it exists, that there is only room enough at the table for one woman and that's just not true. I think Shethority has hopefully really shown people that women can come together and support one another and it's really fantastic.
You know what's also really fantastic? There are a lot of women in the credits now for all of the Arrowverse shows.
It's incredible. I have to give huge props to Greg Berlanti because I know diversity is hugely important to him and to [producing partner] Sarah Schechter. They are really putting their money where their mouth is and giving opportunities where they can. I wouldn't be directing this year if it weren't for Greg and our showrunner, Todd Helbing. It's incredible.
Which episode are you directing?
I'm directing episode 18, which basically is the month of February. I don't even know the storyline yet but I'm so excited.
Christmas Joy, Saturday, November 3, 8/7c, Hallmark Channel
Powered by