Wendie Malick Talks Returning to Hallmark for 'Marrying Father Christmas'
It's the most wonderful time of the year for Hallmark's dedicated fans as the Countdown to Christmas is underway!
In the November 4 flick, Marrying Father Christmas — a follow up to 2016's Finding Father Christmas and 2017's Engaging Father Christmas — Wendie Malick returns to Hallmark Movies & Mysteries after her recent work on other series like Netflix's The Ranch and BoJack Horseman and NBC's This Is Us.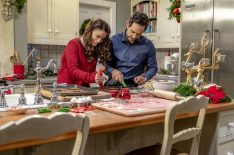 See Also
Stars from 'Fuller House,' 'The Flash,' 'One Tree Hill' and more are set to appear.
Now in her third turn in the franchise as Margaret Whitcomb, Malick is talking about what sets this role apart from others, why second chances at love are relatable, and why she "gets a kick out of" working on the film in Canada.
What was it like returning to the role of Margaret after playing her twice in the past? Was it natural?
Wendie Malick: Yeah, I was drawn to the character because she is the strong matriarch, and was the one who kind of lead the charge to forgive and show tolerance and understanding. I don't often play those roles [so] it's kind of nice to be the good guy for a change.
And coming back, working with the same cast was wonderful, it's a really nice bunch of actors – most of them are Canadian – and I love working in Vancouver, it's one of my favorite cities on the planet. Of course, this is the third [film] — I think two of the three we shot in the summer so you're in your mittens and gloves and cashmere turtle necks and it's 90 degrees out [Laughs]. You have to pretend that you're cold! You have to pretend that it's freezing, but that's what we do, it's all make believe.
What's changed for your character since we last saw her?
Well, she has an interesting love interest in this one. He was a very funny actor, Barry [Flatman], who was a friend long ago of my [character's] late-husband and I haven't seen him for many many years. He came back to the little town in Vermont at Christmas time, paid me a visit, and we found that we had shared memories and sort of reconnected. Which I think often happens in life, you know?
See Also
This year's programming continues the 17-year tradition.
In your later years, if you find yourself alone, you often – I've seen this happen with friends – you'll go back to someone you knew way back when that you have history with and can sort of be a witness to your life and to maybe times gone by. And so it's very sweet, I really liked that aspect of this one.
It's a very sweet storyline.
Yeah, and she's kind of a tough cookie and used to being on her own and calling the shots, and I think it was nice for her to have a gentleman caller again after all these years. It brings out a different color in her.
Do you think the audience will connect with this aspect of Margaret's story?
Oh I do, because I think oftentimes it's women who outlive the men in their lives and you may think, 'Well that was that, and I guess that's the end of my romantic life,' when in fact you never know. My parents had friends who at 90 discovered another soul mate and never expected it in a million years. It's sort of that reminder we shouldn't make assumptions — you never know what the future has in store for you and that can be quite marvelous.
Have you always been a fan of Hallmark?
I didn't know much about Hallmark until I did my first movie for them, and I was stunned at how huge their audience is, the kind of following they have, and how much they've grown just in the last five years. It's really amazing to me. I have more people come up to me and say – it's the same amount of people that's come up to me and say 'I saw you on This Is Us' – they say, 'Oh my god, I saw that Christmas movie you did' or 'I saw Darrow & Darrow and it was so wonderful, and that's my [guilty pleasure].' Yeah. They don't want to admit it but they love it.
I think in this very crazy world we live in — which has become more crazy and more sort of divided and stressful — people are looking to feel good. I often get people coming up to me in airports and stuff saying, 'Thank you so much for helping me laugh before I go to sleep at night,' and laughter and stories that have happy endings I think just make people feel more hopeful.
You've worked on such a range of projects from voice to film and TV. What sets this project apart from the rest?
I think Canadians are just incredibly civilized [Laughs]. I love working up there. Their crews were great, the other actors were just lovely, and they call me Ms. Malick. It's just… there's something sort of very English and refined about that. I always get a kick out of working up there, and the people at home were so gracious and lovely. The whole thing was just a very pleasant experience, really fun.
Marrying Father Christmas, Premieres Sunday, November 4, 9/8c, Hallmark Movies & Mysteries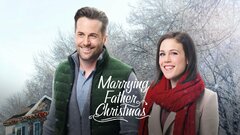 Powered by