Respect Her Shethority! Caity Lotz on 'Legends of Tomorrow,' Sara's Love Life & Her Sisterhood Site
The CW's lovable group of action misfits from Legends of Tomorrow head into Season 4 tonight with a new member — Constantine (Matt Ryan), the demon hunter fans first met as the star of his own short-lived NBC drama — and a magical mess to clean up.
Having softened the barrier between worlds during their battle with demonic Mallus, the Legends have also freed a slew of mythical creatures at the end of last season, but thankfully, they have some solid leadership in the form of Caity Lotz's Sara Lance.
Since we have been obsessed with Lotz since she first Canary'ed on Arrow and love the fact that she is finally front-and-center where she belongs, of course we took this chance to talk to the Arrowverse's underrated powerhouse about taking control of the Waverider, why Season 4 is the best so far, and Shethority, the sisterhood haven she has created with some of her fellow superheroines.
OK, Captain! You have Constantine (Matty Ryan) joining the team and the formerly possessed Nora (Courtney Ford) coming back. So are you guys heading into a new dark direction?
Caity Lotz: Dark, maybe, in the sense of dark magic, but our show is all about fun. Dark is definitely not something we usually hear. [Laughs] But you know, actually, when I think about it, it is a little more… there's a little bit more gore and horror and those elements in it. But we always keeps it still light, 'cause it's a comedy, so all of us are just having fun with it.
Do you think that this season is the best?
I think so, yeah. You know how it kind of just started getting crazy? Where everyone was like "What is happening?" It's that and even more. We just keep leaning into it. I don't even know how the writers keep pulling it off, but every time we read a script it's like "What is happening? This is amazing!"
Especially with such a big cast. The Wave Rider set is about to get more crowded when you're all on set.
It definitely does, though I think this season the writers got really good at separating things. So instead of all of us on a mission together, it's like we kind of spread out so there's a lot more storylines that are happening. It's like "This is happening and that's happening, and then this is happening," and all these three simultaneous storylines all flowing together. Which I think is actually really interesting.
Where does the season pick-up?
So at the end of last season, we saw Constantine come in and tell us that we'd messed up everything. But when we pick up, the Legends haven't seen any of that, none of those [escaped] magical creatures that we allegedly freed. Everything's kind of going good and I think it's like we're doing a good job, we're winners.
You're actual heroes!
We're heroes, exactly. But it doesn't take long for reality to kind of set in.
Of course! What about Sara and Ava (Jes Macallan)?
Sara and Ava are in a really great place. They have some big relationship talks in the first episode and they're starting to kind of, you know, getting a little serious. [Laughs] Everything's pretty good on that front.
What is their domestic situation like? Is it even possible for Sara to settle down?
You're going to have to watch it to find out, but definitely something they talk about. I think the struggle for Sara is she wants to maybe settle down a little bit, be a little more normal. She's starting to feel like, for the first time, she's a real person, like a normal human maybe. She has things that she loves and cares for, has kind of gotten it together, so whenever you have more of your life to lose, it kind of makes everything a little bit harder for her.
OK, she's got a relationship going on, Constantine is joining the team, how will all of this affect Sara's ability to lead?
I think she's constantly getting tested and trying to decide what the best thing to do is, 'cause she's never really put in the traditional situation where it's like "Okay, and this is how you handle it". She's constantly having to deal with whatever's being thrown at her and the right or wrong ways to handle it.
And what is their first real mission to worry about?
A murderous unicorn at Woodstock. [Laughs]
Of course! So this is the first case of the alleged escapees?
Yeah. We're calling them fugitives. They're all kind of characters that you've heard about from fables or stories, fairy tales and myths. But we're seeing them in a completely different light, that maybe these things we've all read about in books aren't how they really are. Unicorns, you think, are all nice And actually, this one is a dick. [Laughs]
Who would you pick as Sara's second in command?
You know, that's a good question! Because I was thinking about that and I think Maisie's character Amaya would have made a pretty good captain, but now that Amaya's gone…I don't know, that's a hard one. Who do you think?
I think Ray [Brandon Routh].
Yeah, Ray would be good. But the thing is, would the team listen to Ray? He is smart. He was the CEO of a company. If he could figure out how to make the team listen to him, then I think he would work.
Now, let's talk about Shethority. Where did this all come from?
I mean, it all just started with discussions between me and the [Arrowverse] girls. It's not like this so much now, but a year ago, there weren't so many women [behind the scenes] on the shows. It was always like all of us actresses and then like a bunch of guys.
The crew is heavily male and when we did the cross-overs, there was a bunch of us together and we were like "Oh my God! This is so nice! I have someone to talk to about girl things!" [Laughs] And then we also started talking about deeper issues and things that we were struggling with, whether it was personal life or with work, in a way that we couldn't necessarily relate to with all the men, or the men couldn't relate to. We found it so helpful to be able to have someone who's going through the same thing and talk about it. I could be like "Oh, this is what I'm going through" and Melissa [Benoist, Supergirl] would be like "Oh I remember when that happened to me and it really helped out a lot when I did this."
It was so great. The ability to be able to help each other was awesome. And I think a lot of times, society has kind of pitted women against each other. It was always like there's only one spot, so if you want that spot, you better take that other girl down. And it's such a harmful thing for women in our struggle for equality. For us to be tearing each other down is no good.
So when we felt that and connected to that, we were like "How can we bring this to more people?" "How can we widen this circle of support out to more women?" And that's kind of where Shethority was born from. It was such a big idea and we didn't know how to start it, so we were kind of like "Let's just start it and take the first step." We started the Instagram page and then from there, we started developing and thinking of ideas and step by step, that lead to building this website, which gives everybody an opportunity to share what they've learned and how they've dealt with things. [It's about] really just creating a place where people feel like they have support and a community. There's kind of sisterhood going on.
View this post on Instagram
That is amazing.
That's kind of where we're at now, we're continuing to develop. We've been talking to some people about maybe doing live events and we're hoping to start producing some video content.
Do you guys have plans to kind of bring in women from outside of the Arrow-verse?
Actresses, activists, politicians, librarians, everything. There are so many times I meet a woman where I'm like "Wow, you're amazing. Will you be apart of Shethority?" I talked to some of the Riverdale girls. My stunt double was telling me about one of her friends who's doing a Ted Talk soon and she wrote an article for us. It's all different industries, not just the actors or actresses.
And on the site you have a book club…
Coming soon! That's another new thing that we've been developing. Candace [Patton] really wants to do a book club and that hopefully will launch really soon. I mean, we're Shethority, we're running this thing, it's not like a corporation that's got everything and it's easy to implement stuff. Everything that we're trying to do, it takes a lot of work and Juliana Harkavy's husband has been helping us with the website, another friend that I went to middle school and high school with, she's kind of pulling it all together.
Like a superteam.
Yeah, it's great. I think the book club will launch hopefully this month. Our first book actually is going to be Becoming Nicole. Which is about [Supergirl's] Nicole Maines and her family's experience.
Oh that's incredible. I really love knowing that the group selfie of you and the ladies posted during last year's crossover is where this all started.
It's pretty awesome. It feels cool to see it actually happen, to realize something that was just in your mind has materialized and become something tangible that you can share. And the reception has been amazing. Everyone we talk to wants to help and be involved. Warner Brothers and the CW have been really helpful and always offering up anything they can do to help us grow and reach more people and make Shethority the best it can be.
It's the perfect time for this, it really is.
You know, we thought of this way before all the #MeToo stuff started coming out and it's what we were feeling. I think women all over the world were starting to get really frustrated and it was like "We have to do something, it's time for change." It was in the air.
Now I'm going to talk to all of the Arrowverse showrunners about making next year's crossover being the women. Instead of those b-story bachelorette party episodes, I want a full multi-episode event.
That would be awesome. Pitch it! Make it happen.
DC's Legends of Tomorrow, Season 4 Premiere, Monday, Oct. 22, 9/8c, The CW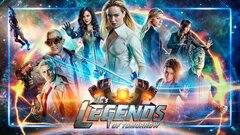 Powered by