Jon Stewart: Saying Goodbye, and Goodnight, to 'The Daily Show'
Jon Stewart took a bow Thursday night, but dedicated the bulk of his final episode as host of TheDaily Show to the correspondents and behind-the-scenes teams who made the Comedy Central series happen in the 16 years he was at the helm.
Stewart's last episode was a celebratory reunion of sorts, with emotional moments, plenty of gags and a satisfying, touching send off capped with a finale Moment of Zen, courtesy Bruce Springsteen.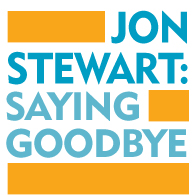 Stewart took over as host of The Daily Show in January 11, 1999 and began his domination of late-night TV. He's welcomed a bevy of Hollywood celebrities (George Clooney), politicians (President Obama), and inspirational figures (Malala Yousafzai) on his show, and highlighted news with comical and satirical aplomb (alongside special correspondents).
Here, we highlight tributes to Jon Stewart by friends and former colleagues and profiles on the famous alums who "graduated" from the show. Plus, we analyze which comedic host is most likely poised to take over late night TV.
Tributes From Friends and Former Colleagues
We asked some of the biggest names in comedy to tell us what they learned from Stewart:
Jon Stewart's Last Episode
Looking Back at The Daily Show
More Distinguished Alums of The Daily Show
The Future of Late Night TV
More About Jon Stewart and The Daily Show