The Late Shift: Who's Poised to Be the Next King (or Queen) of Nighttime Talk?
Conan O'Brien, elder statesman? With Jay Leno and David Letterman retired, O'Brien has inherited the title of the country's current longest-running late-night talk show host.
O'Brien, of TBS's Conan, was an unknown writer when he took over NBC's Late Night in 1993, then one of just four shows in the genre. "It feels like it was yesterday," says executive producer Jeff Ross. "We were just the young punks who were trying to figure out how to do a show."
The late-night landscape has undergone a dramatic changing of the guard since then—and especially over the past 18 months, as the retirements of Leno and Letterman set off a chain reaction. In quick order, Jimmy Fallon moved to NBC's The Tonight Show, Seth Meyers took over Fallon's Late Night, Arsenio Hall's syndicated series was canceled, Chelsea Handler left her E! series, Larry Wilmore developed Comedy Central's The Nightly Show to replace The Colbert Report, James Corden inherited Craig Ferguson's chair on CBS's The Late Late Show and The Daily Show alum John Oliver launched HBO's Last Week Tonight. Next up, Jon Stewart passes The Daily Show to Trevor Noah and Stephen Colbert debuts his Late Show on CBS.
Whew. "These franchises are something that need to be refreshed from time to time," says Rick Ludwin, who ran NBC's late-night lineup for decades. "I believe in making these transitions before the audience tells you that you should have done it three years ago."
The shifts come as viewing evolves. Audiences now consume most late-nightbits the next day via Internet clips and viral videos. "It's a challenge," Comedy Central president Michele Ganeless says of keeping viewers enticed. "But we've been preparing for this. We launched an app a year ago. That's where a lot of growth in our viewing is happening. Our audience wants to watch when they want, where they want and how they want."
That means traditional ratings are only one audience gauge. "From the beginning, we thought of our show as something that has to exist on a lot of different platforms," says Wilmore, who paces his program in digestible chunks.
At The Late Late Show, Corden debuted with a strong start in March thanks to several bits that went viral, including "Carpool Karaoke," in which he and a music diva, like Mariah Carey, belt out tunes as he drives through Los Angeles. "We've done 45 shows so far, and I think 25 clips online have hit well over 1 million views," says Ben Winston, who executive produces the show with Rob Crabbe. "It proves that this new style is resonating with people—and it doesn't necessarily need to resonate with them at 12:37am."
Jimmy Kimmel Live! set the standard for the power of a viral clip when the infamous bit "I'm F—ing Matt Damon" became a cultural phenomenon in 2008. "Some argue the viral stuff helps the ratings; some argue it hurts the ratings," Ross says. "It's probably a little of both. The networks really have to pay attention—the transition is happening, and this is the way young people want to watch. Nobody's figured it out yet."
Hand in hand with the viral trend is a move toward more variety-like segments, frequently involving that night's guests. On The Tonight Show, celebrities are expected to do a lot more than simply tell Fallon amusing anecdotes while sitting on the couch. Now they're enlisted to dance, sing, play games, do impressions and star in skits.
Fallon, who has found a home for his versatile performance skills, is at the center of it all, and the approach has paid off. The Tonight Show averaged 3.6 million viewers during the 2014–15 season, ahead of Late Show With David Letterman (2.9 million) and Jimmy Kimmel Live! (2.6 million). "He confounded the critics, who thought he was a lightweight," Ludwin says. "He's having fun, the guests are having fun. You want to be a part of it."
Corden has also infused Late Late Show with a variety-style energy. He introduced a format, inspired by British chat shows, where the guests sit together. "We were nervous that the Hollywood elite would say no," Winston says. "I think they like getting out of the [main] seat and [not having] to rack their minds for five clever stories to tell about themselves."
In the fall, viewers will finally catch a glimpse of Colbert away from his Colbert Report persona as he takes over Late Show on September 8. Then Noah debuts on The Daily Show September 28. "At 31, Trevor will be the youngest host, the only millennial," Ganeless notes. "For that generation to now see people who reflect their point of view and lifestyle is exciting."
With both Noah and Wilmore, Comedy Central will also bring much-needed diversity to the time period. "It's not by any specific design other than to reflect the changing demographics of our audience," Ganeless says. "Trevor looks at the world in a different way than a fiftysomething or a fortysomething white comedian does."
But until Handler returns to the genre in 2016 with her new show on Netflix, late night remains embarrassingly devoid of women. "We need some women out there too," Wilmore stresses.
As for the old guard, O'Brien isn't taking the new competition lightly. He recently received rave reviews for his trips to Cuba and San Diego Comic-Con and has announced plans to take the show on the road more frequently. "It's harder because we're older but easier because we've done it," Ross says. "What do we really have to lose?"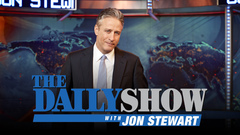 Powered by