Jon Stewart's Triumphant Last 'Daily Show' Hurrah
No bull—-.
With gratitude and grace, in a memorable hour of rollicking reunion and emotional reflection that felt more celebration than wake (though it was a bit of both), Jon Stewart's 16-plus years behind the desk of The Daily Show ended with cheers, tears—and an appropriate musical sendoff by fellow Jersey boy Bruce Springsteen. Transforming the Daily Show set (soon to be donated to the Newseum) into a dance floor, Bruce wrapped with Born to Run, which felt awfully appropriate.
If only Stewart's tenure at The Daily Show could have run forever.
RELATED: Late Night Rewind Recaps Highlights (VIDEO)
It would almost be easier to list who didn't appear during Stewart's final show, one of his finest. A parade of past Daily Show correspondents appeared to honor the guy who helped so many of them launch their careers: Steve Carell, Rob Corddry (denying the existence of his brother Nate), Ed Helms, John Oliver, even Wyatt Cenac, who went public recently about an apparent falling out with the host. All seemed forgiven in their "You good?" skit. On a night like this, no room for grudges. (Or false sentiment, as Stewart's successor Trevor Noah popped up to take measurements of the set—and of Stewart's groin.)
Nothing fake in this fake-news show about the genuine admiration his co-stars displayed for Stewart, and which Stewart bestowed generously on his staff, family and audience. Even his enemies and favorite political and media targets got in on the joke, including Wolf Blitzer, Bill O'Reilly ("Have fun feeding your rabbits, quitter!"), Chris Christie, Hillary Clinton ("And just when I'm running for president, what a bummer") and John McCain, quipping "So long, jackass" while brandishing a Stewart puppet on his hand.
RELATED: Daily Show Correspondents on What They Learned From Jon Stewart
Stephen Colbert, who left his own Comedy Central berth late last year to move to CBS, capped the busy first half-hour with a tribute so elaborate—including a tortured Frodo-and-Sam metaphor—that Stewart couldn't stop squirming. "You were infuriatingly good at your job," Colbert gushed. We agree.
This was especially evident in Stewart's remarkable final monologue, a rant reminding us that "Bull—- is everywhere," and concluding, "The best defense against bull—- is vigilance. If you smell something, say something."
The aroma of Stewart's own brand of vigilant truthiness will linger for quite some time. And we can barely contain our sadness and regret to see him go, especially on the cusp of an eventful year of political theater—how ironic that the first GOP debate took place on this same August night.
Stewart tried to soften the blow by reminding us that the show wasn't ending and that this was just a "pause in the conversation. … So rather than saying goodbye or good night, I'm just going to say: I'm going to get a drink. And I'm sure I'll see you guys before I leave."
Pardon me while I go drown my sorrows.
Tributes From Friends and Former Colleagues
We asked some of the biggest names in comedy to tell us what they learned from Stewart: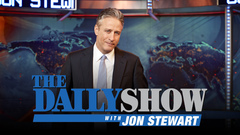 Powered by