Spring Preview: April Brings Back the Shows You've Missed and a Few New Must-Sees
Television goes for broke in April, with a slew of much-anticipated premieres and returning favorites. Here, what to watch for all month. (And check out what's coming later in March and what's ahead for May.)
Thursday, April 2
Olympus
Premieres 10/9c, Syfy
Matt Frewer (Orphan Black) stars in this 13-part mythological adventure set in ancient Greece, where groups of humans battle to become immortal gods.
---
Saturday, April 4
Outlander
Returns 9/8c, Starz
The first half of Season 1 ended with the plucky Claire (Caitriona Balfe) held at knifepoint by Black Jack Randall (Tobias Menzies) and Jamie (Sam Heughan) swooping in for the rescue. Find out what the stars had to say about the steamy scenes and deadly confrontations ahead.
---
Sunday, April 5
A.D.: The Bible Continues
Miniseries premieres 9/8c, NBC
Most dramatizations of the Christ saga end with the Crucifixion and Resurrection, but NBC's 12-part miniseries A.D. The Bible Continues–from exec producers Mark Burnett and Roma Downey–begins with those sacred events and chronicles the two explosive decades that follow. Read more about the non-Sunday-School approach ahead.
American Odyssey
Premieres 10/9c, NBC
In the topical thriller American Odyssey, three strangers stumble upon a plot involving U.S. military and corporate dealings with Islamist terrorist groups. Each uncovers a piece of evidence; if put together, those pieces would expose a global cover-up. That's if they all live long enough to make the connection.
The Lizzie Borden Chronicles
Premieres 10/9c, Lifetime
Following the success of the 2014 Lifetime biopic Lizzie Borden Took an Ax, Christina Ricci is back to take another swing at the role of the parent-slaughtering sociopath in The Lizzie Borden Chronicles. The limited-run series will pick up shortly after Borden's infamous 1892 acquittal for double murder–and then imagine what might have happened next. Read more in our Q&A with Christina Ricci.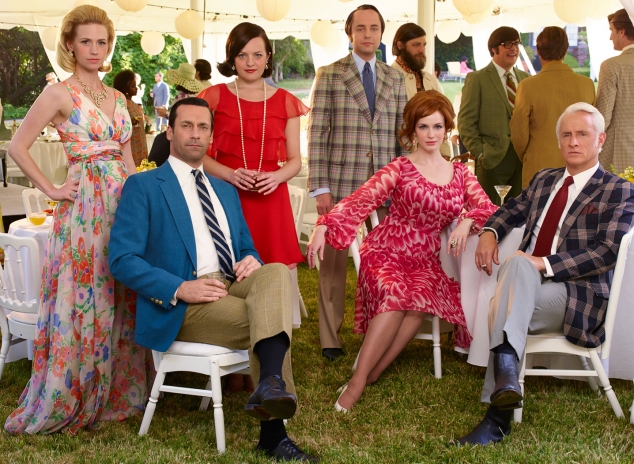 Mad Men
Returns 10/9c, AMC
In 2006, AMC—a struggling cable network looking for its first major series—took a risk with Matthew Weiner's period drama. Seven seasons later, Mad Men has been widely hailed as one of the greatest shows in television history, star Jon Hamm has become a household name, and AMC is a cable force. As the show returns for the final seven episodes, its stars, executives, and producers recount in this extensive oral history how the world went mad for Men.
Salem
Returns 10/9c, WGN America
Salem's first season ended with the town's most powerful sorceress, Mary Sibley (Janet Montgomery), promising to rain pain on the she-devils who made her inhuman. In Season 2, the battle between the supernaturals is on. And there's a mysterious new force circling the fray: German countess Marburg (Lucy Lawless), one of the last of the original witches. In our Q&A, Lawless spells out how she'll stir the pot.
Wolf Hall
Premieres 10/9c, PBS
The Masterpiece miniseries Wolf Hall–adapted from Hilary Mantel's best-selling novels Wolf Hall and Bring Up the Bodies–stars Homeland Emmy winner Damian Lewis as Henry Tudor and three-time Tony winner Mark Rylance as Thomas Cromwell, the son of a blacksmith who subtly, slyly worked his way up from nothing to become consigliere to the king and a major player on the world stage.
---
Thursday, April 9
The Comedians
Premieres 10/9c, FX
In this sitcom about a late-night sketch show, Billy Crystal plays an aging funnyman who's paired with an up-and-comer (Josh Gad).
---
Friday, April 10
Marvel's Daredevil
Premieres on Netflix
"Matt [Murdock (Charlie Cox)] isn't dealing with alien invasions or supervillains who are trying to conquer the world," says showrunner Steven S. DeKnight (Spartacus). "He's out to preserve justice in Hell's Kitchen, which he loves dearly and considers his home. Basically, he's Batman without the money." Read more about Netflix's foray into superhero territory.
---
Sunday, April 12
Game of Thrones
Returns 9/8c, HBO
What's coming is winter, and with it the potential for the White Walkers–the supernatural army lurking beyond the Wall–to sweep into Westeros and lay waste to the kingdom. "Jon [Snow] steps into the political world this season," [Kit] Harington says. Find out what's ahead for the rest of the Game of Thrones power players.
Nurse Jackie
Returns 9/8c, Showtime
After almost killing a patient and crashing her car into an ambulance while impaired, has Jackie (Edie Falco) finally hit rock bottom? Apparently not. The pill-popping nurse is charged with drug trafficking as the final season begins.
Silicon Valley
Returns 10/9c, HBO
Silicon Valley's shy computer whiz Richard Hendricks (Thomas Middleditch) leads landlord-cum-business partner Erlich (T. J. Miller), business manager Jared (Zach Woods), and roommates/employees Dinesh (Kumail Nanjiani) and Gilfoyle (Martin Starr) into the techie big leagues after their compression app, Pied Piper, won a start-up competition in the satirical comedy's first season finale. There's more ahead in Season 2.
Veep
Returns 10:30/9:30c, HBO
Being president is getting in the way of running for president when Selina and Veep return for Season 4.
---
Thursday, April 18
Orphan Black
Returns 9/8c, BBC America
The world of Orphan Black got bigger, or at least more populated, in last season's finale when heroine Sarah (Tatiana Mas­lany) learned she and her sisters aren't the only clones out there; a male set, raised by the military, also exists. Check out our guide to the new clones played by Ari Millen.
---
Sunday, April 26
Happyish
Premieres 9:30/8:30c, Showtime
Steve Coogan, Kathryn Hahn, and Bradley Whitford star in this new comedy about a man in his forties seeking his way out of a midlife crisis. Hint: It's not achieved with a red Ferrari.
---
Coming in May
May is closer than you think: Get a sneak peek of what to expect from Penny Dreadful's return, Wayward Pines's premiere, and more.
---
March's Last Hurrahs
There's lots to look forward to in April and May, but it ain't over for March just yet. Check out the premieres and returns finishing out the month, including CBS's Dovekeepers miniseries and Bones' murder-y midseason revival.