A.D. Takes the Bible's Epic Stories Beyond the Resurrection (SPRING PREVIEW)
It's the greatest story ever told but, chances are, you don't know the half of it. Most dramatizations of the Christ saga end with the Crucifixion and Resurrection, but NBC's 12-part miniseries A.D. The Bible Continues–from exec producers Mark Burnett and Roma Downey–begins with those sacred events and chronicles the two explosive decades that follow.
"This is unexplored territory for television–an amazing story of the birth of the early Christian church and how 12 fishermen took down Rome," says Burnett. "It has the political power struggles of House of Cards and the action and violence of Game of Thrones." And a whole lot of Holy Spirit: A.D. uses the New Testament's Book of Acts, heavy on mystery and the supernatural, as its source material. The cast, headed by Argentine actor Juan Pablo Di Pace as Jesus, is largely unknown to U.S. audiences.
"Stars would be a distraction," Burnett says, "but we did take to heart the need for diversity. Several characters, including Mary Magdalene [Chipo Chung], the apostle John [Babou Ceesay], and Philip the Evangelist [Joe Dixon], are black. It's important that this show reflects the way we look as a society."
Burnett and Downey have been down this epic road before, scoring huge numbers with their 2013 History miniseries The Bible. "We were so bummed when that project came to an end, knowing all the amazing religious history that was to come," says Burnett, noting that "the Crucifixion of Jesus led to the Jewish war with Rome, the fall of Jerusalem, and the destruction of the Temple. These were crazy, scary, gritty times, and we present them that way. We do not take the Sunday-school approach."
A.D. The Bible Continues Miniseries premiere, Sunday, 9/8c, NBC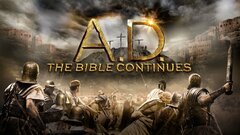 Powered by