Veep Returns With Selina in the Hot Seat (SPRING PREVIEW)
The show's title hasn't changed, but Veep's prickly politico Selina Meyer (Julia Louis-Dreyfus) got a huge promotion at the end of last season after POTUS resigned. When the series returns, Selina is hard at work balancing the budget (­poorly), pushing bills through Congress (slowly), and brokering a Middle East peace deal (surprisingly successfully). The problem? She's also still campaigning for her party's presidential nomination in the upcoming election–and, much to her annoyance, being the incumbent isn't giving her the home-team advantage.
"Selina almost wishes she wasn't president," Veep's creator, Armando Iannucci, says, "because it's getting in the way of running for president. Everything she does is magnified a hundredfold. The potential for bad news stories has increased."
And so has the number of foulmouthed bumblers around her. House's Hugh Laurie joins the cast as a formerly retired politician with big secrets, while comedian Patton Oswalt plays the new veep's chief of staff and the boss of clueless White House liaison Jonah (Timothy C. Simons). "[That relationship] will become a source of concern as the season progresses," hints Iannucci. Sounds bad for Selina, but f—ing hilarious for us.
Veep, Returns Sunday, April 12, 10:30/9:30c, HBO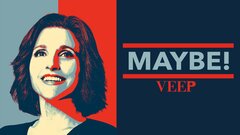 Veep
where to stream
Powered by