Wolf Hall Chronicles Cromwell's Rise (SPRING PREVIEW)
It's well documented that King Henry VIII of England was an obsessive, impulsive conniver with a fearsomely foul temper. Now meet his puppet master. The Masterpiece miniseries Wolf Hall–adapted from Hilary Mantel's best-selling novels Wolf Hall and Bring Up the Bodies–stars Homeland Emmy winner Damian Lewis as Henry Tudor and three-time Tony winner Mark Rylance as Thomas Cromwell, the son of a blacksmith who subtly, slyly worked his way up from nothing to become consigliere to the king and a major player on the world stage.
"It's as if someone today with no money or status or public notoriety suddenly emerged as the top adviser to President Obama–fascinating and outrageous and, for an actor, delicious!" says Rylance. "Cromwell's secret weapon was his fantastic search engine. Because he could work both the street and the court, he had access to all information. And he was expert at planting the perfect seed into Henry's mind at just the perfect time."
It was Cromwell who masterminded Henry's annulment from Katherine of Aragon (Joanne Whalley) and his marriage to Anne Boleyn (Claire Foy), which triggered England's seismic split from Rome and the formation of the Church of England, with Henry as its leader. For his troubles, Cromwell ended up with his head on a spike at the London Bridge. But, until then, he was exactly what Henry needed.
"Cromwell was a far cry from the sycophants and yes-men who surrounded Henry in the royal court," Lewis says. "He had brains and balls and spoke the truth. He even, on occasion, dared to be an impertinent smartass to the king, which Henry found weirdly refreshing."
Lewis relished the chance to play a more authentic, full-bodied Henry than film and TV audiences usually get. "There's a sadness to him, a loneliness," Lewis says. "Yes, he erupts in volcanic rage, but the next moment he's tenderly caressing babies or composing ardent love poems. And there's not a turkey leg in sight!"
Wolf Hall Miniseries premiere, Sunday, 10/9c, PBS (check local listings)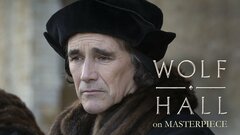 Powered by