Orphan Black Welcomes New Set of Clones (SPRING PREVIEW)
The world of Orphan Black got bigger, or at least more populated, in last season's finale when heroine Sarah (Tatiana Mas­lany) learned she and her sisters aren't the only clones out there; a male set, raised by the military, also exists. They're the result of Project Castor, the brother experiment to Project Leda, which spawned Sarah, Cosima, Alison, and Co. And they're not friendly. They also all look like Prolethean religious zealot Mark (Ari Millen)–who we'll learn is a Castor spy. Like Maslany, who portrays all the female clones, Millen plays all the male replicas. He gave us a cheat sheet on each.
Mark
Last seen: Eloping with Gracie (Zoé de Grand'Maison), a former Prolethean.
Distinguishing characteristic: Dresses like a 1950s dad.
Why Mark doesn't want to return to his old life: "All he's ever wanted was the white picket fence, nine-to-five job, and weekends with the wife and kids. He doesn't fit in."
Rudy
Last seen: Mocking Sarah from inside a glass cage in a mansion basement.
Distinguishing characteristic: A large facial scar.
He's not as feral as he looks, but he's dangerous in other ways: "Rudy considers himself the smartest person in the room. He'll meet someone, instantly figure out how to get under their skin, and keep digging and digging until he's got them."
Miller
Last seen: Guarding the government plane carrying Sarah's kidnapped "sister," Helena.
Distinguishing characteristic: An army-regulation buzz cut.
He's devoted to Project Castor: "Miller is the most loyal. He's also the most military. His boots will be the most polished. His bed will be made first. And he'll follow any order given to him."
Seth
Last seen: Never.
Distinguishing characteristic: A creepy mustache.
Little is known about Seth aside from his looks: "But the first scene I shot that had two clones in it was a conversation between Rudy and Seth."
Orphan Black, Returns Saturday, April 18 9/8c, BBC America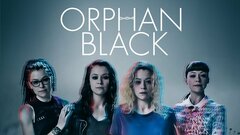 Powered by