Ask Matt: Revival Boom and 'Murphy Brown,' 'Victoria' vs. 'The Crown,' 'American Crime Story,' 'Ray Donovan' and More
Welcome to the Q&A with TV critic (also known to some TV fans as their "TV therapist") Matt Roush, who'll address whatever you love, loathe, are confused or frustrated or thrilled by in today's vast TV landscape. One caution: This is a spoiler-free zone, so we won't be addressing upcoming storylines here unless it's already common knowledge. Please send your questions and comments to askma[email protected] (or use the form at the end of the column) and follow me on Twitter. Look for Ask Matt columns on most Tuesdays and Fridays.
The Relevance of TV Reboots
Question: I realize that the current political kerfuffles are troublesome to many of us, but hearing about the proposed "reboots" of shows from a simpler time are bothering me. Most of the shows, like Murphy Brown, were good in their time, but I'm not sure how much they would have to be reworked to be relevant for these times. I'm afraid it would ruin what made those shows so good then. What's your take on this? (Besides the question of where the original thinkers are when it comes to developing new series.) — Gwen
Matt Roush: This isn't my favorite trend, but a distinction should be made between reboots (new versions of old titles) and this current wave of revivals, which include original cast members returning to reprise their iconic roles. It paid off beautifully for Will & Grace on NBC (after a rocky opening episode), and we'll see how it works for Roseanne next month on ABC, with the entire family reuniting—including John Goodman's Dan, resurrected from the dead—but who can blame him for escaping that horrible final season. The return of Murphy Brown intrigues me for many reasons—not the least of which is that the times really weren't that much simpler during its heyday, if you recall the culture war that ensued when then-Vice President Dan Quayle called out this fictional character for her single motherhood, and she fired back in one of the highest-rated episodes of anything ever. For Candice Bergen to return, with series creator Diane English on board (not unlike Will & Grace's creators and directors returning for that revival), we can now see this larger-than-life character contend with a new world of "fake news" allegations, social media abuse and an administration that targets media personalities like Murphy.
I'm less jazzed about CBS going back to the well to reboot classics like Magnum, P.I. and Cagney & Lacey, whose original stars are still around (and in the case of Tom Selleck, still thriving on the network in Blue Bloods). Seems a bit disrespectful to me, not to mention desperate.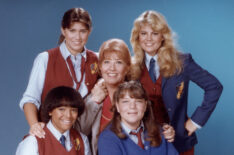 See Also
Plus, 'Muppet Babies,' 'Conan the Barbarian,' and more revivals keep on coming.
---
A Tale of Two Queens
Question: Why has Victoria received so much less praise, not to mention attention, than The Crown? My wife and I think the leads are excellent and the subplots interesting. — Jeffrey
Matt Roush: Some of this may be the "cool" factor that tends to attach to just about anything on Netflix, while it's easier to take even the better costume dramas for granted on PBS's Masterpiece. The pedigree of The Crown (not to mention the price tag) also tends to make noise, because of Peter Morgan's past triumphs with the Oscar-winning The Queen and the Tony-winning The Audience. But from a critical perspective, while I enjoy Victoria and am glad it has popped for Masterpiece unlike anything since Downton Abbey, it still seems a bit more conventional and romanticized an historical drama than the gimlet-eyed approach to royalty taken by The Crown. If Victoria had arrived first, it might have enjoyed a bit more buzz, but it does seem to live in The Crown's shadow.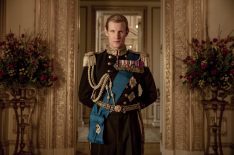 See Also
Paul Bettany dropped out due to scheduling conflicts.
---
Getting Hooked on FX's Crime Story
Question: Wow, that was an extremely intriguing episode of FX's American Crime Story last night! I found it superior to the previous installments, which is ironic, because this episode didn't feature Versace at all. (Hence, I left The Assassination of Gianni Versace off the title). I admit it is sometimes difficult to watch and enjoy, because the lead character is absolutely one of the most evil characters I have ever watched. I realize he is severely demented, but he takes his violent acts to another level.
Judith Light will almost surely receive well-deserved award nominations. What a fantastic performance! I admired her from way back in the '80s when she was on the ABC sitcom Who's The Boss? with Tony Danza. Since then she has portrayed countless compelling characters flawlessly. Thank you for recommending this great series. — FJ
Matt Roush: I was impressed in this episode by both Judith Light and Mike Ferrell (as her doomed, closeted husband, a real change of pace), and when I screened the series—FX made all but the finale available in advance—this was the hour that really made me sit up and take notice, as it became clear how Andrew Cunanan's crimes were going to be presented. First the crime, then as the episodes unfold in reverse time, the backstory. (It's even darker in the next episode when we meet two of his younger victims in relationships already in progress. All becomes clearer later, and man, is it tragic.) The Versace angle doesn't entirely go away, because we revisit the designer (Edgar Ramirez) in parallel storylines as he is making a name for himself while Cunanan, his future assassin, is pretending to be who he's not in a deadly cycle of narcissistic delusion. Darren Criss may be hard to watch when Cunanan is at his worst, but it's an electrifying performance.
See Also
From a hero to a villain, from beloved to despised, these characters were jarringly different.
---
Ray's on the Move
Question: I was wondering if my favorite show, Ray Donovan, will be coming back. I know he jumped off a building into the river. But maybe someone saved him. This was a great show. I also enjoyed The Son. Will that come back? — Bob L.
Matt Roush: When Ray (Liev Schreiber) dries off, he'll be moving to New York. Showtime renewed the show for a sixth season just as the fifth was ending, and despite the ambiguity of that finale, what that watery climax represented was something of a rebirth as the show reinvents itself going forward in a new beginning. I don't have more details on the next season at this point, but with Abby gone and the kids moving on (Bridget is in New York), Ray will be finding a new purpose in a new city on the East Coast. Last season felt like a chapter was closing, so it's probably smart for him to start over to give the show a fresh direction.
AMC has also renewed The Son, but like with Ray, no air dates for either yet. Look for both later this year.
---
Discovering the New Trek on Disc
Question: With original shows on Netflix, Amazon, etc, not widely available to non-subscribers, one would think there would be a resurgence in DVD and Blu-Ray sales? I would expect there would be an extremely strong market for Star Trek: Discovery. — Gary
Matt Roush: I expect you're right. One way or another, you're going to have to pay for the privilege of watching these shows. I wish I had time to follow up on what shows from these services find their way to the DVD marketplace and when, but you'll have to be patient for Discovery. CBS invested in this latest series—which has really picked up steam in the second half of the season—for one primary purpose: as a strategic way to get people inside the All Access tent. The Trek following is so deep that it's inconceivable Discovery won't be released at some point on DVD/Blu-Ray for collectors and fans. Just can't speculate when, because keeping the show exclusive to All Access subscribers is the business plan for now.
---
The Gilded Age and Other Historical Dramas
Question: I was hoping you could investigate the progress of Julian Fellowes' The Gilded Age for NBC that had Julian Fellowes of Downton Abbey fame moving to New York City to write it. Also: My husband and I thoroughly enjoyed Season One of The Halcyon that took place in a posh hotel in London circa 1940. Great British actors plus a lavish production design had our local newspaper describing it as a substitute for those of us missing Downton Abbey. Will there be a Season Two? And will there be a third season of The Last Kingdom starring Alexander Dreymon? Thank you so much for your time. Both hubby and I enjoy your reviews in TV Guide Magazine. Well done! — Anne Marie, Akron, OH
Matt Roush: Well, thank you. And your timing is excellent, because shortly after this question arrived in my mailbag, NBC confirmed that The Gilded Age is a go for next season. Julian Fellowes will write the 10-episode series, to premiere in 2019, set among the higher and lower classes of 1882 New York. If the subject matter fascinates you, PBS's great history series American Experience is presenting a two-hour The Gilded Age documentary this coming Tuesday, Feb. 6.
Sorry to tell you that The Halcyon, which aired stateside on the Ovation arts channel, wasn't renewed by ITV for a second season. But reports suggest it's looking good for The Last Kingdom to continue on Netflix, though there doesn't seem to be an official confirmation yet.
That's all for now. We'll pick up the conversation again soon. Thanks as always for reading, and remember that I can't do this without your participation, so please keep sending questions and comments about TV to [email protected] or shoot me a line on Twitter (@TVGMMattRoush), and you can also submit questions via the handy form below.