Roush Review: Once Again, 'The Crown' Rules
Midway through the second season of Peter Morgan's majestic The Crown, in one of several extraordinary episodes in a somewhat uneven sophomore run, a titled peer and media critic lets Queen Elizabeth (the fascinatingly stoic Claire Foy) in on a secret: "The age of deference is over."
His advice about modernizing the monarchy ultimately proves helpful, but her ego is bruised nonetheless. Buffeted by scandals that bookend the 10 hours, which take the royals into the turbulent 1960s, The Crown—for all of its opulence—finds ways to strip away the pomp. Even more than in the fabulous first season, with its entertaining arc of the queen and husband Prince Philip (Matt Smith) learning the ropes while John Lithgow's Emmy-winning Churchill ran the country, this becomes a poignantly personal character study of a family and marriage strained by the gilded twin prisons of protocol and duty in a changing society.
"There's no room for humanity," sulks Philip, whose estrangement from the Queen during his world tour occupies the torpid first few episodes. And yet the series excels in exposing these famous figures' all-too-human insecurities, like when the queen consults evangelist Billy Graham (Paul Sparks) about forgiveness during a family crisis involving her uncle, the Duke of Windsor (Alex Jennings). And in the very best episode, she acts up after being outshone by glamorous Jackie Kennedy (a nuanced Jodi Balfour), who's also seen as a victim of unwanted and unparalleled celebrity.
Whenever life at Buckingham Palace threatens to get too stuffy, the more unbridled Princess Margaret's (Vanessa Kirby) torrid romance with dashing ­photographer Tony Armstrong-Jones (Matthew Goode) brings sex appeal to a slow-starting but ultimately satisfying season that once again rules.
The Crown, Season 2, Friday, Dec. 8, Netflix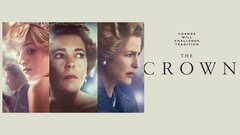 Powered by