Did You Like How 'Downton Abbey' Ended? Julian Fellowes Answers Our Questions
Spoiler alert! Don't read further if you haven't watched the series finale of Downton Abbey.
Julian Fellowes is the man behind Downton Abbey and as a member of the House of Lords, it's no surprise Lord Fellowes spent six seasons writing about an aristocratic family and their servants. Together with his fellow producers Gareth Neame, Liz Trubridge, Rebecca Eaton and Nigel Marchant, the incredible team made the British series an international hit with recognizable stars. Even though the series ended in the U.S. on Sunday, March 6, Fellowes took time to answer some lingering questions to help viewers get closure after saying goodbye to the familiar inhabitants both upstairs and down.
Why did you end Downton at the end of 1925?
The 20s are a very interesting period because it has one foot in the modern world and one in the 19th century. But, actually, one of the main reasons was that I didn't want to age the characters too much. It always worries me a bit when you realize that everyone on the screen is 20 years younger than their character. We avoided that because we deliberately cast the girls about 10 years older than their characters when they first began, so by the end their character was only two or three years older than they were.
You gave us a good idea of where all the characters would go next, but in your mind, will Downton Abbey survive?
Mary (Michelle Dockery) is a practical hard-working person. She definitely wants to keep the house going until George is ready to take it on. I'm confident they will be able to roll with the punches.
Almost everyone had a happy ending. Did you go back and forth on that?
The main happy ending is Edith's (Laura Carmichael). If ever a character had earned a happy ending, it would surely be Edith Crawley. Nothing went right for her since day one. What I liked about her was that she had a gallantry in what she did. She was like a blow-up toy in a pool. No matter how you knock it, it comes back up. We all knew that Edith was the unluckiest person in the universe, but she didn't know it. She always fought that, and she fought for child and for her different love affairs and all the rest of it as if there was a possibility of a happy ending. I admire that in people who are unlucky.
It sounds like you were very fond of this character.
I loved her. I've had a lot of good luck lately, but when I was growing up I had a moderately tough time. I was the plain one nobody wanted to dance with. I think I did identify with Edith as much as any of them.
Did you always have an idea how the show would end?
No. The first season I wrote a last scene that could be the ending because when you're writing a first season, you have no idea if there'll be a second. I thought a scene where the war is announced and they know they're all going to go off to fight could make an end if need be.
Did the series hit every note that you wanted about the life and times of Downton?
I'm pretty pleased with the television ending. I felt we managed to tie up enough of the knots, so there was a sense of where most of the characters were going. Well, there may be a film. That's still being decided. We would have one more look at them all in a slightly different way that would give everyone a tasty bite at the end.
Is there a good chance that will happen?
I can't really say. I think it's a good idea, but I would say that, wouldn't I?" [Laughs]
RELATED: Here's What a Downton Abbey Film Could Look Like
You put a lot of characters through the wringer, but you seemed to put a lot of female characters through the wringer.
[Laughs] All the women are strong. I like strong women. All the major women in my life, my mother, my wife, some girlfriends along the way, many of my women friends, know what they want and what they're doing. I'm always reading that men are afraid of strong women, but this man isn't. I like them. They make me feel secure in a sense if I can manage to do things, and so I liked writing all those strong women: Violet, Mary, Sybil, Cora, Isobel, Mrs. Hughes, Mrs. Patmore, Anna. There were all very strong characters, and they wanted to get things done and they wanted to do right. In a television series you want to like the people you're spending time with, and I believe in that. I just finished watching The West Wing and so many of those characters you really like. You were sorry to say goodbye to them, and that's what I wanted from Downton really.
Was Maggie (Violet Crawley) your favorite character to write for?
Obviously, it's good fun to write for Maggie because she always hits a bullseye. Another fun elements was to develop a character as you see what an actor is doing with it. Moseley was a very minor character, but I found something so poignant in Kevin Doyle's delivery that, like Edith, was gallant. He was always trying to make his life work. I also loved watching Mrs. Patmore and Daisy together. The more I watched Lesley Nicol and Sophie McShera as a team, the more fun it was to write for them.
Poor Daisy (Sophie McShera) was taken apart on social media because she was making a fuss about standing up for herself and others. What do you think?
She's a fighter and you can see she's going to become a rational socialist because she believes the world needs reforming. I'm not a socialist, but that doesn't alter the fact that I think that position is admirable. Education allowed her to find her own opinion.
How did the early defections of Jessica Brown Findlay (Lady Sybil) and Dan Stevens (Matthew) also change your storyline plans?
Jessica early on said she would only do three years, which is the length of a contract in England. The trouble for family members is they have to die. Servants can get another job, but family members wouldn't just disappear. We asked both Dan and Jessica is they'd come back and do two or three episodes a year, but they wanted a clean break. They had other career possibilities, and I'm sympathetic to that. I came up with dying in childbirth from eclampsia which was still lethal back then and we could do the battle between the doctors. David Robb, who played the local doctor [Dr. Clarkson], misdiagnosed so many things that he came to me and said, "Can I just get one diagnosis right?" [Laughs] So in this case, the local doctor got it right.
And Dan?
That was a bit of a blow because we had already starting filming Season 3 when Dan decided to go. If I had known that, I probably would have killed both Sybil and Matthew in a car crash. I asked Dan if we could finish the season with everyone happy and the baby in the bassinet and he'd come back and die in the first episode of the next season. He said no, and felt it would hold him back because he had a play on Broadway. But it worked for us because when he died at the end of the season, I could avoid doing funerals and memorials and Mary would being to come back to life. Which was more interesting for Michelle Dockery to play.
In England, weren't people upset that it happened in the Christmas special?
Everyone all over the country was sitting there eating one too many mince pies, tucking into a glass of port, and suddenly "Poof!" Matthew was dead. I did get some pretty hair raising letters after that.
What's a favorite scene or two?
I always loved that scene when Mary said goodbye to Matthew at the station when he was back to the front to fight. They both did it very well because it was a scene that wasn't about what they were saying. In that scene, they both knew they were still in love with each other, but he thought he might be killed and didn't want to complicate her life and she didn't say it because he was engaged to someone else. They conveyed that very well. I also love the scene in the car in the Christmas special when Isobel (Penelope Wilton) says to Violet, "Why do you always have to sound like Marie Antoinette's sister?" And Violet answers, "The Queen of Naples was a stalwart character. I take it as a compliment." Isobel then said, "You take everything as a compliment," and Violet said, "I'd advise you to do the same. It gets you out of any number of awkward situations." I thought the two women did that scene so marvelously. It's very nice when you're the writer because when they do it as well as that you feel like Oscar Wilde."
RELATED: 7 Downton Abbey Stars Talk About Their Favorite Moments
Are there any moments that make you cringe?
Usually, if something that made you cringe, my fellow producers Gareth Neame, Liz Trubridge and I would just take it out. The one thing that got through was in the first episode, a Duke shook hands with Cora and he still had his glove on. No gentleman would ever shake hands with his glove on. When I watched it in edit, I said, "Oh, God, this is terrible! Is there a wide shot or a close shot? "It was the only time that there was no way cutting round it."
Now you're off to write an American Downton, about New York in the 1880s. Where will you be filming?
I'm now beginning The Gilded Age. I expect my next year or so will be dedicated to that. It's a period of time when New York was a city of palaces full of liveried servants and on a scale more lush than the equivalent in London at that time. I hope we'll be filming a lot of it in Newport, R.I., but it will be hard to find a convincing New York of the 1880s.
Violet was a young woman back then. Could she pop up?
I suppose there could be a young Violet, but who knows?
What will you miss most about writing Downton?
What I really enjoyed is writing for a performance. Normally, when you write a musical or a miniseries or whatever, it's finished and it's cast, but with a series you know the performances you're writing for, so in essence, it becomes collaborative between you and the actors.
What are your feelings now that the series that occupied your life for six years has ended?
It's been a slight strange sensation because I've lived with it for the best part of seven years. I would write from September through July. I had to produce 11 hours of television every year. It was a circus ride each year, and I do miss it!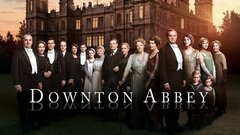 Powered by