'Roseanne': A Mellower Roseanne in Sitcom Revival?
JThe Conner family is back and attended the ABC day of the Television Critics Association winter press tour to talk about the upcoming nine-episode reboot of Roseanne. Of course, initial questions were more about star Roseanne Barr's support of President Donald Trump.
According to executive producer Sara Gilbert (who returns as Darlene Conner and helped make the revival become a reality), there was a creative opportunity with how the Conners deal with the current political climate and their differences.
"This is a time, as we all know, where our country is really divided and we had a wonderful opportunity to talk about this in the context of a family," said Gilbert. "People feel like they can't disagree and still love each other or still talk to each other. So to me, it was a great opportunity to have a family that is can be divided by politics but still filled with love and what a great thing to bring into the country right now."
See Also
Plus, details on Shonda's future at ABC now that she's signed with Netflix.
Barr, clearly not wanting to talk about Trump or her political support of him, finally said of the show, "The Roseanne show, I've always tried it to be a true reflection of the society that we live in. Half the people voted for Trump, half didn't, so it's just realistic."
Known for being very vocal on social media, particularly Twitter, with her political views, Barr revealed during the panel that she's not on Twitter anymore. "It was my children that took my Twitter password away from me," she said. "But I did not want it to overshadow the show so I'm taking a little bit of a break."
With Sunday's Golden Globes still fresh in memory, where Oprah Winfrey gave a strong speech about the #TimesUp movement during her Cecil B. DeMille Award acceptance speech, Barr asked what she thought about Oprah running for President. "Of course I love Oprah like everybody else," she said. "But, you know what, I think it was time for for us as a country to shake things up and try something different."
See Also
Monday at the Television Critics Association 2018 winter press tour found ABC's Channing Dungey, President of ABC Entertainment, taking questions from critics about what's to come on the alphabet network later this year. Before she answered questions from the crowd, Dungey announced the excit...
Asked what she thought of actress/activist Susan Sarandon running for President, Barr stated, "actually I think I would be a better president than Oprah and Susan Sarandon and possibly even President Trump." Barr also reminded the group that she did run for President in 2012.
With all the talk of Trump and her politics, has Roseanne Barr mellowed since the original series? The actress said, yes. "I think that I've mellowed as far as my own person but I think everybody who hits 65 is more mellow than they were in their 40s."
In terms of whether the same can be said for the Roseanne character in 2018, Laurie Metcalf (Jackie) said, "I think you see in Roseanne's character in the revival that she has a slightly different outlook because some of my favorite images from this new nine is watching Darlene parent her kids int he same house that she grew up in and Roseanne is on the sideline watching sometimes. It gives her a different take on what she did right and wrong and what she's doing right and wrong. I love seeing that new dynamic happening."
Roseanne premieres March 27, 8/7c, ABC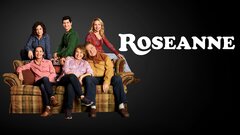 Powered by