Tyne Daly Joins Candice Bergen in 'Murphy Brown' Revival
UPDATED (4/19/18):
Tyne Daly has joined the cast of CBS' revival of Murphy Brown, the 1988 sitcom. The Judging Amy alum will play Phyllis, the sister of deceased bar owner, Phil (Pat Corley), who was in the original series. She's now in charge of the bar and friends with Murphy (Candice Bergen).
UPDATED (2/26/18):
On Monday, CBS announced that three more Murphy Brown vets will be joining Candice Bergan for the show's highly-anticipated revival.
Faith Ford, who played Corky Sherwood, Joe Regalbuto, who played Frank Fontana, and Grant Shaud, who played Miles Silverberg, will all return to their respective roles.
Those three, along with previously-announced Bergen—back as the titular Murphy Brown—almost completely round out the cast. Charles Kimbrough, who is currently 81, is the only one still to be announced. Time will tell if the actor will join the rest of the original core for the reboot, set to air during the 2018-2019 TV schedule.
See Also
Plus, 'Party of Five,' 'Facts of Life,' and more keep on coming.
ORIGINAL STORY (1/24/18):
It seems old shows really don't have a shelf life, because yet another former favorite is coming back to the small screen—Murphy Brown will return to CBS for the 2018-19 season, the network announced on Wednesday. The original comedy series ran for 10 years from 1988-1998, to much critical and popular acclaim along with a slew of awards.
The new order for a 13-episode run was put in by CBS, and the revival will see the confirmed return of Candice Bergen in the title role of Murphy Brown. The show's original creator, Diane English, is signed on to serve as a writer and executive producer.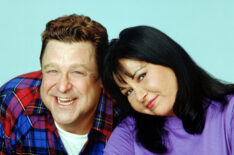 See Also
A new year brings even more highly anticipated revivals of familiar favorites.
Bergen will also executive-produce the project, which only adds to the nostalgia factor of this announcement. More details are sure to come, but according to a CBS release, "As its 30th anniversary approaches, Murphy Brown returns to a world of cable news, social media, fake news and a very different political and cultural climate."
Since Bergen is signed on to star in the new episodes, would it be wishful thinking to hope that the other stars may do the same? The show would certainly look different, since it lost a few stars since its original finale.