'Murphy Brown' Revival Ordered by CBS, Candice Bergen to Reprise Iconic Role
CBS Photo Archive/Getty Images
It seems old shows really don't have a shelf life, because yet another former favorite is coming back to the small screen—Murphy Brown will return to CBS for the 2018-19 season, the network announced on Wednesday. The original comedy series ran for 10 years from 1988-1998, to much critical and popular acclaim along with a slew of awards.
The new order for a 13-episode run was put in by CBS, and the revival will see the confirmed return of Candice Bergen in the title role of Murphy Brown. The show's original creator, Diane English, is signed on to serve as a writer and executive producer.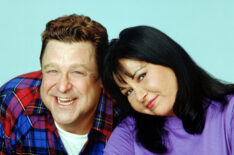 A new year brings even more highly anticipated revivals of familiar favorites.
Bergen will also executive-produce the project, which only adds to the nostalgia factor of this announcement. More details are sure to come, but according to a CBS release, "As its 30th anniversary approaches, Murphy Brown returns to a world of cable news, social media, fake news and a very different political and cultural climate."
Since Bergen is signed on to star in the new episodes, would it be wishful thinking to hope that the other stars may do the same? The show would certainly look different, since it lost a few stars since its original finale.
AlertMe