COMMUNITY Q&A: Jim Rash on Directing, the Show's Return, and the Dean's Costumes
Jim Rash is wearing multiple hats on Community this season. As the show filmed Season 6 for Yahoo Screen (launching March 17), Rash not only returned as Dean Craig Pelton, but he and Nat Faxon (Married) also directed two episodes. Rash, who won an Oscar with Faxon in 2012 for writing the screenplay for the George Clooney film The Descendants, talked to us about juggling his many careers—and oh yeah, the Dean's wardrobe comes up.
You and Nat directed two episodes this season, how did it go?
It went great. The first one was nerve-wracking, just because you want to do a good job. Even though you're in a very safe environment, it's still [executive producer] Dan Harmon's words and [executive producer] Chris [McKenna]'s and all the writers' vision. I mean, the actors couldn't be nicer, although Joel [McHale, who plays Jeff Winger] was a little hard to direct [laughs].
I wonder how awkward it was. You've been working with these folks for five years and suddenly you get to tell them, "I'm the boss."
Yeah, "Do it better. Faster, funnier." No it's great. They know their characters so well, so you usually can trust in their instincts. It's more about guiding the emotions of the story. It always feels uncomfortable dealing with that. I think it was much more relaxed than directing The Way Way Back. One is more high stakes as far as the stress of being outdoors and on a limited budget and here you have a place that sort of runs on its own well-oiled machine.
How does it work when you and Nat work together? What's the division of labor?
We don't have to divide it because I think the idea is to work as one. I think because we worked at The Groundlings for so long together and we write together, we generally are on the same page. I think that when it comes to talking to the actors, we might take turns there because we're probably going to say the same thing, but as far as everything else we're collaborative.
It makes it easy when you've got a scene and have to focus on that.
Then the one time that we're separated is obviously when I'm on camera. I trust him to give me notes and he does. He corrects my performance almost all the time.
What was his key note this time for you?
"Just do it better."
"Be more funny!"
That's the note you don't want to get. Just, "I don't know what you're doing, but I don't like your choices and I wish you'd make a new choice." Things to build me up.
You guys are good friends, that you could pull that off.
It was fun, it really was and the second one even more so, just because we now built the confidence. We felt good about the episode that we directed and we're ready for another one maybe down the road, but that's it for the season as far as directing.
Take me through the rollercoaster of this spring when the show was canceled and then it wasn't canceled. Where was your mind?
I think we celebrated 97 episodes with a cake and then we sort of packed up shop and although not soon after you started hearing rumblings. Obviously Sony is devoted to its shows and they're going to make a very valiant effort to save it. So you sort of, even though you're moved on in your head, you know there's always some possibility of shifting right back into it.
Was there ever a point where you thought, "all right, we're done here?"
I think you have to have that "we're done here" mentality just because it's a protection device for yourself emotionally. You can never look at five seasons and not see how lucky you are, you know in today's environment to make it that far so it's hard to think anything other than "If this is it, Season 5 was so strong creatively…" so it was like, "all right, check."
We were speculating about a lot of different places that the show could land but Yahoo wasn't on top of the list.
We were closest at one point with Hulu. Yahoo seemed to come out of nowhere. Much like Netflix taking Arrested Development, it makes sense to take a show that has a strong following. It's a great way to get people there and hopefully build that show but also build whatever else you plan to venture into.
Community has been pretty accommodating in allowing cast members to leave and do other things. You're a busy guy, did that thought cross your mind?
No, I need this. No, I couldn't imagine it. Because Community opened not every door that we pursued — obviously Nat and I were pursuing writing together — but it still opens doors. There's too much allegiance to a show that I started as just a recurring character on. To get to this place, I felt like as long as they need me and want me, I'll show up for school.
Do you like the dual nature of your career? Is it what you would like to continue to do?
I think that's what feeds Nat and I. We started out as just focusing on acting and I think he loves it so much, you know, getting [FX's] Married, and I think it also gives us an identity outside of a team. Just for friendship and as a working relationship, it's nice to have something that's sort of yours. Even though we crossed the streams and directed Community together, I still feel like I have this, he has Married. It also makes you focus your time in such a cyclical environment.
Any chance you guys are going to direct any Married episodes?
I don't know. I would certainly do it if they needed us. But I guess that'd be down the road. I'd always love to do that.
Talk about Season 6.
It's been a fun season so far. I think the nice thing about the season premiere is that we can go back outside and go back to Los Angeles City College and once again get an introduction to the campus that is pretty much like how the pilot started. We brought in Paget Brewster, who plays Frankie Dart, who is brought in to play a financial advisor to Greendale. She's brought in by the Dean, basically trying to get us out of the hole that started in Season 1, pretty much because of the Dean. Then we also have Keith David, who comes in more as a student via a plot line. Day-to-day it's Greendale as usual, but for the Dean there's a nice episode where we deal with some things in his personal life.
We learn a little more about the origins of Dean Pelton?
I think we learn a little bit more about who he is as a person, or try to understand him. He went from dalmatians to loving locomotives to his sister's outfits. A sexual man in really ugly polyester clothes. As beautifully fitted costumes. We'll definitely learn more about that or his attempt to explain himself, which has put me in very close ties with Jeff.
That relationship is quite the fan favorite.
Our relationship … is heightened in a fun way. I think both emotionally for Jeff's growth and maybe the Dean's as well.
Is there anything on par with the Payday rap yet?
Well, maybe not in that environment. We did have a very highly physical moment. The Dean gets lost in this very large machine. Let's just say he falls in love with a very '90s virtual girl.
In Season 5, you guys pulled back quite a bit from the outfits.
I think it's because Season 4 was a treasure trove and sometimes I wore two, three in an episode. Even for me I felt like we were hitting this a little too hard. I think Dan always says, there's more to all these characters than a checklist. The costumes, although they are exciting and easily identifiable, the more you do it the more it's not special anymore. I feel like Season 5 was about reinvesting in everyone's characters.
What's it been like with the new actors on set and more changes with Yvette [Nicole Brown, who played Shirley] gone?
It is an ever-revolving door, which is very much like college. One of the testaments for Dan, Chris, and the writers is that they hit the ground running with new characters. Jonathan Banks [who played Buzz Hickey in Season 5], you understood that man right away and he fit into it. Paget and Keith fit into it and it's not a similar role as it has already been done. I feel like again they created two new people to create a new dynamic for the group. Now, pretty much every seat is filled. It's just like one episode and then you sort of hit it, just like when Kirstie Alley came into Cheers and shaking that up.
What would you say the theme of Season 6 is?
It feels like there's a rebuilding going on. It would be that period of their lives where they're establishing what it all means now. This is for Jeff an acceptance of what this place means for him; and then I think for everyone else it's finding their identity. And everybody finding out what it is this chapter's about.
That sounds sort of in line with what you guys are experiencing on the show: new set, new crew.
Yeah, it's a new set, a new crew. It's all exciting.
Check out all of our Community Q&As: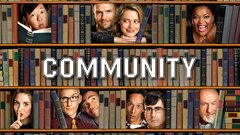 Powered by