Community's Writers Name Their 7 Funniest Moments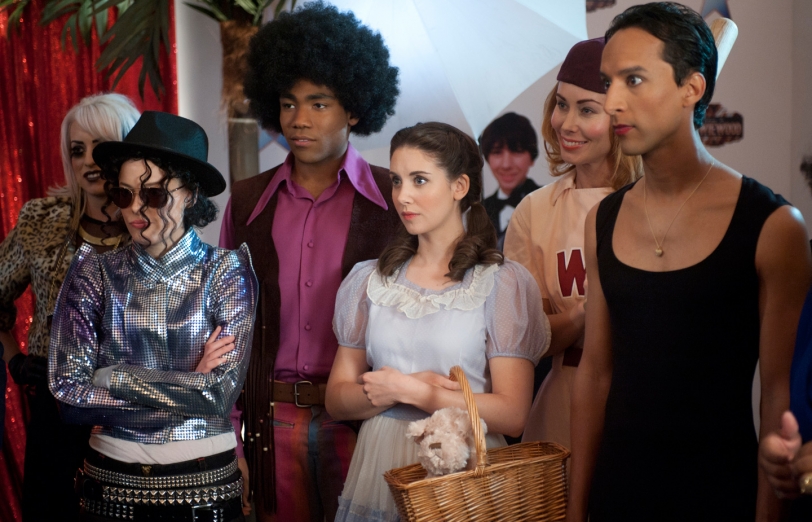 Even casual Community fans may recall some of the show's signature moments through the years, such as paintball, pillow and blanket forts, "Troy and Abed in the Morning," Advanced Dungeons & Dragons, the Darkest Timeline and so much more.
But what do the people on Community's front lines remember most? We asked the Community writing staff to come up with the top moments from the show that makes them laugh the hardest. They came back with a list of seven — including a few surprises. Executive producers Dan Harmon and Chris McKenna say the upcoming sixth season of Community may be their favorite — but as we await the show's return on March 17 via Yahoo Screen, here are the top moments their team would like to revisit from the past.
Abed as Batman (Season 1, Episode 7, "Introduction to Statistics")
Not only is Danny Pudi-as-Abed's impersonation of Christian Bale-as-Batman flawless ("There's a storm brewing on the horizon, but you and I will save the night. Chex Mix, pretzels, baby carrots: predictable but appetizing!") but the viewers get an early glimpse of the growing bond between Abed and Troy (Donald Glover). "Abed's transformation into Batman as the perfect bow that tied up this enjoyable episode," IGN's Jonah Krakow wrote on October 30, 2009. "His assassination of the pomposity and pretense of The Dark Knight in the show's final monologue was amazing."
Annie Chloroforms the Janitor (Season 2 Episode 2, "Accounting for Lawyers")
Troy, Abed, and Annie (Alison Brie) break into Alan's (a sleazy Rob Corddry) office in order to expose the fact that he's using Jeff (Joel McHale). When they're found out, Annie somehow has chloroform at the ready to neutralize a guard, twice. Recapping for Vulture, Andy Greenwald called it the "funniest" gag in an episode chock full of them. "We'd say this one hit its mark," he wrote about the episode.
Jeff Scolds Pierce Outside the Study Room (Sesaon 2, Episode 14, "Advanced Dungeons & Dragons")
Jeff asks "Fat Neil" (whom he believes is suicidal) to play a game of Dungeons & Dragons with the study group, except Pierce (Chevy Chase), whom believes isn't sensitive enough. Pierce later barges in on the game–and reveals that it was Jeff who coined the nickname "Fat Neil." "There's nothing on TV quite like watching this cast ping pong off of each other," Todd VanDerWerff wrote about the episode for A.V. Club in 2011. "It's a sign of the show's strength, not a sign of its weakness, that it knows exactly how far it can push all of these characters." And in his 2012 Reddit AMA, Community creator Dan Harmon called it Chevy Chase's best performance. "I think what makes Pierce – and Chevy – heroic – is their unwillingness to surrender. There's a voice inside of us screaming I DON'T WANT TO DIE, I DON'T WANT TO BE IGNORED, I DON'T WANT TO FADE AWAY, IT'S NOT FAIR IT'S NOT FAIR IT'S NOT FAIR. Pierce, in his best moments, channels that voice, for the sake of all of us, so that we don't have to say these petty things."
Jeff vs. Shirley (Season 3, Episode 9, "Foosball and Nocturnal Vigilantism")
Shirley (Yvette Nicole Brown) agrees to train Jeff for a brutal foosball match against a group of obnoxious German students. But the duo soon learns they have a past: As kids, Shirley beat Jeff at foosball, making him pee his pants. The two work through their emotions through a furious game (depicted in anime style), and then agree to take on the Germans. "I really enjoyed seeing the two of them come together, particularly in a story that allowed Shirley to become very amusingly competitive, and that featured a terrific guest star turn by Nick Kroll as the leader of the German foosball posse," Hitfix's Alan Sepinwall wrote in 2011.
Troy and Britta Impersonate Michael Jackson (Season 3, Episode 12, "Contemporary Impressionist")
Abed hires celebrity impersonators to reenact his favorite movie scenes. But when he owes money to the impersonators' agency, he must talk his friends into appearing at a bar mitzvah dressed as celebrities. Both Troy and Britta show up as Michael Jackson, in different stages of his career. "Britta's white Michael Jackson was inspired," Den of Geek's Emma Matthews wrote in her March 2012 review. "Frankly, Britta has never been funnier, or more likeable than when walking backwards talking in a high pitched voice, or insulting Jeff in the most creative ways known to man. If, at some point, Britta did not make you laugh during this episode, you have no soul."
Pierce's Parting Gift (Season 5, Episode 4, "Cooperative Polygraphy")
Leave it to Pierce to bequeath tubes of his frozen sperm to everyone in the study group after he dies. But don't just watch this episode for the sperm, VanDerWerff wrote for A.V. Club in 2014: "It's an episode that contains ample amounts of both the laughs and the deeply felt emotional core that make this show work so well at its best. It's an episode built entirely around the idea of who these people were when they first came together and how much they've changed since they found each other, and it's an episode where the conclusion pushes into territory that's unexpectedly bracing and moving."
The Dean's Payday Rap (Season 5, Episode 9, "VCR Maintenance and Educational Publishing")
Without a doubt, Jim Rash's finest moment as Dean Pelton. When Greendale's paychecks fail to come out on time, the Dean (dressed like a Payday candy bar) spits some rhymes:
Well I'm a peanut bar and I'm here to say
Your checks will arrive on another day
Another day, another dime, another rhyme, another dollar
Another stuffed shirt with another white collar
Criminals, Wall Street takin' the pie
And all the black man gets is a plate o' white lies
Prisons recruitin' em and police be shootin' em
And rap artists lootin' em and labels are dilutin' em
And Barack Obama be scared o' me
Cuz I don' swallow knowledge and I spit it fo' free
Lemme clear my throat, ha-ha-haaa!
Do you agree with these picks? Or did the writers miss some better ones? Give us your thoughts on Community's best moments in the comments below.
MORE COMMUNITY:
The Inside Scoop on Community's Long Road to Yahoo (and What It Means for Season 6)
Q&A: Exec Producers Dan Harmon and Chris McKenna Discuss Season 6 and the Show's Ultimate Fate
Q&A: Ken Jeong on Ben Chang's Next Adventure and Why He'll Never Leave the Show
Q&A: Alison Brie on Weathering Cancellation and Resurrection, and What's Ahead for Annie
Community's Writers Share Their Most Memorable Scenes
Community Selfies: On Set With Joel McHale (PHOTOS)
How to Watch Community on Yahoo
Community Season 6 Trailer Released
Video: Joel McHale on Season 6 and playing Either/Or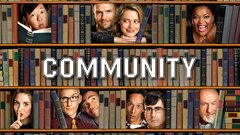 Powered by