COMMUNITY Q&A: Joel McHale on Being the Show's Den Mother and Whether He's Up for The Daily Show
Dan Harmon is the first to tell you how Joel McHale is the true hero of Community. McHale was instrumental in getting Harmon back his job atop the show in time for Season 5. Now, as Season 6 launches today on Yahoo Screen, McHale remains Community's No. 1 cheerleader.
In the new episodes, viewers will see McHale's character, Jeff Winger, grappling with the fact that everyone around him is leaving. But that might also apply to McHale, who is steadfast in his commitment to the show, even as his castmates move on to other things. "That's why Dan is so f—ing great at what he does," McHale says of Community's meta nature. "He doesn't just tell jokes, he's weaving it all in."
We spoke with McHale as he prepared to shoot a scene in which Jeff, dressed as a futuristic "mayor," films Abed's (Danny Pudi) space movie. Here's what he had to say about Community's future, the NBC cancellation, Winger's growth, and what happens when people ask if he's going to host The Daily Show.
This looks like it could be one of Community's famous fan-favorite episodes.
How do you know? It could be one of the fan-worst episodes. I would say this is normal. The script is really funny. Community I think does it better than anybody, if I do say so myself, on the show that I'm on. But yeah, this is a good one.
How would you describe this season?
There's a lightness to it all, and I think that's probably Yahoo and how liberal they are [in giving notes] and how excited they are about the show. That was not the culture before. It was always, "Well, you'd be lucky to get picked up," and then we were always the last minute until eventually they canceled us.
They would announce the time period for you, and then suddenly the show wouldn't be on the air.
Literally, I think the quote is, "You know, we'll see what fails and then we'll put you in there." No, if you look at our ratings, they were pretty darn good.
It was performing solidly for NBC on Thursday nights.
Probably one of the highest rated comedies. But yeah, I would say that's the biggest difference. There's not the pressure that this has to be shaved down to 21 1/2 minutes no matter what, and that's so nice. It doesn't mean the episodes are going to be 45 minutes long. But it means they will be 25 minutes long or 26 minutes long and they can breathe a bit. It's great. There's not that pressure and we're really in a good spot. I'm very happy.
Take me back to when NBC canceled the show.
That was a great day. Fun day. That's sarcasm, readers.
What did you do at that moment? You have famously helped save the show many times in the past. Did you feel the need to mobilize? Did you make calls?
I was sad, and let me say that it's all relative, because there are way more sad things in this world to be sad about. I was sad creatively. I was sad to not have that job anymore because I really enjoyed it. And getting Dan back in the fifth season, I thought we had shown ratings-wise that we were doing just fine and helping Parks and Recreation get a good number. It was that sense of loss. I say this all relatively, again. It's not like my kid's finger got chopped off or someone died. Artistically, it was a real bummer. We had a dinner where the cast members got together and commiserated. We had planned the dinner, and we thought, "Well it's either going to be a celebration or a wake." It made me think back to all the great times we had. I knew the writing was damn good on the show, and we knew the show was good and we knew the fans loved it. I just wanted to continue.
What happened after the dinner?
We all moved on. There was a long period of time between cancellation and Yahoo buying it. It was like, "Well, that thing's over. Now we're all going to move on." We all started conversations with other networks, and then all of a sudden, on the last afternoon of our contracts expiring, Yahoo bought it.
Were you in touch with Dan while the show was being shopped? It slowly looked like the show might survive, perhaps via Hulu or even Crackle.
We knew there was talk. Yes, I spoke to Dan. We didn't have a briefing with each other every day, but I think we were all asked, "If this thing happened, do you guys want to do it?" And everyone said "yes." I think Dan even said, "I'm not going to be the one that cancels Community a second time." And it has worked out really well.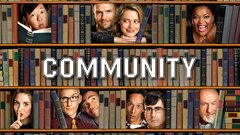 Powered by