COMMUNITY Q&A: Newcomers Keith David and Paget Brewster on Joining the Show's Weird World
As Community moves to Yahoo Screen, it also welcomes two new faces: Paget Brewster (Criminal Minds), who plays Francesca "Frankie" Dart, and Keith David (Enlisted) as Elroy Patashnik.
Frankie is a consultant hired to help shape things up at the underachieving Greendale Community College, and immediately butts heads with other characters, especially the school's dysfunctional Dean Pelton (Jim Rash). Elroy is a washed-up inventor who enrolls at Greendale to reinvent himself.
Both actors are familiar to Community fans: Brewster guest-starred as an IT staffer last season and David narrated a faux Ken Burns-style documentary in the Season 3 episode "Pillows and Blankets."
We first sat down with Brewster and David late last fall as they had just started their new jobs. Here's what they had to say about joining Community.
What was your reaction when you were approached to join the show?
Brewster: I was thrilled. I got a call saying, "Hey do you want to join Community for Season 6?" And I said yes, even though I didn't know who I was playing or what was happening. I told them if they wanted me, I was in. Whatever they want, I'll do. I didn't know if I was still the IT lady in the basement or not. I didn't care. I just wanted to be involved in any way.
David: An offer came out, and I thought it was wonderful.
What did you learn early on about your character?
Brewster: I found out right before we started that I was going to be an efficiency expert. Playing Francesca Dart, I'm brought in to tighten the budget, tighten the belt of the finances to keep Greendale afloat. I start cutting things that the students and Jeff and the Dean want to keep. And it upsets Jeff. He wants to take me down. They discover that without Shirley there's a lack of a voice of reason. They're crazed animals. It's a psychotic world they live in. Jeff decides to bring me back in the fold, to be the person in the room that goes, "What is happening?" [Showrunner] Dan [Harmon] told me she's neurotic and fear-based. She's good at what she does, doesn't want to be a jerk but ends up having to be a jerk to do her job.
David: I start out in the virtual world, developing things that we thought was going to be the next new thing that turned out not to be. I'm the guy who did all the wonderful ideas that didn't pan out. Im interested to see how we do explore that. I feel I understand something about being a dinosaur in a way.
This isn't your first time on Community.
Brewster: I had a great time when I guested last year. But I hadn't seen the show before that. I started watching Community after I guest starred and went, "Oh gosh, I wish I had known all of this before I was there!" So when the call came again, I was up to speed. But I'm still watching and rewatching because there's so much nuance in every episode. There's so much stuff going on that you don't realize or catch the first time. These guys reference everything they've done all the time and I go, "I don't think I've seen the Western one yet."
David: I had narrated an episode earlier and it was a lot of fun. Yvette [Nicole Brown] was a friend, so I watched it periodically. Mainly because of her, but the entire cast was really good. I always respond to when the writing is good and especially when it's clever and smart. I like this show because I think it's smart. It's not just slapstick and silly, it's based in something. And I love that. I'm more than happy to be here, it resonates with me.
Paget, you had worked with Dan Harmon, what about the cast?
Brewster: I've known Harmon and Rob Schrab for 11 years. I did Channel 101 [an LA-based stage show that turned into a web series] with them. I've worked with Alison [Brie] and Gillian [Jacobs] and Ken [Jeong] in other things.
And now you're working with Keith David too.
Brewster: He's lovely and now I have to watch Requiem for a Dream, which I've never seen.
Are you ready for the Community fans? It's a passionate group.
Brewster: It's such a smart bunch of educated people. They know about art but also Dungeons and Dragons. I feel like the rabid Community fans are a specific breed. They're excited and part of something that makes them feel good. To be able to join a show with that kind of support and following is great. They're people I identify with already.
What do you make of doing a show for Yahoo?
David: It's the wave of the future. In terms of being a dinosaur, I like to think of myself as a phoenix rising from the ashes of what I thought the world would look like, and accepting the world as it is. I think even Elroy's journey is going to be in that realm, transitioning from what you thought the world would be to accepting how the world is. You can still navigate through the world and maintain your values and have something to offer this new generation.
Have you done anything crazy on camera yet?
Brewster: I am game for anything. I can't wait. I hope I don't have to run around campus naked at some point, but maybe I shouldn't even say that. Maybe that's how it happens. Someone says they don't want to do it and then they write it.
Check out all of our Community Q&As: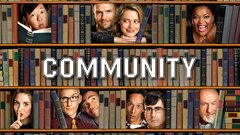 Powered by