'Community' Season 6 Trailer: Keeping Greendale Weird
As if you needed more reasons to be excited about the return of Community: Behold, the trailer for Season 6! Brace yourself for "a new Dean-mension" featuring drinking games, mountains of frisbees, an influx of white people, New Shirley, Keith David declaring he's "nobody's fourth Ghostbuster," an undramatic blood oath to defy evil, degrees for dogs, Abed's Sheldon impression, karate kicks and face punches. And also whatever is happening in the shot above.
The new season begins March 17 on Yahoo! Screen. Though Shirley (Yvette Nicole Brown) won't be there, and Troy (Donald Glover) and Pierce (Chevy Chase) are distant memories, the rest of the gang — plus newcomers Paget Brewster as Frankie and Keith David as Elroy — are all accounted for. The season will also feature guest stars, including Billy Zane and his beard, and Steve Guttenberg.
Note: Having trouble viewing the video? Don't forget to approve plug-ins from TV Insider in your browser.
MORE COMMUNITY:
The Inside Scoop on Community's Long Road to Yahoo (and What It Means for Season 6)
Q&A: Exec Producers Dan Harmon and Chris McKenna Discuss Season 6 and the Show's Ultimate Fate
Q&A: Ken Jeong on Ben Chang's Next Adventure and Why He'll Never Leave the Show
Q&A: Alison Brie on Weathering Cancellation and Resurrection, and What's Ahead for Annie
Community's Writers Share Their Most Memorable Scenes
Community Selfies: On Set With Joel McHale (PHOTOS)
How to Watch Community on Yahoo
Community Season 6 Trailer Released
Video: Joel McHale on Season 6 and playing Either/Or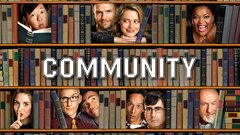 Powered by