COMMUNITY Q&A: Gillian Jacobs on Britta-ing, Change, and Why the Characters Are 'Broken in Similar Ways'
When it comes to working on Community, Gillian Jacobs is used to never knowing what to expect. Comings and goings, cancelations and renewals are all a part of the show's lore. "You have to adopt a very zen stance when you work on this show," she says. "You realize nothing is in your control and the only thing that's certain is change."
Jacobs sat down with us recently to discuss Community's move to Yahoo Screen, juggling it with her Netflix series Love (from Judd Apatow), and meeting Britta's TV parents.
You've got a new location, a new crew, a few new cast members (Paget Brewster and Keith David) and a new TV home in Yahoo. Does it feel different?
Not really. The biggest change is just coming to a different lot. My drive to work is different and we are shooting in a basement [the Community stage is in a converted underground parking lot], which is odd, and the configuration of the set is different, so it was very confusing the first two weeks. But now I feel like I roughly have the hang of it. And Paget and Keith fit right in seamlessly. We sucked them into our madness. We already have them making nonsense songs with us and they're willing participants in the goofballery. In every other way it feels exactly like Community always feels.
Every year there's something to talk about behind the scenes of Community.
Both the story of the show and then the plot of the episodes usually join together in some meta way.
What happened after NBC canceled the show? Did you expect it to wind up elsewhere, or did you think this might truly be the end?
Oh, definitely. After we were canceled by NBC and there didn't seem to be any immediate talks. I assumed Hulu would be a natural place for us, since we are one of the first shows they bought. It seemed to do well for them and so once those talks didn't start to immediately happen, I was told by multiple people that the show was dead and it was never coming back. I just started to move on because otherwise you're just like a Miss Havisham character holding on.
It sounds like you were getting mixed messages about whether it was time to say goodbye.
Joel [McHale] and I promoted the show at the Monte Carlo Television Festival even when I was certain it was dead as a doornail, but they didn't rescind the offer. So I still got to go to the Riviera and take my mom to Europe. But I was promoting a canceled show, which the European journalists were also quick to point out was not very popular in Europe. Only a couple of the seasons had aired in France and we were pulled off that. So we weren't even a hit there.
The Community Comic Con panel was originally going to be titled "A Farewell to Community."
It was a farewell to one incarnation of Community I guess; it's still fitting.
Then the news came out and suddenly out of the blue Community was saved by Yahoo.
It's been very down to the wire with this show. A lot of times it's a matter of hitting refresh on Twitter. It's all felt very random and I thought for sure NBC would give us a sixth season cause of that damn hashtag [#SixSeasonsAndAMovie.] You know, the hashtag has power, but it just had run its course at NBC. It had lost its magic at NBC, but Yahoo responded to the call of the hashtag.
Community has also been pretty accommodating when people are ready to move on or for one reason or another, such as Donald Glover and Yvette Nicole Brown. Did that thought cross your mind?
In the meantime, from when the show got canceled by NBC and picked up by Yahoo, I agreed to do another show for Netflix. I wanted to be able to do both and that's happening. That was my priority, that I'd be able to do both. It's a very interesting relationship being an actor on this TV show, because I feel a large responsibility to the show itself and to the fans. But sometimes, like Dan said at our 100th episode party, it is an "act of charity" making this show because you can't really have any expectations about success or audience or awards or recognition. You just have to do it because you believe it's worth doing. There's some part of us that keeps waiting for that surprise nomination for any awards, which seemingly will never come, and I think we just have to make our peace with that. But I think if you stack up the totality of our hundred episodes next to other shows that have been nominated for things, we are as deserving. I just think that we are a weird little show that falls between the cracks. People don't quite know what to make of us. And despite the fact that we are 100 episodes in, I'd say the majority of Americans have never heard of Community.
I assume being associated with the show gives you this extra kind of cache because there's so much intrigue surrounding the world of Community.
It's interesting because people in Hollywood talk about it a lot. If I am talking to somebody who works in film or television, they're aware of the show, and all the drama surrounding the show. But if I go to somewhere else in the country or even talk to people not in this business in LA, there's less recognition of it. It's a weird balance to strike in your head: We're one of the most written about shows on TV but then one of the least-watched shows. But also not actually doing that badly compared to other network shows.
And now you'll be asked a lot about what it means to be a TV show on Yahoo Screen.
Yeah, I know. Well, we got an app on Apple TV, right? So that's something. But you know what? Yahoo is very enthusiastic. They're incredibly supportive and they're motivated. I believe, really for the first time in our show's history, they want it to succeed. They wouldn't have spent all this money.
They need you to succeed.
Don't put that on us [laughs]. We don't do well with expectations. It will do what it will do. I do think that you may find that we had more viewers than previously counted because the Nielsen system is heavily stacked against a show like Community. I think kids watching us in their dorm room at 2 a.m. may now for the first time be counted. I don't know how it's going to work.
They'll have their own unique algorithm that you won't even know about. So tell me about Britta this season.
Oh, Britta is Britta is Britta. We meet my parents, played by Martin Mull and Lesley Ann Warren. And there are some changes for Britta and yet in other ways she remains very much the same.
She's still "Britta-ing" it?
She's still Britta-ing it, but I feel like she's on an upward swing in terms of intelligence. She still gets confused and makes mistakes, but she's not an idiot.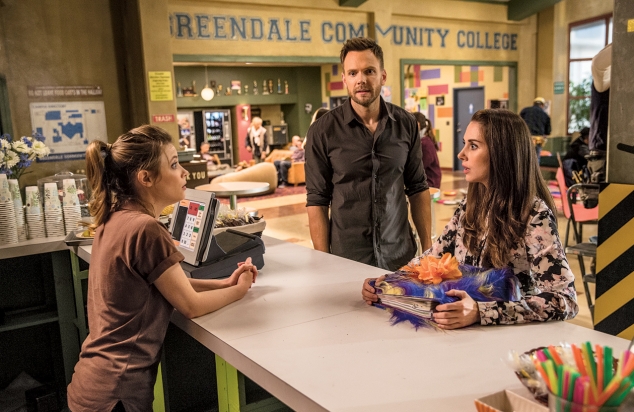 She's getting some things right now?
Occasionally, she's getting things right. Despite Shirley's departure, Shirley's Sandwiches lives on under new management, let's put it that way. New owners.
What was it like having Jim Rash and Nat Faxon direct you?
Jim and Nat are so smart, and so helpful comedically. Their takes on bits and lines and their ideas in those regards are illuminating. I feel like they've elevated the material or brought other things to it that have been really great to observe, and also benefit from as an actor.
What are Martin Mull and Lesley Ann Warren like as parents?
You gain some insight that will fill in some holes into Britta's character, and answer some valid fan questions they've had about Britta. I think it will be really refreshing and satisfy people's questions.
Any other predicaments that you've gotten into so far?
Oh yeah, we shot at Los Angeles City College for the first time in years. We've shot in natural daylight on the show. Daylight has hit my face while shooting Community, which is like a real rarity.
We're shooting more out on this lot, which is wonderful, but also I realized how close we are to Bob Hope Airport, so there's a lot of planes flying overhead. We shot a scene the other day that I think is going to have to be entirely looped. I don't think there's a single line of audio that will be usable from what we shot. But it feels good to at least be outdoors and give the show a little bit more scope and scale.
Any new relationships for Britta?
Not as of yet. Slightly different dynamics, but…
Let's talk about Keith David. He's filling the eccentric role previously filled by Chevy Chase and Jonathan Banks.
We always gotta have a baby boomer on the show. We got our new baby boomer.
The one who looks with an arched eyebrow at everyone.
To distinguish him from Pierce and Jonathan Banks' character as Buzz Hickey, he has more of a technological bend than they had, so that's the sort of different angle for him to bring into the group. And he's just lovely. We love having him here.
He's got that amazing voice.
Oh my god, it's so great. It's so funny because he went to Juilliard and I went to Juilliard. I'm not very good at voice and speech, and obviously he's incredible at it. Sometimes when I hear him speak, it's like I know that is how my teachers always wanted me to sound and I never will. It's really good to hear it across the table. He's got those rich, round tones they always wanted from me. But my nasally, Pittsburgh voice could never have done.
It's like you're living in a Ken Burns documentary.
It's just like, "muuuurder." I can't do it.
Are you getting to spend much time with Frankie, Paget's character?
Yes, I do spend some time with Frankie, and it's interesting. I think she brings a different maturity level to the group, which is a needed thing because we're all pretty immature regardless of our chronological age in the group. We're all roughly the same maturity level. We probably wouldn't have stuck together for as long as we have as a study group. We're broken in similar ways.
Check out all of our Community Q&As: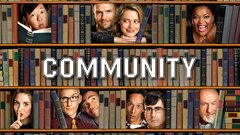 Powered by