Community Selfies: Joel McHale Brings a Camera Behind the Scenes (PHOTOS)
Community is set to return for Season 6 on March 17 via Yahoo Screen, but we wanted to know more about what happened when the cast was off screen. We gave Joel McHale a camera to shoot on set — and here's what we got back.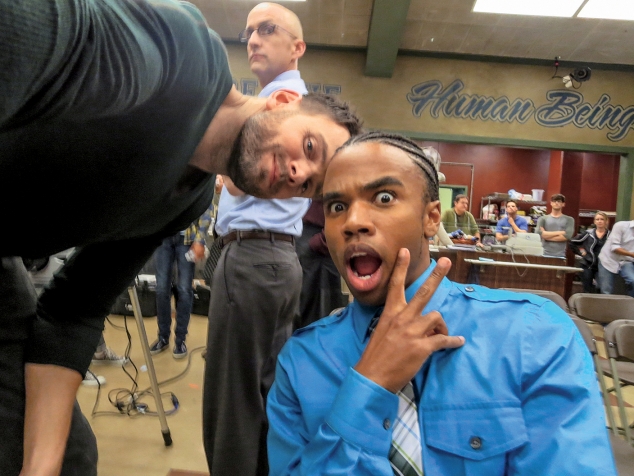 POP POP! McHale clowns around with Luke Youngblood, who plays party-hearty Magnitude.
SMILE HARDER: Ken Jeong grins enough for the both of them.
WHO'S PHOTO-BOMBING WHOM? We don't know yet why all the Frisbees but … soon.
DEM EYEBROWS: McHale and Gillian Jacobs in costume for Abed's space movie.
CLASS PHOTO: This season's gang gets together. From left, standing, are stars Joel McHale, Alison Brie, Gillian Jacobs, Keith David, Jim Rash, and Paget Brewster, with Danny Pudi and Steve Guttenberg seated.
GUYS, OVER HERE: Even Jacobs' best mugging can't pull people away from their phones.
ACTION! Pudi is ready to shoot.
SHUT UP, LEONARD: We know all about how you're really Richard Erdman.
FROM THE DESK OF THE DEAN: Rash is hard at work, we assume.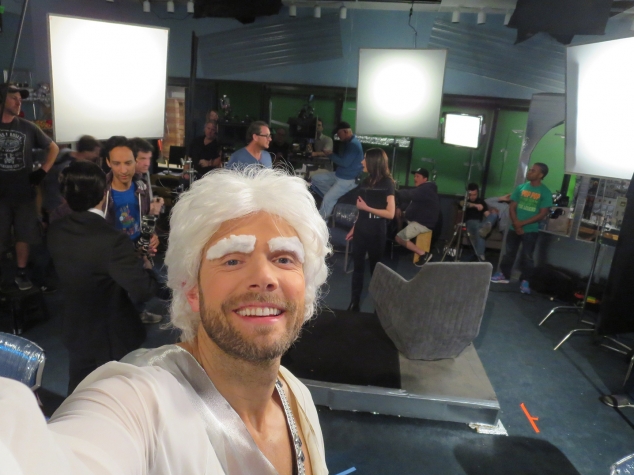 SCENES FROM THE SET: Can you spot the amazing guest star in the crowd? Nah, just kidding, made you look.
MORE COMMUNITY:
The Inside Scoop on Community's Long Road to Yahoo (and What It Means for Season 6)
Q&A: Exec Producers Dan Harmon and Chris McKenna Discuss Season 6 and the Show's Ultimate Fate
Q&A: Ken Jeong on Ben Chang's Next Adventure and Why He'll Never Leave the Show
Q&A: Alison Brie on Weathering Cancellation and Resurrection, and What's Ahead for Annie
Community's Writers Share Their Most Memorable Scenes
Community Selfies: On Set With Joel McHale (PHOTOS)
How to Watch Community on Yahoo
Community Season 6 Trailer Released
Video: Joel McHale on Season 6 and playing Either/Or
The Mad Men version will air on AMC starting Wednesday and will kick off the start of the finale on Sunday, May 17 ay 10/9c.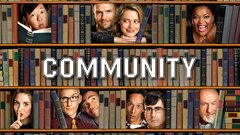 Powered by