What Makes Community's Joel McHale Laugh? (VIDEO)
https://player.waywire.com/?id=LJ6XRW0L6TV3XJ0D
With Community's sixth season soon to start, we sat down with Joel McHale. He's made us all laugh as Jeff Winger, but we wanted to know what he thinks is funny.
"The Geico ad with the goat scapegoat named Rick," he confesses. "I do not work for Geico, they have never paid me a dime, and I could watch that on a loop for days."
But wait, there's more: "I laughed out loud watching The Last Man [on Earth.] I'm not trying to promote my own interview with Will Forte. But they gave me an advance copy of the first two episodes and I laughed out loud, which does not happen to me usually when I am alone."
The show had its ups and downs during its years on NBC; beginning March 17, it'll get a fresh start on Yahoo Screen. Will there be more — and more of McHale as Winger — in the future?
"How dare you think that Community will ever die. Community, as I've always said, is like herpes — it doesn't go away unless you kill the host. It will always be with you," he says, "And you always should tell your partner about it."
MORE COMMUNITY:
The Inside Scoop on Community's Long Road to Yahoo (and What It Means for Season 6)
Q&A: Exec Producers Dan Harmon and Chris McKenna Discuss Season 6 and the Show's Ultimate Fate
Q&A: Ken Jeong on Ben Chang's Next Adventure and Why He'll Never Leave the Show
Q&A: Alison Brie on Weathering Cancellation and Resurrection, and What's Ahead for Annie
Community's Writers Share Their Most Memorable Scenes
Community Selfies: On Set With Joel McHale (PHOTOS)
How to Watch Community on Yahoo
Community Season 6 Trailer Released
Video: Joel McHale on Season 6 and playing Either/Or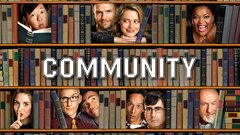 Powered by