'90 Day Fiancé: The Other Way': The Drama Returns (RECAP)
Ready or Not
Season 2 • Episode 15
[Warning: The below contains MAJOR spoilers for Season 2, Episode 15 of 90 Day Fiancé: The Other Way.]
The Other Way is back after a midseason hiatus, and in the two-hour premiere, the couples do not hold back. Armando tells his family about his engagement, while Brittany has another setback with her divorce. Between seeking parental approval to surprise news about Ariela's pregnancy, this week is full of dramatic twists and turns.
A Love Against Society
Sumit finally meets with his parents to discuss his relationship with Jenny. "We won't let him marry her," his mother tells the camera.
Yet Sumit is ready to fight for his love. "Jenny will be part of us," he firmly states. "You can't see her as a separate person."
"I will never accept Jenny," Sumit's mother counters. Jenny is older than she is and twice the age of Sumit. His father tries to explain that Sumit and Jenny are not an acceptable couple in Indian culture.
"If it doesn't matter in another country, then why do we have to stick to that?" Sumit asks. His dad states that as individuals, they cannot change their society.
"A mango tree can't start bearing lemons. If you want to live in harmony with your society, then you have to follow its rules," Sumit's father protests.
"You are leaving your parents for her!" Sumit's mother cries. They still have to pay for Sumit's divorce—over $20,000—but he blames his parents for pushing him to marry someone he didn't love in the first place. Sumit starts yelling and asks why they never saw how much pain he was in.
"I am getting true love with Jenny. You are asking me to choose between you two," he explains. "Why can't I choose both? Think about it."
Live Your Life
Brittany returns to Chicago and meets her mother at the airport. "I'm feeling very down," she confesses in the car ride home. "Life is for living, and it's very gloomy these days." She calls her trip to Jordan "crazy" and opens up about the strain of Yazan's cultural differences.
Yazan believes Brittany is in Chicago to meet her baby niece, but she is actually there to appear in court for her divorce. While she has been separated from her high school sweetheart for years, she is still legally married.
Brittany explains to her mom that Yazan's family is demanding she convert to Islam and get married as soon as possible. "I thought maybe I would be open and honest with them about things that were going on, and they'd be open and understanding, but these people are insane," she summarizes.
"I think you should stay the person that you are," her mother advises. "He should just accept you the way you are."
"Let It All Out"
Kenneth and Armando travel to pick up Armando's daughter Hannah. Kenneth is anxious about meeting Armando's family, especially his father. Armando still hasn't told his parents that he is engaged to Kenneth. "It is a way of still hiding me, still keeping secrets," Kenneth says in a confessional. "Everything's out, the whole basis of why he moved is out. Just let it all out."
Armando feels pressured to move too quickly and relies on Kenneth to support him.
Can't Have It Both Ways
After a month in Ethiopia, Ariela and Biniyam move into their more permanent apartment. Of course she is still not fully satisfied with the home, but she's eager for her parents to arrive in time for the birth of her baby. Ariela apologizes to Biniyam for threatening to leave ahead of the delivery. "You're kind of my only friend here," she somewhat jokes to him.
The couple are still missing key items for child-rearing, so Ariela's mother is bringing everything from the U.S. Biniyam does not have a full-time job, and Ariela explains that she has been paying for most of their expenses thus far.
Biniyam says he most likely will work nights after the baby arrives, but Ariela is not having it. "I'm thinking, 'How much do you plan to be out of the house?' If he's working too much, it could take a toll on our relationship," she tells the camera. He counters that she doesn't want to be like an Ethiopian woman when raising a child.
They Were on a Break!
While Tim keeps trying to find work in Colombia, Melyza has a secret of her own. She has lunch with her brother and friend to discuss how to break the news to Tim: She dated someone after he had cheated on her.
"I saw somebody for a little bit while I was broken up with Tim," Melyza explains in a confessional. "One of my friends introduced me to him. I was not looking for anything really, it just happened. It was mostly sexual."
She claims that it was never discussed whether or not her relationship with Tim was exclusive after his infidelity, but she still hasn't told him because she "has a right" to make her own decisions. However if they plan on moving forward, she knows she has to be honest with him.
Meet the Family
After a four-hour drive, Armando and Kenneth arrive at Armando's parents' house. Armando's entire family, minus his father, is outside around a bonfire waiting for them. Kenneth meets Hannah but has trouble communicating in Spanish with his future in-laws. Armando is equally uncomfortable.
"I just don't know what to say or how to act in front of my family with Kenny here, and I'm worried about my dad," Armando confesses to the camera. "I just feel like he's trying to stay in the house to avoid us."
"All I'm really asking for is a chance," Kenneth adds. Finally, Armando Sr. comes out of the house to shake Kenneth's hand after he is introduced as Armando's "friend." They briefly say hello, but then Armando Sr. leaves again.
"I wish there would have been more interaction with my dad. I wish he would have given Kenny more of a chance to introduce himself and for him to see for himself the person Kenny is," Armando says. "But I know my dad, he's having a tough time with this. All I can do is be patient and wait for whenever he's ready."
Armando's mother and sister talk with Kenneth about leaving his children in Florida. Armando's mother starts crying, empathizing about soon being without her granddaughter Hannah. Armando then announces that he and Kenneth are getting married.
"It wasn't like a spur of the moment thing," Kenneth tells Armando's family. "I know it's a lot."
Armando's mother confesses to the camera that she wishes Armando told her in private first instead of in front of his aunts and extended family. "I can tell that she's embarrassed, that she's hurt by this announcement," Kenneth observes about his soon-to-be mother-in-law. "I'm sad for Armando that his mother took it as something horrible and not something beautiful."
Taken for a Bumpy Ride
Ariela and Biniyam look to buy a car. For a 2008 used Yaris, the salesperson says it'll be $22,300. Ariela is in shock. "That is insane," she states. The salesperson explains that because Ethiopia is landlocked, the imported cars are more expensive, plus there are added taxes.
They instead look at a $17,000 car from 2001, but Ariela can't get her head around the pricing. "I'm not happy with the options," she tells Biniyam. "I'm not really sure how we're going to pay for the car."
He wants the vehicle for work and claims they can resell it for the same price as they purchased it. Ariela doesn't want to use all her savings, especially before the baby is born. Biniyam instead doesn't see a problem with her parents buying them things if needed.
Back to Court
Back in Jordan, Yazan misses Brittany, while in Chicago, she prepares to go to court. After the session, Brittany is still married. "I am appalled and shocked. This is not what I expected," she vents to her mom. She has to refile for divorce because the paperwork was not uploaded by the clerk's office. Brittany now has to stay in the U.S. longer, and she is worried about how to keep this a secret any longer.
"His family can't know the truth," she explains to her mother. "I have a lot to think about how I'm going to stall Yazan and his family. I don't know what I'm going to do."
A Small Step Forward
Jenny anxiously waits to hear from Sumit about his parents' reaction. Over lunch, he describes how the meeting went. "I'm not going to give up, even if you ask," he smiles.
Jenny says that she "fears for Sumit" every time he speaks with his family. He is hopeful that his parents will want what's best for him and ultimately accept her. She thanks him for fighting for her and their love.
What Now?
"I thought it would go better than this," Kenneth says, disappointed. Armando's mother still lets them stay the night at their house. Kenneth is uncomfortable being at the home after the less-than-welcoming reaction to their engagement.
"I felt a bad vibe," Kenneth admits to Armando about meeting his father. "He looked through me…He did not try to make me feel good at all…I just don't want to be viewed as the bad guy to them, because I'm sure a lot of times in people's eyes like this, they have to blame somebody, and I'm sure it will be easy to blame me."
Armando looks at the fact that his dad even came outside as a good sign. The couple hug and say they love each other, but Armando's family's acceptance is still a hurdle they will have to overcome.
Baby Can't Wait
Ariela goes to the doctor's office for a check-up. Her baby is due in one week, and she prepares for a final ultrasound. Ariela already knows her baby is breech but is hopeful that the baby has turned properly. Unfortunately, that hasn't happened. Ariela worries if she will have to undergo a C-section, and her fluid levels are low.
Later it is confirmed that Ariela will in fact need a C-section, and the doctor tells her that she should have the baby that same day. Ariela starts crying in fear. "I've never been more scared in my life," she says in a confessional. "My parents are not here, my friends are not here. I wish more than anything in the world that my mom is here."
Previews
Next week, Armando, Kenneth, and Hannah start to become a family, Tim and Melyza both seek forgiveness, and Deavan and Jihoon look to have another wedding in Korea. Jenny and Sumit look to get engaged, while Armando and Kenneth might have their marriage license denied. Plus, Yazan's father threatens him after Brittany's secret comes out.
Until next time!
90 Day Fiancé: The Other Way, Sundays, 8/7c, TLC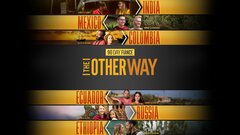 Powered by