'90 Day Fiancé: The Other Way' Midseason Finale: Brace for Impact (RECAP)
[Warning: The below contains MAJOR spoilers for Season 2, Episode 14 of 90 Day Fiancé: The Other Way.]
In the most dramatic episode yet, families are split apart and one cast member unexpectedly returns to the U.S. Now this is a proper midseason finale.
Parental Supervision
Sumit finally leaves to meet with his parents. Despite his nerves, he is intent on convincing his family to accept Jenny — especially before their wedding.
"My tourist visa is good for ten years but every 180 days, you do have to leave the country," Jenny explains to the camera. "My plan is to marry Sumit before the six months is up. Though I can stay in the country permanently, his parents need to not object to us getting married."
While Jenny calls her love with Sumit "real and true," he is hesitant to wed against his family's wishes. The first time Jenny visited India, she stayed with Sumit's parents for four months. She slept on a different floor of the house than Sumit, and his parents chose to believe that then-married Sumit was "just friends" with her. However once they learned the truth, Sumit's family rejected her.
Today, when asked what Jenny would say to Sumit's mother, she doesn't hold back: "What the f**k is wrong with you, lady? Do you understand that if you would have allowed us to get married back in 2014 when I was there, this could have all been avoided?"
"They need to just let me have my own life," Sumit agrees.
Before the Train Wreck
After being in Korea for two weeks, Deavan's mother Elicia prepares to depart. The mother-daughter duo go for tea. They joke that toddler Drascilla is "probably bullying" Jihoon and Jihoon parenting the two kids alone would be a disaster.
"I'm leaving here terrified," Elicia tells Deavan. "I feel like you and Jihoon and Drascilla and Taeyung just got onto a train and there's a bridge that just collapsed and I see it, but the train has already taken off, and I'm left standing there waiting for the train to fall off the bridge."
While her metaphor may have gone off the rails, Elicia sums it up by saying that she's "afraid" for Deavan and her children's future. Deavan agrees that Jihoon's parents enable him, but she chooses to give him the benefit of the doubt.
Back at the apartment, Elicia finishes packing. She advises Deavan to "be bold" but privately confesses that she feels like Jihoon has the maturity of a "16-year-old boy." A brokenhearted Elicia waves goodbye through tears.
Meanwhile, Jihoon breathes a large sigh of relief after Elicia leaves and fist pumps in joy. He also borrows his mother's credit card to pay for gas. As Deavan scolds him, Jihoon tells the camera that their relationship is "hanging by a thread."
Resting Sad Face
A shower cap-clad Biniyam does the laundry by hand as Ariela sits on the bed and watches him. He asks why she looks sad, and she tells him that it's "just her face." Eventually Ariela opens up and admits that she's unsure whether she wants to stay in Ethiopia.
"You know you can't go and leave," Biniyam pleads. "Listen baby, you need patience for living here."
"The only reason I'm having a baby here is for you. If we're not getting along, why am I going to stay here?" Ariela responds in a feat of emotional blackmail.
Biniyam tells her that he understands she would prefer to be with her family and at a hospital she's familiar with in the U.S. "Thanks so much for coming here, for staying with me and starting a life with me. I don't want to just lose you like what happened before with me. I don't want to lose my family again," he says as he tears up. "We didn't even try."
In a confessional, Ariela tries to contextualize the situation. "I feel a lot of pressure because I don't want him to get his heartbroken again," she states. "Biniyam's parents died when he was very young and his ex-wife left him, and as a result of that, he's not able to see his son. I don't know what he would do if I were to leave, especially if I were to leave with the baby."
Biniyam asks why Ariela even came to Ethiopia in the first place, and Ariela promises that she returned because she loves him, but now there is "no reason."
"I'm the reason and my baby's the reason," he rightfully points out. "This is family's reason, because, for this family, you stay here. Just give me time. We can fix it together. I love you."
Daughters Depart
Kenneth's daughters get ready to fly back to Florida. They wish Kenneth and Armando well, especially with Kenneth meeting Armando's family. Kenneth's daughters also exclaim how great of a father he is and how lucky Armando's daughter Hannah is to now be part of Kenneth's life.
Later that day, Kenneth and Armando start the drive to Armando's hometown. Both are nervous as to how they'll be accepted by Armando's parents.
Surprise Divorce
In Jordan, Brittany received urgent news that her divorce hearing is scheduled in Chicago later that week. She booked a flight to return to Illinois immediately. However, Yazan doesn't know the real reason for Brittany's rushed trip. She just tells him that her sister is having her baby soon and she wants to get back to see her family.
"Long before I met the divorce lawyer in Florida, I was living with my mom for several months in Chicago and I filed for divorce there," Brittany explains in a confessional. "I never heard anything back so I just thought nothing came of it. Then all of a sudden, the other day I got an email saying I have a court date to settle my divorce. I'm just so nervous. I just hope everything works out."
Brittany is wary to tell Yazan about her first marriage, especially after all the drama in Jordan. Yazan privately admits that Brittany's secrecy gives him a "weird feeling." She assures him that she'll be back soon.
Liar, Liar
Tim opens up to Melyza about his complicated job application process with visa sponsorship. She informs him that getting married so he could work in Colombia legally is not on her mind at all. "I'm just not going to jump into marriage with somebody I don't even trust," she responds.
Tim points out that he's glad he kept his job in the U.S., but this is news to Melyza. It's yet another mistruth from Tim. He doesn't see it that way. "I feel like I'm sacrificing everything," he complains to Melyza. "I guess I just feel a little bit sometimes that you might not as committed to this as I am, even though I can understand why you wouldn't be."
Melyza says that his words are "insulting and offensive" and such a conversation just proves they have a long way to go to rebuild their relationship. "It's definitely frustrating how he minimizes my sacrifices, especially when he's not being completely honest with me," she vents to the camera before hinting at some secrets of her own. "But at the same time, there are certain things that I have been hiding from him."
"It's Your F**king Fault!"
Ariela urges Biniyam to go apartment hunting again. While touring potential homes, she finally understands what their budget really is. An apartment with WiFi and hot water rents for $1,400, while Biniyam works multiple jobs to earn $500 per month. His cousin's house that Biniyam is remodeling is only $170 a month.
Biniyam says that Ariela is wrong and they can finish construction on the apartment. "No, no we can't!" Ariela starts yelling in frustration. "It takes time. It f**king takes time! You knew I was coming and you could have had everything fixed in the apartment already. If it was about money, you could have asked me for the money. So it's your f**king fault!"
Biniyam insists that the apartment can be finished in just one week. He tells Ariela to "shut up" and give him time. She accuses him of not being able to even take care of his unborn child. Biniyam says that he's "done."
"You didn't make any effort so you can't be 'done,'" Ariela strikes back. "No, no, no! I'm not f**king staying here!"
The Older Generation
Sumit's parents Sahna and Anil are shown on camera for the first time. They recall the first time they met Jenny. "I treated her well, I showed her a lot of love," Sumit's mother Sahna explains.
Sumit's father Anil soon realized that Jenny was more than just Sumit's Facebook friend from the U.S. though. "I was shocked. She is too old," Anil summarizes.
"She has been in an inappropriate relationship with [Sumit]," Sahna continues. "She should have treated Sumit like her son…After seeing all this, I don't like her at all."
"I want [Sumit] happy but not with a lady more than double his age," Anil concludes. "He has smashed our dreams."
Sumit, meanwhile, is worried about being disowned but is still determined to fight for Jenny. He enters his parents' house, and that's the end of the episode.
Previews
Unfortunately, The Other Way won't return until October 11, but the good news is there is a lot to look forward to after this cliffhanger! Deavan confronts Jihoon about cheating allegations, while Armando introduces Kenneth to his parents. Yazan gives Brittany an ultimatum, but she says he's "not the king of Jordan." Later it seems like Kenneth and Armando are denied a marriage license in Mexico, and Ariela has an emergency C-section in Ethiopia. Plus, Melyza hints that she's also been unfaithful to Tim, while Yazan dramatically fears for his life. Yes, you read that right.
See you in October, 90 Day fans!
90 Day Fiancé: The Other Way, Season 2 Return, Sunday, October 11, TLC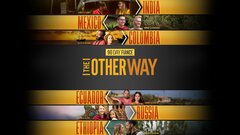 Powered by