'90 Day Fiancé: The Other Way': Hello and Goodbye (RECAP)
The Consequences of Truth
Season 2 • Episode 16
[Warning: The below contains MAJOR spoilers for Season 2, Episode 16 of 90 Day Fiancé: The Other Way.]
It's all about the revolving door of life this week as Ariela gives birth to her son, and Armando leaves his parents to start a new family with fiancé Kenneth and daughter Hannah. Melyza also toys with the idea of saying goodbye to on-again, off-again boyfriend Tim for good. Let's dive in.
Right in the Heart
After an emotional evening, Armando prepares to tell his daughter Hannah that Kenneth will be her new stepfather. The couple pick her up from school the following morning and later sit down to explain what being engaged means. "I am happy because the three of us are going to be together," the adorable Hannah gushes.
"Yes, we are going to be a family," Armando smiles back.
"Having Hannah excited about our engagement hits me right in the heart," Kenneth says in a confessional through tears. "I'm glad to have her in my life…I'm glad [Armando] chose me. I just want her to have the best life possible, and I want his family to know that. I really, really, really love her."
Baby on the Way
Ariela prepares to have an emergency C-section. Her parents aren't in town, and even Biniyam is worried. Ariela calls her mother Janice for support. Janice comforts her through the phone, and Ariela is wheeled into surgery.
Biniyam, though, has his own thoughts about Ariela giving birth. "According to what my parents and culture have taught me, if a mother gives birth naturally, then the love for her child is stronger," he explains to the camera. "And in surgery I know there is less pain but what you get from struggling naturally is sweeter." Why doesn't he try giving birth and then reevaluate his thought process?
Ariela starts crying when she views the surgery room and struggles to accept what is happening to her.
A Renewed Relationship
Back in Korea, Jihoon and Deavan move into their permanent apartment after a month of looking. "It feels so good to have my own home that I can feel comfortable in," she says in a confessional. The family also got a puppy named Bam Bam.
Even though the couple have financial issues, Deavan wants to have a big wedding with her daughter Drascilla as the flower girl. They are technically married on paper, but Jihoon and Deavan did not have a traditional wedding ceremony.
"Jihoon has been stepping up more to provide for our family, so I'm ready to get married again," she gushes. "I'm really hopeful for the future at this point because it really feels that things are falling into place with us." Deavan also credits Jihoon for stepping up as a father and provider.
Flirts & Flings
Tim and Melyza consummated their relationship after months of not being intimate with one another. "It was kind of awkward at first but then it ended up being really good as usual," she blushes.
"It feels good to get lucky," he boasts to the camera. "But it means so much more because [Melyza] is feeling comfortable enough with me on an emotional level, too. I think that just says a lot for our progress that we're continuing to make."
Yet Melyza still hasn't told Tim about her other relationship after he was unfaithful. She asks if he had dated anyone prior to moving to Colombia for her, and Tim admits to flirting with some of his coworkers. Just a reminder: Tim cheated on Melyza originally with someone from his work.
"I'm not trying to date anybody. I haven't gone on a date with anybody, I haven't been talking to anybody, I haven't been in a relationship with anybody," Tim confirms. He then asks Melyza if she can say the same.
"I was single," she responds. She explains that she met her fling through friends. "I'm not seeing this person anymore, so why do you care?" Melyza separately claims she is trying to downplay her casual relationship; it only ended a month ago. She refuses to give Tim details, including whether or not she slept with this other man, and he is annoyed.
"Her not giving me a straight answer feels like she's playing games with me. It just doesn't jive," Tim states in a confessional.
"It's definitely upsetting that he tries to make it seem like I did something similar to what he did when he cheated on me," Melyza explains. "When I left the States, I definitely thought I was never going to see him again because we broke up. I was trying to live my life and move on."
Melyza finally confirms that she had sex with this other man, multiple times but promises that she did not have feelings for him. Tim starts tearing up. "I do feel bad, seeing him hurting," she says in a confessional.
Tim says that she "ripped his heart out" and things will now be different between them. "I wish she did tell me before I moved here because it's making me second guess whether she's actually serious about us," he states.
Sister Sister
Brittany visits her sister and nieces in Chicago. She explains to her sister Virginia that her divorce is still delayed and Yazan's family is pushing them to get married. Virginia asks Brittany whether she'll convert to Islam for Yazan and shares her concerns.
"I know my sister is worried, but I need to get this divorce finalized because I can't keep buying time," Brittany tells the camera about her plans with Yazan. "If I don't come back to Jordan with the divorce papers, our relationship will be over."
Born This Way
The doctors try to calm Ariela down before injecting the anesthesia. Ariela resists treatment before going to sleep. Her child is removed via C-section, but the baby isn't crying. The doctor explains that their son has respiratory issues, but he does eventually start crying and is healthy overall.
Biniyam is relieved in the delivery room. Ariela is still asleep while he takes photos of their baby.
"I Have to Be Me"
Armando gardens with his mother. While discussing his plans, she starts crying again. "From what I saw when you introduced me, [Kenneth] seems like he's a good person," Armando's mother says. He asks if his father had anything else to say after meeting Kenneth too.
"I tell Armando he has to wait for his father little by little to overcome this," Armando's mom tells the camera. Armando still hasn't told his dad that he is engaged. His mother admits that it was a surprise to her and he should have told her first.
"I can tell my mom is not thrilled still about hearing that Kenny and I are engaged, and her telling me that she would have preferred I told her in private shows me that she's still struggling with it," Armando says in a confessional. "I think in some ways she feels embarrassed that I'm gay. But she needs to learn how to accept me without worrying what anybody says."
Armando tells his mom that he plans on celebrating his wedding to Kenneth with a big party. She looks dismayed, urging them instead to just go to the registry to be legally wed. Armando asks if she will attend. "I want it to be a happy day. I want to have full support from you and from the family," he pleads.
"Well, how about a small wedding?" she responds.
"Big or small, will you go or no?" Armando counters.
"You are my son. I love you, and you have decided to be who you are, and if you want a party and everything, whatever, I will go with you," his mother promises. She reminds Armando that his father probably will not attend though.
"I feel like I'm risking the relationship with my family in order to be with Kenny," Armando explains in a confessional. "But ultimately I'm with who I love and if my family cannot accept me marrying Kenny, I do feel like I am going to have to choose Kenny over them. And as much as that would completely break my heart, what else can I do? I have to be me."
Mountains of Trust
A "devastated" Tim cradles his cat after Melyza opened up about her relationship. He calls his therapist for advice.
"Now you've got two mountains to climb of trust with each other," the therapist tells him. Tim hopes to eventually forgive Melyza so they can move on.
Baptizing Blues
Biniyam calls Janice to tell her the good news. Ariela cradles her son in the hospital bed. "It's amazing, it's shocking, I have no words to describe this feeling," she smiles.
"Thanks for giving to me this baby," Biniyam kisses Ariela's hand.
Ariela talks to her mother Janice on the phone, and her parents are still uncertain when they can travel to Ethiopia to be with her. Biniyam's family visits the baby and lovingly nickname him Simba. Biniyam's sister asks if Ariela will baptize the baby.
"I respect their religion, I respect their culture, but everyone keeps pushing this on me. Right now is not the time. I am exhausted, I'm in pain, and I don't want to talk about it," Ariela vents in a confessional.
A New Beginning
Kenneth, Armando, and Hannah leave Armando's family to go back to their house. Armando calls the departure "bittersweet," and there are tears all around as Hannah hugs her friends and aunt goodbye. Armando's mother hugs Kenneth and asks him to take care of her son.
Armando's father does come out to say farewell, which was especially meaningful for Armando.
Faded Love
Melyza meets with her mother and opens up to her about the fling. "I see my daughter has mixed feelings," Melyza's mom tells the camera. "I don't feel that she is happy." She tells Melyza that it doesn't seem as though she is still in love with Tim.
"Tim has never stopped saying that he loved me, and I did," Melyza clarifies to the camera. "I mean, at first I was just so hurt. I wasn't capable of saying I love you with words. But now that he's here, there is something still inside of me stopping me from doing so."
Melyza starts crying and admits that she doesn't know how to proceed with Tim. "If your heart hasn't healed and deep down you have not forgiven, that ghost will follow you forever," her mother advises.
Name Game
"The reality of being a mom is an amazing and scary feeling," Ariela says the next day. She asks Biniyam to shop for baby supplies, the ones she was hoping her mother would bring from the U.S. Biniyam and his sister head to the market, but he is worried the products won't be up to Ariela's standards.
Biniyam explains that he was hoping to name his son Gabriel, whereas Ariela preferred the name Aviel. Biniyam is scared about pushing Ariela away if they argue over the baby's name.
"Having a new family brings me so much happiness. It's Ari who gave me so much hope," Biniyam says in a confessional. "But if something happens, I would feel so sad and hurt again."
A World Apart
Brittany has been in the U.S. for three weeks, and Yazan has been struggling in Jordan without her. He meets with his friend Mohammed and confides that his father has now said that he is not accepting of Brittany due to her social media.
"He started telling me that she is playing with me, that she doesn't want to marry me," Yazan tells Mohammed. "[My parents] feel she is just lying to me."
Yazan's father apparently kicked him out of the house. He stayed with his uncle, then spent two nights on the street, and now has rented his own apartment. He also lost his job at the fish market. "I feel like I have lost everything in my world," Yazan states to the camera.
Brittany and Yazan haven't talked in a while, and he feels as though he's lost her as well. Apparently the last time they spoke, she had brought up the issue of money with him. "She told me, when she comes here, I pay for her plane ticket and travel expenses," Yazan says. "I don't have the money! I felt like she is living in another world, or that she doesn't care about me at all…Right now, I feel like what my parents are saying is correct…The problem is that I love the girl. I am truly lost."
Previews
Next week, Kenneth questions Armando's parenting techniques, while Deavan meets with Jihoon's family to plan their second wedding. "It just feels like my childhood dream is destroyed," Deavan pouts. Brittany and Yazan argue over FaceTime, and Sumit's wife seeks financial support during their divorce. Ariela also stops her son's circumcision.
Until next time!
90 Day Fiancé: The Other Way, Sundays, 8/7c, TLC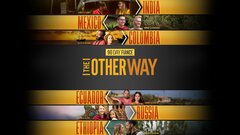 Powered by