'90 Day Fiancé: Before the 90 Days': What Just Happened? (RECAP)
Our Lips Are Sealed
Season 4 • Episode 5
[Warning: The below contains MAJOR spoilers for 90 Day Fiancé: Before the 90 Days Season 4, Episode 5].
Nothing was held back as couples accuse one another of gold digging, cheating, and ruining careers. Plus there might have been two breakups already — or three, if you count the ghost of Williams. It's ok, we're confused too.
Getting Down Under
So much for Avery telling Ash that he'll have to "migrate" to her bedroom after she arrived in Australia. The two wake up together after an obvious intimate evening. "I did not go straight to bed [last night]," she giggles to producers. "The plan was to sleep in separate rooms but it's really hard to resist having such a sexy man in front of me." Guess those black roses from the last episode really sealed the deal.
Ash says on camera that they did it twice last night, and Avery claims that he is the best she's ever had, no doubt one of the perks of dating a relationship coach. The couple prepares to meet up with Ash's brother, and Avery is nervous about making a good first impression.
"In all honesty, I just want to make sure I don't have to hide anything about myself. I just want to be open and authentic and who I am," Avery tells Ash — especially since both he and his brother don't drink or smoke marijuana like she does.
Facebook Exes
After the marketplace mishap, Ed and Rosemarie go to a nail salon for couple mani-pedis. He apologizes for getting frustrated earlier, and she says that she'll always be on his side.
He then confront Rosemarie about her large amount of Facebook friends, and she denies that any are her former lovers. However, seconds later, Rosemarie admits that she met her most recent ex-boyfriend on Facebook. Ed chalks up her mistruth to the language barrier.
"I want to make absolutely sure I know everything about her past before I make that commitment," Ed says in a confessional about proposing to Rosemarie. She just tells him to trust her, but he is still questioning her intentions.
The Queen of Queens
It's the day before the premiere of Usman aka Sojaboy's "I Love You" music video. Lisa warns Usman about dealing with his female fans at the club, but before they go to the party, he brings her to his recording studio. "There is where my Baby Love did my song. This is really cool," she smiles.
The music video director, Umar MB, stops by the studio, too. Lisa immediately is annoyed because of his decision to use a model in place of her, and there seems to be no love lost between the two of them. "Honestly I don't want credit for the video because it's changed so much from my original idea," Umar MB says in a confessional. "She is the queen of queens because she made us do extra work."
Usman purposefully mistranslates what Umar MB said, telling Lisa it's a compliment. "I wish Lisa could understand what I sacrifice for her," Usman admits, citing the strain between him and Umar MB now.
A Long Time Coming
David hits the Las Vegas strip to find the perfect engagement ring for long-distance girlfriend Lana. He explains that he has been engaged twice before to American women, and for his third proposal, he's looking for something "less than a diamond," like a cubic zirconia.
The following day, David says bye to his cat, packs his massage oil ("hopefully I get to use it, I'm an expert"), and heads to the airport. He has not been intimate with a woman in ten years apparently, so a 22-hour flight to the Ukraine is especially a long time coming.
"There is so much riding on this trip," he says to the camera. "I'm really doing it. I feel right about this….This time I think is going to be it."
Meet Erika
Stephanie lands in Australia, and we're introduced to her girlfriend Erika. "To me, living loudly is very important. I'm just a very colorful weirdo," Erika jokes while photographing kangaroos at a sanctuary.
Erika lives in a small town and has had trouble finding romance in the Australian outback. Yet her friends are slightly skeptical of her relationship with Stephanie since thus far it's only been online.
Like Stephanie, Erika has also yet to come out to her parents. "I've never told them because I've never had a girl that's been special to me that I've wanted to commit to fully," Erika says to her friends. Erika says that if things do work out with Stephanie, she'd be willing to move to the U.S. to be with her.
Give Up Already
Oh gosh, Yolanda still thinks Williams is a real person. Apparently he has since apologized for completely changing his Instagram page and blamed the actual app itself. "I'm so relieved Williams got back to me and he's in the dark just like me which made me feel better," she tells the camera. "In the meantime, I'm still moving forward with my plans to see him."
Yolanda goes shopping with her friend to find something "cute and sexy" to pack for her trip to England, because apparently she is still determined to go no matter how many red flags have to hit her in the face.
The Princess and the Frog
Geoffrey confronts Varya about her intentions after she called their relationship an opportunity to go to the U.S. "If we don't work out, is it onto the next American?" he asks.
"We're both just trying to find our soulmates. It's not my fault that you are an American," Varya responds, citing a Russian fairytale that's basically the reverse story of the Princess and the Frog. Geoffrey says that he's going to trust her and try not to conflate his current relationship with his exes.
"This is Very Strange"
David lands in the Ukraine, but his girlfriend Lana won't arrive until the following morning. Thus, his ex Anya picks him up instead. Twelve years ago, Anya was trying to find an American spouse on an international dating site, but after meeting David in person, realized there was no chemistry. She is suspicious of the elusive Lana.
"I think David is a really nice guy but he doesn't see what's really going on," Anya says in a confessional. "Some girls enjoy the man who is really old but has the money and they are not serious on the websites. I am worried that has happened to David."
Regardless, David is determined to bring Lana to the U.S. on the K-1 visa. He's in the Ukraine to essentially have the required official in-person meeting to prove their relationship, plus take photos together for the application.
"I don't know what to tell you, this is very strange," Anya rightfully tells David.
Take a Chance on Me
Lisa and Usman meet up with another Nigerian celebrity, Abba S-Boy. Abba gently tells Lisa that for musicians like him and Usman, women are the core foundation for their fanbase. "You're causing a lot of trouble here," Abba bluntly but accurately tells her. "You really don't understand how it works in the music industry. Are you trying to say like in America they shoot music videos, love songs, without a model in it?"
Abba calls a video without a model "tea without sugar," and that doing so will disappoint fans. Then he just straight up asks if Lisa is trying to destroy Usman's music career. She threatens to get up and leave, calling Abba S-Boy an "idiot."
"You're still in Nigeria, you're not that big of an artist, you're not that big of a producer. You're nothing," Lisa yells as she walks away. Usman says he's embarrassed by her actions.
On the Spot
Avery and Ash explore Melbourne before meeting up with his brother, Antish. Avery orders a cocktail, and Ash follows suit and asks for a drink as well. Right off the bat, Antish is already against her, calling her "not a good influence," teasing them about meeting online, and even bringing up her previous relationships.
"The vibe I'm getting from Antish is not great. It feels like an interview," Avery admits in a confessional. Antish then asks what the plan would be if they want to move forward with their relationship.
Avery tells Antish that Ash has told her he'd want to move to the U.S., but Antish warns that there will be difficulties ahead for them.
Back to the Future
Ed assures Rosemarie that all he wants is the best for her and her son, Prince. He eventually asks for her to take a STD test, which leads to her making this face:
Rosemarie says she's disappointed with Ed's request. "I feel my heart crack," she tells the camera. He says that he doesn't mean to offend her but just wants to know the rest of her past.
"I want to know for myself that I can trust her and that she's not someone that sleeps around," Ed admits. Rosemarie counters and asks him to take the test too. He says he doesn't want to have a medical test done while in the Philippines but will take one once he returns to the U.S.
"If you're not going to talk about your past, then I'm not comfortable moving forward with this relationship," Ed gives Rosemarie an ultimatum, leaving her in tears. "I'm not going to spend the rest of my life with somebody I can't trust."
Rosemarie tells Ed that she doesn't talk to Prince's father at all since he his own family now. She's had two boyfriends in the last four years but hasn't dated recently. He tells her that this is just want he wanted to know all along, but she completely flips out, angrily muttering at him as he tries to calm her down.
"You can hate my guts, I don't care about that. All I care about is your safety," Ed says. He ask her if he can book another hotel room until she can leave back to her town in the morning.
At Last
Erika and Stephanie are giddy at the airport after meeting each other. Erika brings Stephanie pineapples since that's her nickname. "She's the most beautiful, best smelling, best dressed, most amazing human being. I probably like her way more than she likes me right now but it's ok, we've got time to work on it," Stephanie gushes.
The couple don't kiss at the airport because Stephanie says she's not into PDA, but they're both excited to make their relationship publicly known later.
Interrogation Tactics
Geoffrey finally meets Varya's friend group. They ask about his occupation, previous relationships, and intentions with Varya. "There's no reason I should be interrogated like this," he states to the camera.
One of Varya's friends asks in Russian if she's told him yet that Varya was recently talking to another American man online. Apparently Varya had previously said to Geoffrey that he was the only American she ever tried to date. "You've been dishonest with me. Is this funny?" Geoffrey asks Varya and her friends. "This is ridiculous. You lied to me. I'm done. This is bulls**t."
He storms off, telling himself that he should have "been smarter about this."
Previews
First things first: do we have multiple catfishing couples this season? Yolanda seems to be in denial about Williams, and who knows if Lana will even show up to see David. But was Geoffrey and Varya's relationship ever serious?
So far, we feel bad for both Ed and Avery. It's not like they'll actually end up with a happily ever after at the end of this, given their respective current situations. Stephanie and Erika seem like the strongest couple that can last, but then again, they just met in person, so time will tell.
Next week we see Lisa and Usman still arguing, while Ed tries to win Rosemarie back. Stephanie puts off getting intimate with Erika, and Geoffrey might be breaking up with Varya. We still need more Darcey though!
Until then, 90 Day fans!
90 Day Fiancé: Before the 90 Days, Sundays, 8/7c, TLC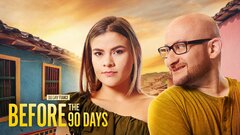 Powered by