'90 Day Fiancé: Before the 90 Days': Make Ups and Make Outs (RECAP)
Can't Buy Me Love
Season 4 • Episode 6
[Warning: The below contains MAJOR spoilers for Season 4, Episode 6 of 90 Day Fiancé: Before the 90 Days.]
Three couples make up and make out, while others teeter on the brink of huge blowups. Plus, Usman aka Sojaboy finally premieres the music video for "I Love You," and David joins Yolanda in being catfished.
Let's dive in.
You Say He's Just a Friend
Geoffrey wanders the streets of Russia after the confrontation with Varya's friends. Varya follows him outside and admits to also currently speaking with another American man from the dating site. She assures him that he's "just a friend" though.
"Is she playing this other guy? Is she playing me? The fact that she keeps avoiding the truth makes me feel like this relationship is just a lie," he says to the camera.
Varya also met this other man previously, and Geoffrey calls their relationship "just a game."
"I am your free ride to America. This is it," he concludes before heading to the hotel alone.
Doing What It Takes
Usman apologizes to Lisa for not respecting her in front of his industry colleague, even though he privately admits that he agrees she isn't good for his career.
"The ultimate goal for me and Lisa is for us to get married together, to live together, to have some children, and for me to maintain that status of superstar Sojaboy over there in the States," Usman says in a confessional. "So I have to do what I have to do to make her happy."
Ah, what a promising union.
Reunion Woes
Darcey prepares to go to New York City to meet on-again, off-again boyfriend Tom. She still plans on confronting him about the photos with another woman.
"I feel betrayed, used, and I'm going to let him know it," she explains. "I feel like he's manipulating me to go so he can feel peaceful for himself even after he knows he did me dirty."
Tom apparently half-heartedly invited Darcey on a trip to Argentina to meet his "real friends," and she suspects the invitation is just a ploy to get her to agree to meet him.
Cut to seeing Tom arrive at the airport, looking better than ever. He hopes to try to make it work between himself and Darcey. "I think I love Darcey a lot, more than she'll ever realize," he tells the camera. "I did think maybe we could have a future together and then things changed. I think the distance is a nightmare…and even when she got home, she was still upset and talking about her ex-partner Jesse. That was a little too much for me."
Tom calls the previous reunion episode "a clusterf**k" after Darcey was found flirting with a stranger in the lobby. He says that his meeting with Darcey will either be something he later regrets or the start of a healthier relationship for the two of them.
First Kiss
Stephanie and Erika head to the hotel in Adelaide, Australia. "I feel like we have this deep soulful connection, and I'm 100% attracted to her," Stephanie says, "but I'm scared because I don't like to move too quickly with intimacy. But at the same time, I want her to know how into her I am."
Erika similarly is hesitant to make the first move, jokingly calling herself too "chicken."
The couple orders a $100 bottle of champagne from room service while Stephanie gives Erika the presents she packed from the U.S. Erika somewhat flirtatiously asks what's next, and Stephanie says that while she does want to kiss her, she also wants to take a bath. Stephanie brushes her teeth, dons a black feathered robe, and the two finally share their first kiss in the bathroom.
The Girl Not on the Train
David gets ready to pick up girlfriend Lana at the train station. He tells the camera that he plans on taking her horseback riding and bowling as soon as she arrives. Yet David is confused about the Ukrainian train system and resorts to just staring at passengers getting off every train.
"Maybe she went out front to look for me," he speculates as he circles the station. "I'm not seeing her. She's not here."
David doesn't have Lana's phone number since he solely communicates with her via the dating site. He goes to an Internet café to try to reach her over the computer, but his anger and frustration is bubbling. "This is the fourth time that I've come to the Ukraine to meet Lana, and this is the fourth time that it hasn't happened," he states. "This one is different because there is no excuse for this one. …This one I really thought she was going to be there."
Baby Love Lisa
Usman and Lisa head to the Sojaboy premiere party at club Bar Code. She is mostly concerned about witnessing his female fans at the club, and he is similarly worried about her behavior. "Tonight could make or break my career," Usman tells the camera.
The couple poses for photographs on the red carpet before heading inside. Immediately Lisa is overwhelmed. "I'm shocked with how the women are acting. I'm holding onto Usman and they're just like lovesick puppies," she says as fans ask for photographs with Sojaboy.
Usman performs live, and Lisa looks on with a proud smile. "It is more than I expected. It's over the top, it's electrifying, it's sexy as hell," she gushes.
Usman introduces the music video for "I Love You," the song he wrote for Lisa. Separately to the camera, he says he's still nervous about how the video will be received. "I don't know if my fans are going to love this music video without the hot model, and it is because of Lisa and her demands." As Usman expected, Lisa is the only one appreciative of the video when it plays in the club.
No one applauds after it concludes, and the silence continues as Usman asks Lisa to stand up as the inspiration behind the track. "I think Sojaboy dating an older lady is not pure love," a female fan says outside of the club.
"It was a boring video. Boo," another woman echoes. "Old white lady, he wants her money. She should run away."
In contrast, Usman says that he's proud of how Lisa acted at the premiere. But he also could feel the tension in the room: "I cannot lose my career."
Second Opinion
Geoffrey calls his friend Mary for advice about whether he should just fly back home. She is also his ex-girlfriend, and previously told him that he's making a big mistake not pursuing her.
Geoffrey explains to Mary that Varya is still talking to other American men. "I wish you didn't go," Mary says. "I think that you didn't see what was right in front of your face."
Geoffrey questions whether he should instead try to have a relationship with Mary, especially since she knows all of his past. Yet Mary still prompts Geoffrey to try to work it out with Varya before officially calling it quits.
Kangaroo Confessions
Erika and Stephanie spend their first day together on a wildlife preserve. Stephanie says Erika looks like a "sexy Steve Irwin" in her safari gear. The couple feeds kangaroos and takes photos together, but afterwards Stephanie has to pause to take medication and sanitize everything.
Stephanie tries to explain her health situation to Erika and voices her insecurities. "I just feel like why would somebody date me when they could just date a normal person and not deal with the stuff I have to deal with," Stephanie confides in Erika, who tells her that no matter what, she'll be there.
"I don't ever want her to feel like it's a burden," Stephanie says separately in a confessional. However, Erika admits that Stephanie downplayed her illness before coming to Australia, and she does have to consider how it could impact their future.
Forgiven, But Not Forgotten
The day after Ed and Rosemarie's fight, he voices his regret over asking about the STD test. "Once she told me what her past was, I didn't even care about the test," he says through tears. "Right now I feel like I blew it…I just want the opportunity to say I'm sorry."
Ed asks Rosemarie to meet at a café, and she does eventually show up. He apologizes and tells her that she's "teaching him how to love."
"Love is trust. I want to see the future, I want to move on with you and my son," Rosemarie says. They both agree to spend another night in Manila before going to Rosemarie's hometown. Ed tells the camera that they have a long way to go in their relationship before he'd even consider proposing.
Change of Plans
Two days later, and David still hasn't heard back from Lana. He's adamant to see her this trip, so he tells his friend Anya that he wants to travel to Lana's city of Pavlohrad to find her. Anya warns David once again that Lana's true intentions might not be honorable, plus he doesn't know Lana's actual address.
"Maybe it's better to stop this," Anya tells David, who counters that he still needs answers.
Hometown Hotel
Lisa and Usman fly to Sokoto, Nigeria to see Usman's mother and get her blessing. They opt to stay at a hotel to still be intimate during the trip, but the "chalet" is not up to Lisa's standards. "It's like a one-star or maybe a half-star hotel," she complains.
Instead of a mattress, the hotel has two box springs, but Lisa is most concerned that the bathroom only has a bucket to take a shower.
"Lisa complains about everything about Nigeria, and eventually I will get tired of it," Usman says in a confessional. "These things that you are experiencing that you see as bad, that is the way I was brought up. I'm worried that she's going to act like this in front of my mother."
Usman confides in his childhood friend that he finds Lisa controlling, and that it must be an American trait. He questions if he's even making the right decision by planning to marry her.
All Apologies
Varya brings Geoffrey his suitcase, and he asks if they can just talk about everything. He apologizes for making a scene in front of her friends but still tries to hold her accountable for still talking to the other guy.
"All these revelations just tell me repeatedly that I am just strictly here for you to come to America," Geoffrey tells Varya, who says she easily could have moved to the U.S. with the other man, but that she's actually searching for true love.
She also asks for him to forgive her and says that she hid it from him so he could feel "special."
"I just want you to tell me the truth. That's all I care about," Geoffrey responds. "I want us to fix this…Can we both move forward and not look back? I want to continue this." The couple makes up and walks back together hand in hand.
Crying in Connecticut
Darcey gets ready to meet with Tom, and nervously bursts into tears. "I just don't want to feel that pain of the unknown. It's been too long," she says.
As Tom also prepares, he struggles to even tie his tie. "The biggest concern is that Darcey is going to get extremely emotional," he explains. Unbeknownst to him, she's already inexplicable crying back in Connecticut.
Darcey plans on staying overnight in Manhattan to not bring "bad energy" home if things go sideways. As she walks into the restaurant, Tom gives a sly smile but to his surprise, she refuses to hug him, saying she "doesn't feel comfortable."
And that's all we get! The big confrontation will have to wait until next week.
Previews
Aside from the highly-anticipated Darcey and Tom showdown, we also see Ed attempting to seduce Rosemarie, Erika and Stephanie going to a topless event, and Avery confronting Ash about the custody status with his son.
Plus Yolanda's daughter suspects that Williams is actually living in Nigeria, and Geoffrey meets Varya's mother.
Talk next time, 90 Day fans!
90 Day Fiancé: Before the 90 Days, Sundays, 8/7c, TLC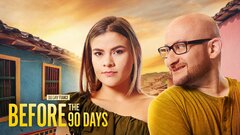 Powered by