'90 Day Fiancé: Before the 90 Days': Let's Move This to the Bedroom (RECAP)
Baby Be Mine
Season 4 • Episode 4
[Warning: The below contains MAJOR spoilers for 90 Day Fiancé: Before the 90 Days Season 4, Episode 4].
From couples spending their first intimate evenings together in suites that are far from a fantasy to FaceTiming on bedspreads, we find out what exactly goes down in everyones' bedrooms.
Plus, finally the last couple is introduced. Bring on the catfishes, sexcapades, and green card paranoia!
The Morning After
"There he is, my destiny laying next to me," Lisa coos over boyfriend Usman. Yet there is a "big cultural difference over making love," according to Lisa, who apparently had to show Usman what oral sex was. Usman simply says that Lisa only met "70 percent of expectations."
The starry-eyed couple head downstairs to meet up with Usman's roommates, much to Lisa's dismay. She still was holding out hope that her trip would exclusively be with Usman. The roommates warn Lisa that Usman's mother won't accept her due to her race. Usman clarifies that they cannot get married without his mother's blessing, which blindsides Lisa.
Come Away With Me
Geoffrey wakes up alone in his hotel room before meeting up with Varya in the lobby. The two go sightseeing in Moscow and take a lot of selfies. "Maybe you like Moscow even more than Knoxville?" Varya asks hopefully, pushing Geoffrey to relocate to a larger city in the U.S.. If her main priority is moving to a major city in the U.S., why not use the geographic filter on a dating app? It's pretty simple, Varya.
Geoffrey again asks Varya to stay overnight in his hotel room, and she is visibly uncomfortable but still agrees. "I decided to go because I felt we're compatible so we will see where it brings us," Varya tells the camera.
Basic Bedtime
Ed and Rosemarie check into the hotel, and Ed says that he prefers to stay in two beds until they get to know each other better. "I'm not planning on having sex with Rose until she gets a STD test," Ed says. "I want to know for myself that I can trust her."
Rosemarie echoes that she's also not ready yet to be intimate. Ed even brought her a San Diego T-shirt to sleep in, as opposed to lingerie. They promptly go to bed and that's that.
Pee Wee David
The last remaining couple is finally introduced. We meet 60-year-old Twin Peaks extra David in Las Vegas as he buys a motorhome. David is planning on retiring soon, and hopes to sell most of his belongings to move into the RV full-time. However his most prized possession, an ironically creepy unicycle, will remain with him forever.
David wants to share his new life with someone. "I love my cats but I definitely want to be married. Cats don't replace that," he says to the shock of cat owners everywhere. David met his 27-year-old Ukrainian girlfriend Lana on an online dating site. He admits that she's probably out of his league, but he's a sucker for the Slavic accent after watching Rocky & Bullwinkle cartoons as a kid.
Lana and David have been communicating for over seven years via the dating site, which charges per minute to talk. David estimates that he has spent over $100,000 through the website. He thinks it's about time to meet Lana in person, so he's flying to the Ukraine in a week. However, this is not the first time he's tried to travel to see her. From deaths to surgeries to just plain standing him up, Lana's excuses for not meeting David sound very similar to Caesar's sham relationship from 90 Day Fiancé.
Let's Lounge
Stephanie FaceTimes girlfriend Erika to share that she "chickened out" and told her family that Erika is just a friend. "I'm just hoping she can understand that," Stephanie says in a confessional.
Stephanie admits that she sometimes feels like a jealous girlfriend since Erika lives a "much more exciting life." She says to Erika that for the weekend she just plans on eating cheese. Literally, eating cheese. Overall Stephanie is nervous to meet Erika's friends in Australia, and has concerns over whether their lifestyles will align.
Of Mimosas and Men
Darcey has a girls spa day with twin Stacey and friend Reina. Darcey shows the photos of Tom with the unknown blonde, whom she calls a "Darcey lookalike," and explains that she's rightfully been ghosting Tom.
"Tom and Darcey's relationship is f***ing crazy," Reina says. "They almost can't break away from one another in a sick kind of sense."
Darcey is skeptical about meeting Tom in New York, and fears he'll officially break it off in-person, like her ex Jesse did years earlier. But why would she want to be with a cheating man, if Tom is in fact dating that mystery woman? And would not going to New York suddenly make Tom not want to dump her? There truly are not enough mimosas in this world for Darcey's logic to make sense.
"If I go, it won't be because of this and these photos. I'm going to empower myself and show him my strength and self-love and the worth that I have for me and my daughters," Darcey decides. You go girl.
"Be strong, b****, be strong," Reina applauds.
A Brush With Jealousy
Varya and Geoffrey wake up together after consummating their relationship. Geoffrey teases her about being so exhausted. "Waking up to Varya is like a dream come true," Geoffrey blushes.
But while they're getting ready in the bathroom, Varya throws away a wooden comb that has Geoffrey's ex's name on it. "I think it's weird," Varya scolds Geoffrey for bringing it to Russia. Geoffrey just laughs and says he didn't expect for her to be jealous, because of course his carelessness is Varya's fault.
Paint It Black
Avery meets Ash at the Melbourne airport and they have a pretty subdued embrace. Both agree that their low-key reaction to the first time seeing one another in person is because of how "natural" they are together.
Ash lives with his brother, so he rented an Airbnb for him and Avery during her trip. Avery uses this a jumping-off point to incite anxiety over what Ash has told his family about her, which seems a little paranoid. Avery decides that she and Ash will sleep separately until she feels "spiritually connected" to him.
Ash also gives Avery the bouquet he purchased from his go-to florist. Avery's flower of choice: black roses. How romantic. "I'm very aware black roses tend to symbolize death but from darkness light emerges," Ash explains.
He also bequeaths her matching love bracelets, the same ones that apparently had once led to them breaking up. Ash apparently had posted pictures of the leather bracelets reading "Ash hearts Avery" on social media, which overwhelmed Avery at the time.
Cash Rules Everything Around Ed
Ed and Rosemarie go shopping at a local market for their first day together. "I want today to be fun. I want to hold my girlfriend's hand and just get to know her," Ed sweetly says. He wants to buy Rosemarie a proper pajama set. Rosemarie grabs money out of Ed's wallet and tells the vendor to keep the change, much to Ed's surprise.
"I'm not comfortable with Rose grabbing my money because that's not what you do. I think it's borderline inappropriate," Ed tells the camera, remembering how Rosemarie's sister asked him earlier for cash. "I don't want to believe that this could just be a scam, but I don't know if Rose is in on it or not."
Ed melts down quite literally, both overwhelmed by the heat and the crowds. The couple leaves the market in a sweaty panic.
Two Women, One Ukraine
David explains that he already feels like he and Lana are a "married couple." As for his upcoming trip, David simply asks Lana when her train will arrive. She responds that she's forgotten the ticket information but will let him know later.
David also suspiciously has another cute, young female friend in the Ukraine. He apparently had traveled there before to meet multiple women, including this woman, Anya. Their relationship didn't work out since David found Anya to be "too shy," but Anya still remains protective over David. "I really don't want you to be scammed," Anya warns David of Lana.
"Risking My Heart and My Health"
Stephanie starts packing for Australia with the help of her friend Heather. Stephanie is bringing multiple presents for Erika, including a $200 handbag, soaps, and candles.
"I think [Stephanie] tends to jump into relationships because she's concerned about her own mortality," Heather explains in a confessional. "But I don't know if [Erika] is going to drop everything she has going on to be with somebody who lives kind of a limited lifestyle. That is my main concern."
In the ride to the airport, Stephanie shares that she's been celibate since her last relationship but she hopes that that will end once she's with Erika in person. "I'm really in love with her and I can't wait to see her. I'm so excited," Stephanie cries before boarding the plane.
Gassy Green Cards
Former frat boy Geoffrey threatens to fart on Varya during their three-hour car ride to Varya's town. Her scarcely-decorated home surprises Geoffrey. Varya sleeps on her own couch in the studio apartment, but she explains that she "stopped all preparations for living here" after she met Geoffrey online. "Why should I waste my money to do everything if I'm going to sell it?" Varya presumes, telling Geoffrey that she's basically inviting herself to move to America to be with him.
"It just seems obvious that you have this ultimate goal to go to the U.S.," Geoffrey questions Varya. She just says that she now has the "opportunity" to go because of Geoffrey.
Geoffrey tells the camera that it's clear to him that Varya is using him for a green card. "It makes me think that she had this goal from the very beginning," Geoffrey concludes. "It's obvious. I don't know what I'm going to do."
Previews
Ed tries to learn more about Rosemarie's past and asks her to take a STD test. Geoffrey confronts Varya over her true intentions, and Yolanda is still trying to figure out how Instagram works. Avery mets Ash's brother, who apparently doesn't trust her, and David lands in the Ukraine. Lastly, Lisa insults Usman's business partner and then storms away from the table in true Angela fashion.
See you next week 90 Day fans, and stay healthy!
90 Day Fiancé: Before the 90 Days, Sundays, 8/7c, TLC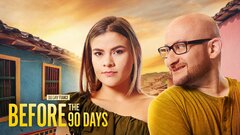 Powered by