'The Walking Dead': Creator Robert Kirkman Says 'Bad Things Are Going to Happen' When Season 6 Returns
The streets of Alexandria will be running red on Valentine's Day when The Walking Dead's sixth season resumes on AMC.
Rick Grimes (Andrew Lincoln) and the rest of the zombie apocalypse survivors find themselves in extreme danger as the walls of their community have been breached by hundreds of walkers. It's up to Rick to lead his people to a counter-attack, but first, they must navigate through a minefield of hungry flesh-eaters. And outside the walls, Daryl (Norman Reedus), Sasha (Sonequa Martin-Green) and Abraham (Michael Cudlitz) hit a speed bump on their way home in the form of a biker gang that reports to a new foe named Negan (Jeffrey Dean Morgan)
PHOTOS: Behold the Bromance of Norman Reedus and Andrew Lincoln
Creator and executive producer Robert Kirkman breaks down Sunday's thrilling premiere. teases Negan's arrival and reveals what's next for fan-favorite character Glenn (Steven Yeun) following his death scare.
How would you describe the midseason premiere?
Gut-wrenching. It's a huge turning point for Rick and the group. We left them in possibly the most dangerous situation that we've ever seen everybody in up until this point. Usually on a TV show, it looks like bad things are going to happen, and then when you come back, those bad things don't happen. Well, bad things very much do happen, although you could never in a million years predict exactly what bad things are going to happen.
The community is still reeling from former leader Deanna's (Tovah Feldshuh) death. How does that moment affect Rick going forward?
As much as the Alexandrians needed to learn from Rick and his group, Rick needed to learn from Deanna. There were a lot of things that Rick learned over the time when he was out in the wasteland without sanctuary and surviving at all costs. But there were things that he lost along the way, and seeing the potential for life to flourish again and the perspective that Deanna had on things brought him back a little bit. That's something he's going to be carrying with him throughout the season and the series. We'll see a different Rick Grimes as he faces possibly the biggest hardships he's ever had to face.
Will there be any progression in the relationship between Rick and Jessie (Alexandra Breckenridge)?
This is something that Rick is very hesitant about because there isn't a lot of optimism in his life. Rick is very pragmatic. But I think there's a lot of potential between him and Jessie. Whether or not that actually becomes a full-blown romance remains to be seen, but we'll find out a little bit more about that very soon.
Is this the end of Alexandria?
I'm just going to outright reveal that this is not the end of Alexandria. That is a special place. This horrible thing happened, and they have to rebuild. There's a new optimism to the show and to these characters that will change things dramatically. In the rebuilding of Alexandria, we are going to open the world up to them in a way that has never been opened up in The Walking Dead. Season 6 is a transitional season that will set the stage for many, many yeas to come.
Part of that expanding world is the introduction of Negan. How does he change the show going forward?
Much like in the comic book series, Negan is a catalyst that changes everything. We're super thrilled to have Jeffrey Dean Morgan being a part of the show. I've seen his portrayal of Negan, and it is bone chilling. He is going to be a huge part of the show. Negan on the horizon is really the biggest thing. It is such a huge conflict that's being built, and it's really going to inform the entire half season. It's going to be an engine that's going to drive things to a very exciting place. I think that's the thing that fans should be most excited about and it's the thing that they are most excited about, so that's very cool.
But fans were not excited about the mystery surrounding Glenn's fate last fall. What did you make of the reaction?
The fan reaction that we heard was exactly what we wanted to hear. The worst thing that could have happened would be for that episode to air and people going, "No big deal." So to see just how invested they are in these characters is always reassuring. We wanted the audience to experience the exact same things that the characters were experiencing on the show: uncertainty, loss and the desire to have what they saw not be real. Maggie (Lauren Cohan) was missing Glenn because he wasn't a part of her life during those episodes, the same way that the audience was. And when the audience found out that Glenn was actually alive, they got to experience the same feelings that Maggie got to experience in the show when she found out that Glenn is alive. As an experiment, I feel like it really worked better than we could have imagined.
How does this experience change Glenn in the second half of the season?
Glenn has always been moving more towards a leadership role. Seeing him survive these tests and trials again and again is really solidifying his position and confidence in this world. Having a child in this apocalyptic situation has always been this very dangerous, unknown situation that probably is not going to work out well for all people involved. But after everything he's lived through and the bonds he's forming with Maggie, it's bringing a new optimism to their way of life that is going to be very valuable moving forward. If anything, it just strengthens both characters and it's going to lead to interesting things.
MORE WALKING DEAD INTERVIEWS
[jwplatform CRXoWebF]
>>VIDEO: Norman Reedus and Andrew Lincoln Preview Season 6's Return
The Walking Dead premieres Sunday, February 14 at 9/8c on AMC.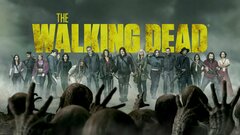 Powered by