Norman Reedus Promises You'll Love the Daryl Scenes on 'The Walking Dead'
Daryl Dixon (Norman Reedus) is ready to ride when The Walking Dead's sixth season resumes on February 14.
The fan-favorite character had a relatively quiet first half of the season, helping Sasha (Sonequa Martin-Green) and Abraham (Michael Cudlitz) lead the herd of walkers away from the walled-in community of Alexandria. But they were ambushed, and Daryl was separated from his friends before being captured by three strangers. Daryl managed to escape with one of their packs, but when he realized it contained insulin, he returned it to the trio. After a walker killed one of the strangers, Daryl tried to recruit the remaining two to join them in the Safe Zone. But his trust in the couple was unfounded, and they stole his motorcycle and crossbow. Eventually, Daryl managed to reunite with Sasha and Abraham, but on their way home to Alexandria, they were stopped by a motorcycle gang associated with this season's new villain, Negan (Jeffrey Dean Morgan).
We spoke to Reedus about Daryl's busier second half of the season, why he doesn't care for Alexandria and the possibility of more interactions between Daryl and Carol (Melissa McBride).
How would you describe Daryl's journey in the second half of the season?
The whole second half is non-stop. There are no slow moments. The second half really picks up speed, and there's a lot of action going on. It was an exhausting half of the season, for sure. I wasn't in much of the first half, a few of us weren't. So there are a couple parts where Daryl and Rick (Andrew Lincoln) have a little adventure. There's a lot of danger, especially with Daryl. Some trippy stuff.
What can we expect with Daryl and Rick's adventure?
[Lincoln and I] are good friends. We've been doing this a while and we really complement each other. We have a little Butch Cassidy and the Sundance Kid-type of thing going on. We actually watched that film together at my house, so that was fun.
RELATED: Andrew Lincoln Describes the 'Crazy Ass' Return Ep
In the first half of the season, Daryl was out on his own leading the herd away from Alexandria. Do you prefer that "lone wolf" status, or are you ready to join up with the rest of the group?
I like that he's kind of a loner and off doing his own thing. Alexandria was being attacked, but I was separated from all of that, and to be honest, I've never really liked going in Alexandria. It feels weird for me to shoot there and it feels weird to have Daryl there at all.
Why?
The first day we shot in Alexandria, someone hit the doorbell and that was just weird. Especially when you spend a lot of time shooting in the woods and running for your life. To have a doorbell go off on this show just felt strange. And Daryl's not really a suburban kind of guy, so it always feels almost out of place for me being there. We had a scene in an earlier episode last year when Daryl first gets to Alexandria, he brings a possum with him. I ended up completely gutting that on the porch, just possum guts everywhere, and we ended up not using it. I was hoping they would use it, but I think it was just too gross. That was my statement as to what I thought Daryl thought of that town.
Now that the walkers have invaded Alexandria, is this the end of the town?
I wouldn't say that. In the comics, Alexandria lasts for a long time. I don't know that Alexandria is done for, but I think it just has to reinvent itself.
We've seen Rick struggle with his acceptance of the Alexandrians, but what does Daryl think of them?
He's starting to trust people, and that's new for him. He's starting to realize that these people aren't going to make it without them. He cares about them. I don't think he's going to be giving anyone a hug, but he feels the power in numbers and he's turning into a family man as much as he can.
PHOTOS: Andrew Lincoln and Norman Reedus Take a Break From Killing Zombies
But his trust in people backfired earlier this season when his motorcycle and crossbow were stolen in the woods…
I feel like he let Rick down. These are the first people that Daryl let his guard down with. He asked the three questions. They were even digging a grave when he asked them and the girl was crying. It seemed like he could trust them, but then it backfired. So I don't know if he's as trustworthy as he used to be. I feel like he's pretty pissed at this point.
How did you, as Norman, feel to see your character's motorcycle and crossbow taken away?
At the end of the day, I was really pissed! And I really liked that actor (Austin Amelio) who played the dude that takes my stuff. But that's my motorcycle. Nobody rides my motorcycle! So I was a little pissed, and Daryl was pissed.
Will we get any Daryl and Carol moments in the second half?
Possibly. I miss it when I'm not with Melissa [McBride]. I started this whole journey on the show with Melissa and some of my favorite moments I've ever done are with Melissa. So I hope we see more of them.
What do you think of Carol's transformation over the last six seasons?
There's probably a spin-off in the works! [Laughs] Melissa is such a good actress. She did such a good job with that character, and [showrunner] Scott [Gimple] has written her some really good stuff and she can definitely pull it off. I love seeing all the stuff that Carol does.
RELATED: The 15 Most Kick-Ass Women on TV (Including Carol!)
Last we saw Daryl, he was in a standoff with Negan's men. How do you think Negan will change the show going forward?
As an actor, I've known Jeffrey for about 20 years and I really like him. He's a really good actor and a really cool guy. This show is such a machine, and you have to have the right personality to fit into the machine. You can't just come on set and hide in your trailer. But Jeffrey fits in perfectly. Everyone loves him already.
How will he be different from other bad guys?
Negan has a charm to him. People like him, so he's dangerous in that way.
Is there a big Daryl moment in the second half of the season that you're excited about?
Yeah, in the first episode coming back. You'll know it when you see it.
MORE WALKING DEAD INTERVIEWS
[jwplatform CRXoWebF]
>> Why Andrew Lincoln and Norman Reedus Have the Best Bromance on TV
The Walking Dead premieres Sunday, Feb. 14 at 9/8c on AMC.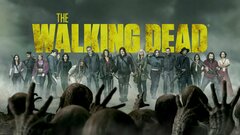 Powered by