'The Walking Dead': Melissa McBride on Carol's Many Changes—and Her Deep Love for Daryl
Forget the cookies and casseroles, because The Walking Dead's Carol Peletier (Melissa McBride) is ready to kick ass when The Walking Dead resumes its sixth season on February 14.
When the survivors first arrived to the Alexandria Safe-Zone, Carol attempted to blend in with the other homemakers and housewives, but her true warrior characteristics were unleashed once the bloodthirsty gang of Wolves invaded the community last fall. She also become suspicious of Morgan (Lennie James), who she discovered was harboring the alpha Wolf (Benedict Samuel) as a prisoner in the basement of one of Alexandria's townhouses.
We spoke to McBride about Carol's journey in the second half of the season, the relationship between Carol and tracker Daryl Dixon (Norman Reedus) and how Carol will stack up against this year's new foe, Negan (Jeffrey Dean Morgan).
RELATED: Norman Reedus Promises You'll Love the New Daryl Scenes
Where do we pick up with Carol when Season 6 resumes?
We left off with the confrontation between her and Morgan. Obviously, this is not the last time they will have a confrontation about their opposing points of view on survival. It's safe to say, she's going to struggle. It's an internal struggle. Points of views are being challenged and things are coming to a head. As we go on and the resources dry up, are we becoming more like the savages that we're trying to protect ourselves from?
Looking back at Carol's evolution over the last six seasons, what are you most proud of?
I'm most proud of her coming to the forefront as herself, to do what she's capable of doing and no longer shushing her own self. She's utilizing her capabilities, stepping forward and stepping up. Her evolution has been a surprise every step of the way, but at the same time, it's been a very natural progression for a character like her. It doesn't seem extraordinary or out of the realm of possibilities that this particular woman would be doing the things she's doing. She's adapting well.
MIDSEAON PREMIERE: The Walking Dead Returns With More Danger
How has Alexandria changed her?
We'll see some of that in the second half of the season. Just the idea that there is a community and a possibility for a civilized way of being is a very big deal. There are glimpses and tastes of how life was before, and we can do that again if we manage to stay safe. But now that the walls have been infiltrated by the walkers, it's testing. You'd like to hold onto hope, but you can't be a prisoner of hope, either. She's taking a very realistic view of the situation, and we'll see how that plays out in the second half.
She tried to blend into the community by becoming a homemaker, but the attack by the Wolves forced her back into warrior mode. Were you happy to kick ass again?
Yeah, it was fun! Both sides of Carol have been very fun to play. I was very surprised when she came back in the Wolf's coat. But also, I feel for her having to do the things she's doing. By putting on all those masks, there's this detachment. She naturally gravitates to putting on those disguises because she's detached from really having to do what she's doing.
PHOTOS: 15 Kick-Ass Women of Primetime TV (Including Carol!)
The first half of the season lacked interaction between Carol and Daryl. Will we get more of them together in the second half?
Yes, we're going to have some more Daryl and Carol moments. Each of them is dealing with their own thing. Other characters have close bonds, but these two's histories resonated with each other from the beginning. They were both under the watchful eye of somebody towering over them and telling them what to do and that they're not good enough. They recognized that from the get-go in one another.
Is there love there?
I'm reluctant to define it because I can't define it myself. I believe they care so deeply for one another that they love each other. But romantic love, I don't know, I'll leave that up to the writers.
With Negan on the horizon, how do you think Carol will stack up against him?
Well, I know she's got some tricks. She's clever. When that character does finally come, it's going to be so dark. I got to meet Jeffrey and he's very delightful, which is funny because Negan is just so dark and evil.
MORE WALKING DEAD INTERVIEWS
[jwplatform CRXoWebF]
The Walking Dead premieres Sunday, Feb. 14 at 9/8c on AMC.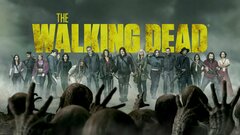 Powered by