'The Walking Dead' Boss Scott Gimple Teases Season 6 Time Jump
The Walking Dead is picking up the pace when the AMC drama continues its sixth season this Sunday.
While the action in the first half of the season covered a relatively short period of time, it also featured episodes that jumped back and forth in time (the season premiere "First Time Again") and entire standalone flashbacks (the Morgan [Lennie James] showcase "Here's Not Here"). However, showrunner Scott Gimple promises the storytelling in these upcoming eight episodes will be more linear.
"We'll also see a bit of a time jump in there," Gimple reveals. "It's not a huge jump. Time will have passed between episodes at one point. Not years and years, but certainly more than in the first half."
As for more standalone episodes like "Here's Not Here," Gimple says viewers can expect a similar installment sometime within the second half of the season, but it will not be as large of a departure as Morgan's 90-minute flashback. "There is a pretty concentrated episode without a lot of characters in it," Gimple says. "But it is very much a part of the great plot, continuity and timeline."
SEASON 6 PREVIEW: More Danger, More Daryl and a Behind-the-Scenes Look at What's Ahead
Gimple also has an important recommendation for fans before they sit down to watch Sunday's midseason premiere. "I would make sure that people don't have too big a meal on Valentine's Day," Gimple says. "No heavy sauces. People are going to have to tie themselves to their couches because it's rather epic."
MORE WALKING DEAD INTERVIEWS
The Walking Dead premieres Sunday, February 14 at 9/8c on AMC.
[jwplatform CRXoWebF]
VIDEO: Behold the Bromance of Norman Reedus and Andrew Lincoln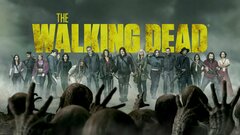 Powered by