'The Walking Dead's Andrew Lincoln and Norman Reedus Might Have the Best Bromance on TV (VIDEO)
https://player.waywire.com/?id=TX85660BN20W50NN
Andrew Lincoln and Norman Reedus clearly have a bromance going.
The two men, who play Rick Grimes and Daryl Dixon on The Walking Dead, respectively, are as thick as thieves and completely at ease with each other.
On screen, if the two aren't busy saving the lives of people in Alexandria, they're killing walkers. And when the show returns next month, there will be "one episode that is very romantic," teased Reedus. Comparing their characters to classic movie duos, Lincoln joked the ep will be their version of Bill and Ted's Excellent Adventure, while Reedus said watching Butch Cassidy and the Sundance Kid helped them prepare for scenes.
RELATED: The Walking Dead Comes Back With More Chaos, Brutality and Big Hardships
Off screen, "we talk every day like little old ladies on the phone all the time," shared Reedus. So much so that, "My wife is getting concerned," Lincoln deadpanned.
Simply put, these men are made for each other, on-screen and off.
Watch the video above to find out why Lincoln dropped a particular script after reading it, why Rick and Daryl will be completely different and what the key is to surviving a zombie apocalypse.
The Walking Dead, Midseason premiere, Sunday, Feb. 14, 9/8c, AMC
---
Questions? Ask Critic Matt Roush!
TV critic (and occasional TV therapist) Matt Roush answers viewer questions and concerns in his Ask Matt column each week. Wondering about plots, characters and twists on your fave shows? Submit your query to Matt via the form below: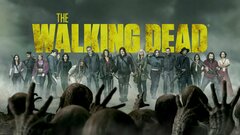 Powered by