'The Walking Dead's Norman Reedus: 'This is the Craziest Season Yet'
Over the past five seasons, The Walking Dead viewers have stuck by a very simple mantra: If Daryl (Norman Reedus) dies, we riot. But as the AMC drama prepares to kick off its sixth season, the fan-favorite character finds himself in the middle of one of the most dangerous situations the group has ever faced.
The crossbow-wielding warrior suffered through an emotionally devastating Season 5 as he coped with the death of close ally Beth (Emily Kinney) and found a new friend in Alexandrian Aaron (Ross Marquand). While on a run to search for more Safe Zone recruits, Daryl and Aaron got caught in a walker trap set by a group of outlaws calling themselves the Wolves, only to be rescued by Rick's (Andrew Lincoln) long-lost friend Morgan (Lennie James). As the trio returned to the community, they found themselves in the middle of a town hall meeting from hell with Rick publicly executing belligerent citizen Pete (Corey Brill).
We spoke with Reedus during a late night shoot on the Georgia set to get his thoughts on the "bananas" new season, what's next for Daryl and Carol (Melissa McBride) and put rumors of Daryl's sexuality to rest once and for all.
How would you describe Season 6?
It's bananas. This is the craziest season yet. Right off the bat for the first episode, the pace is much different. There are so many characters now that it goes in a bunch of different directions, but it all ties up in the end. It kind of f–ks with time a little bit, but a lot is going on.
What's going on with Daryl?
He's in the middle of a big, unavoidable mission. He's put in a circumstance where he has to make a choice between what he knows he has to do to keep this threat away and what he wants to do. He has this sort of lone, Pied Piper thing going on.
Has Daryl bought into the Alexandria way of life?
Just because they gave him a job and he fixed a motorcycle, I don't think that means he's pro-Mayberry. But he's doing his part.
He really bonded with Aaron last year. What's their relationship like this season?
There's a little separation anxiety. There's no spaghetti-sharing happening. Aaron's a part of the gang now, or we're a part of his gang, but everybody's real busy right from the get-go and Daryl is not around Aaron. Daryl is doing something big that a small group of people are doing, and Aaron is not a part of that group of people.
Daryl and Aaron have first-hand experience with the Wolves. How big of a threat are they this season?
There's a huge urgency right from the beginning. It starts off mid-urgency.
Are there any developments in the Daryl/Carol relationship?
She's a badass this season. She was a badass last season and the season before. She's really come out of her shell. She's getting great s–t and really nailing some badass stuff. But in all honesty, we haven't been working together so much this season. I'm off doing other things. To tell you the truth, I'm not really in Alexandria that much.
With Morgan's reappearance, does that threaten Daryl's standing with Rick?
There must have been a time when Rick told Daryl about Morgan. There is a lot of stuff in Seasons 2 and 3 where Rick is talking on a walkie-talkie to Morgan, so I think as soon as Daryl sees the map and the guy he's talking to, he automatically knows that's Morgan. When Daryl comes back with Morgan and Rick is shooting that guy in the head, Daryl thinks "Okay, it's on, we're in the middle of taking this place." Rick's had a lot of outbursts. He really needs therapy. I think in real life at this point, we all need therapy! [Laughs]
Daryl spent the second half of last season dealing with the loss of Beth…
He cried the whole f–king season! What a baby. I'm so over the crying. I went from this real tough guy to this baby.
Is he still affected by her death in Season 6?
Yeah, he's carrying it, but he's just handling it very differently.
There was lots of chatter last year about the possibility Daryl was gay…
He's not gay, no. But have you seen him with any ladies? I think he maybe has a pet goat somewhere. He's an equal opportunity lover!
More Walking Dead Cast Interviews: Lennie James | Andrew Lincoln | Lauren Cohan | Michael Cudlitz | Sonequa Martin-Green
[jwplatform EuB18wde]
The Walking Dead premieres Sunday, October 11 at 9/8c on AMC.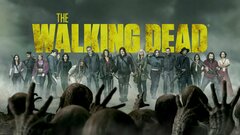 Powered by