'The Walking Dead' Season 6: Lennie James Talks Morgan's Full-Time Return
The reunion that The Walking Dead viewers have been waiting five years for is finally here.
Fan-favorite character Morgan Jones (Lennie James), who was the first survivor that Rick Grimes (Andrew Lincoln) met after waking from his coma in the 2010 pilot, has finally arrived in Alexandria and found his old friend. Rick and Morgan's paths have crossed in the past, most notably in the Season 3 episode "Clear," and the audience had been following pieces of Morgan's solo journey towards the Safe Zone throughout Season 5. But now, James is back as a series regular cast member and ready to help Rick and the other members of the group protect Alexandria by all means necessary.
RELATED: Andrew Lincoln on Why You Should Watch the First 40 Seconds of The Walking Dead Season Premiere
We caught up with James to get his thoughts on re-joining the cast, having to hide from fans and Morgan's new role within the community.
How does it feel to be back as a series regular?
To be absolutely honest, I don't know! In Season 5, I was flying to Atlanta to do some form of shooting or another at regular intervals, so it just seems like a continuation of that. There are slight differences, one being I'm around more. I'm no longer hidden from cast and fans, so I'm free to roam Atlanta. Other than that, it's literally just more of the same. I don't know that there's a huge difference.
What went into hiding you from fans?
The producers hid me everywhere that they possibly could, down to aliases. I would stay at a bed and breakfast where the people running it and the guests had to sign confidentiality papers. The producers preferred me not to stay in the city of Atlanta where there were more eyes on me, so they had me closer to the set where there were less people who would spot me shopping at Trader Joe's.
What did you hear from fans on those years you weren't on the show?
It started in Season 2. I'm a jobbing actor who works, so I went off and did other things. The first inclination was actually from members of the press who, regardless of what I was publicizing or what country I was in, would ask me, "When are you going back to The Walking Dead?" Suddenly, it just started happening at more and more regular intervals, and then people were stopping me on the street. So eventually I phoned Andy Lincoln and said, "What's going on? I keep getting questions about when am I coming back to The Walking Dead." And Andy said, "So when are you coming back to The Walking Dead?" [Laughs]
How would you describe the Morgan of Season 6?
In the Season 3 episode "Clear," he was very much about death. Anything that came in his path had to die. That was what he had come to understand was his mission in this new world. Clear meant to kill. The Morgan that we were starting to be introduced to in Season 5 and get to know a little bit more in Season 6 is a man who is trying to make his existence about life. Despite the fact that they're in a precarious world, he's trying to stick by the mantra that all life is precious. Season 6 is an investigation of how possible that is.
What is his relationship with Rick like?
Rick Grimes is the last person left on the planet who knows Morgan and Rick Grimes is the last person left on the planet that Morgan knows. That is their bond. There is nobody else who Morgan has any real connection to. He had lost the two main people who had defined who he was as a person, which was his wife and his son. The only other person who has any role in defining who he is by way of a friendship is Rick. That is why he set off to try to find him.
What does Morgan think of Alexandria?
He can't believe he can turn a tap and water runs out that you can drink. He can't believe that you can flick a switch and a light turns on. He can't believe that there's music and that there are people discussing things other than the craziness that is outside. He is shocked by its existence and weary of the role that he may well play within the walls.
What is that role?
At this stage, Morgan does not have any role specified for him. It's much too early days. The thing you have to understand about Morgan is that for the entirety of the walker apocalypse, the largest group he has been involved in is a group of two, which was him and his son. So for the last three years, the only person he's had to care about is himself. Morgan's concern and the first thing he's going to have to deal with before he even begins to contemplate where is role is is whether or not he can exist around other people. Whether or not he can be the man that he's now trying to be in the company of others. One of the things that is quite exciting for me coming into a more regular role on the show is who is this character going to click with? He's got a lot of relationships to discover.
What threats do Morgan and this group have to face this year?
Season 6 is huge. The conflicts are huge, the risks that the group and the Alexandrians take are huge, and the impending threat is huge. Season 6 is by far the biggest since the first. It's drawn across a massive scale, and I'm really excited to see how the fans take to it. The storytelling so far has just been taken to another level. It's massive.
More Walking Dead Cast Interviews: Andrew Lincoln | Lauren Cohan | Michael Cudlitz | Norman Reedus | Sonequa Martin-Green
[jwplatform EuB18wde]
The Walking Dead, premieres Sunday, October 11 at 9/8c on AMC.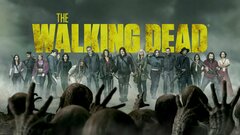 Powered by