'Hawaii Five-0': Ian Anthony Dale on What's Next in Adam's Intense Mission
Is anyone having a tougher year than Adam Noshimuri (Ian Anthony Dale) on CBS's Hawaii Five-0?
Besides being separated from his wife, Kono (Grace Park, who left the series after last season along with co-star Daniel Dae Kim), who is working in the States, he's also neck-deep in a mission that is not only endangering his life but is also causing so much stress that Adam's typically tough exterior is starting to crack.
In the Friday, March 9 episode (titled "Hōlapu ke ahi, koe iho ka lehu," which is Hawaiian for "The Fire Blazed Up, Then Only Ashes Were Left") as part of his mission, Adam and ex-con Jessie (Christine Ko) steal some toxic chlorine gas that winds up in the wrong hands, endangering thousands of innocent lives on the island. Will Adam have to lean on McGarrett (Alex O'Loughlin) and the Five-0 team, or will he help stop the situation himself? And how much longer can he mentally handle the tough mission in which he's involved?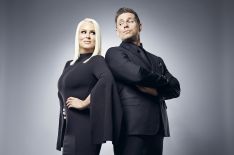 See Also
Plus, find out which of your other favorite shows are coming back next season.
Dale, who is also starring in upcoming second season of CBS's summer drama Salvation, recently talked with TV Insider about what we'll see in Friday's episode and what's to come for Adam. From what he tells us, things aren't going to let up anytime soon.
Since becoming a series regular on Hawaii Five-0, they've really been giving you some meaty stories and scenes this whole season!
Ian Anthony Dale: I'm the luckiest guy in the cast because I get this really juice serialized storyline, that story arc that continues throughout the season. I've been very pleased from a creative standpoint.
How would you describe Adam's mental state at this point?
When McGarrett asked him to head up this task force, for Adam, he finally has found purpose again. He was wandering aimlessly for a bit after he got out of prison, and certainly when Kono and him are separated. Suddenly, he doesn't quite have an identity, and he's really given purpose again when McGarrett deputizes him.
I love the confidence that he takes into the operation, but clearly he gets in over his head right away. You see that episode after episode—suddenly, the frustration builds, and it starts to compound to the point where you need to let it out. In Adam's situation, the one person that he needs the most, that he relies on for that comfort is nowhere to be seen, is on the mainland. I think on the one hand he's got the pressures of the job eating away at him and there's all that pressure he places on himself in order to succeed at that.
In this week's episode, we see Adam make a pretty significant blunder that was hard to forecast, but it happened under his watch. He's someone who wants to be accountable and take responsibility for his actions and this blunder, or oversight, leads him to enlist the help of McGarrett and the rest of the task force. It's kind of exciting because you get a glimpse of what it might look like if Adam some day joins the team in a more permanent capacity.
But, getting back to your point, deep inside, Adam just misses his wife and feels a little bit of resentment that after six years of doing everything possible, risking each other's lives, saving each other's lives, doing everything he can to be together, suddenly, she's made this choice that something else, this other pursuit, is more important than Adam. And at a time when Adam needs her the most, he doesn't have her to call on. I think that's where the frustration really comes from for him.
See Also
Cumming reflects on portraying the first gay character in a lead role in a network TV drama.
Does he really trust anybody? There's some question about Jessie's loyalty, but can he also trust himself?
He doesn't, he really doesn't. He needs friends and allies in the underworld in order to try to blow it up from the inside out. And he had a very brief short period of time to be able to vet any potential candidates to help him. He puts his blind faith in this young Jessie Namora, who's fresh out of women's correctional facility in Kailua. He knows very little about her but just trusts her on instinct.
I think he discovers in this week's episode that perhaps his instincts when it comes to judging people maybe aren't his sharpest as you would like them to be. And so, there's all this sort of paranoia and suspicion. Who can he trust? Can he trust anybody? And the one person he can trust with your life is unfortunately not there.
If you could give Adam one piece of advice, what would you tell him that he might need right now?
Heading into episode 17, I would say, "Don't be afraid to ask for help." And that's something he doesn't do very well. He really just has a lot of self-confidence to be able to figure out the problems when they arise, and he needs to remember that he's always got the best and the brightest on the island in his phone ready to call on at any moment.
I think sometimes he forgets that. He doesn't want to inconvenience people because he wants to take care of the problem himself and show his worth. So, that would be my advice to him. I think he might be able to circumvent some of these more dire situations if he would just call on help more often.
You're about to jump from Hawaii Five-0 to shooting the second season of Salvation. Is it an easy switch for you from Adam to Harris? They're different characters, but both are in very extreme, high-pressure situations.
It'll be fun to dive back into the Harris Edwards [character]. But, yeah, the high stakes are both there for Adam and Harris. I can transfer my approach preparing for each character in a similar way with regard to that aspect of what they're going through on screen.
The relationships are different, however, and the sensibilities different. In fact, I try to make Harris a character who appears as if he never gets to eat because he's working so hard. As an actor, what I have to do is essentially is do the same thing. It hasn't been enjoyable preparing for my tight government suits on Salvation, but shifting gears from the mind of an ex-criminal to the mind of a former fighter pilot who is through-and-through a company man, yeah. You need a bit of a break in between to sort of just clear out the space in your head that was being occupied by Adam and fill it with rebuilding Harris.
Here's the trailer for this week's episode of Hawaii Five-0:
Hawaii Five-0, Fridays, 9/8c, CBS.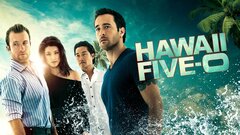 Powered by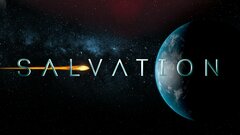 Powered by