WATCH: Alan Cumming and Bojana Novakovic on Their New CBS Crime Drama 'Instinct'
Sure there are bad guys, laws being broken and the occasional murder, but to hear star Alan Cumming talk about his new CBS series Instinct, he sees part of the show as a "screwball comedy."
In the new series based on the bestselling James Patterson novel, Cumming, best known as Eli Gold on the long-running The Good Wife, plays author/former CIA operative Dr. Dylan Reinhart, who is approached by NYPD Detective Lizzie Needham (Bojana Novakovic) to help her solve a case. Of course, this is a television series, and viewers love unlikely partnerships, right?
See Also
Pics include a first look at Whoopi Goldberg in her guest-starring role.
Cumming and Novakovic talked to TV Insider at the recent Television Critics Association winter press tour about their new show. The actors weighed in on how their very different characters feel about each other and, of course, whether Cumming's bold style of dress will be reflected in the fictional Reinhart.
Also, Cumming made no bones in the interview that it's high-time for a network television drama to finally have a gay character in the lead role. "We're living in a time where it's scary being gay in this country again," the actor told us. "To counter all that and put this loving, same-sex relationship in this cop show, I think, is a really positive thing for everybody, even people who might not like it."
Besides Cumming and Novakovic, Instinct stars Naveen Andrews, Sharon Leal, Daniel Ings and Whoopi Goldberg.
Check out what else Cumming and Novakovic had to say about the new series:
Instinct premieres Sunday, March 18, 8/7c, CBS.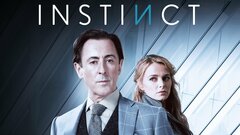 Powered by