Billy Zane, and His Thick Beard, to Guest Star on Community
Billy Zane is dropping by Greendale Community College next season.
Zane is the latest guest star to be revealed on Season 6 of Community, which launches March 17 on Yahoo Screen. The actor will play a mysterious, nameless man scouting Britta (Gillian Jacobs) for a "unique talent."
The actor joins guest stars including Steve Guttenberg, who is playing a movie producer in an episode, and other surprises that haven't yet been unveiled.
Related: There Was a Police Academy Reunion on the Community Set, and Steve Guttenberg Explains Why
Zane's credits include Titanic and The Phantom. On TV, he's been seen on show such as The Deep End, Charmed, Boston Public and Twin Peaks. He was also recently seen in the FXX pilot Winter Dragon (based on the book series The Wheel of Time), which was aired in a stealth-like fashion in the middle of the night earlier this month.
Here's another look at a very bearded Zane on Community (with Jacobs and Travis Schuldt).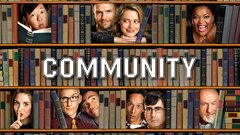 Powered by