There Was a Police Academy Reunion on the Community Set, and Steve Guttenberg Explains Why
The Gutt's gone Greendale! Steve Guttenberg will guest star on an upcoming episode of Community, which launches March 17 on Yahoo Screen.
Guttenberg, whose episode will appear later in Season 6, will play Morrie, a Hollywood producer who's friends with Frankie (Paget Brewster). No surprise, he winds up in the orbit of pop-culture aficionado Abed (Danny Pudi).
"I've watched the show and always thought it was super funny," says Guttenberg, who's probably best known for the Police Academy and Three Men and a Baby movie franchises. "They called and asked if this was something I'd like to do, it was as simple as that. [Creator] Dan Harmon is a brilliant guy and assembled a great group of writers. The cast – Joel [McHale], Gillian [Jacobs], Paget, Alison [Brie], Jim [Rash], Danny, Ken [Jeong], Keith [David], they are very friendly and creative."
While on set, Guttenberg also wound up in a mini-Police Academy reunion. Bobcat Goldthwait had directed an earlier episode of Community and happened to be on the lot, editing the show. Goldthwait invited their fellow Police Academy co-star Tim Kazurinsky (who's touring with the North American production of Wicked, currently in Los Angeles) to the lot. Guttenberg put a photo of the meeting (with McHale) on Twitter:
"He called and surprised me," Guttenberg says of Goldthwait's impromptu reunion. "It was really sweet of him. Bob is a really thoughtful guy."
Guttenberg says he's eager to find out more about the Police Academy reboot now being reimagined by Keegan-Michael Key and Jordan Peele. "Hopefully it will come together," he says. Would Guttenberg like to participate? "It would be a lot of fun."
Having wrapped his episode of Community, Guttenberg heads to New York this weekend to attend the Saturday Night Live 40th anniversary event. Guttenberg hosted the Dec. 13, 1986, episode with musical guest The Pretenders.
"I had a great time when I hosted the show," Guttenberg remembers. "It was incredibly creative and fast-moving. You've got thoroughbred racehorses being driven by the best jockeys ever assembled. They're the smartest people on the planet. I loved working with Jon Lovitz and Phil Hartman. Jan Hooks was great, and I had a great time with Dennis Miller. And, of course, Lorne Michaels."
Guttenberg's upcoming credits include the Syfy movie Lavalantua. He was just seen on History's Sons of Liberty; past TV credits include Veronica Mars, Party Down and Dancing with the Stars.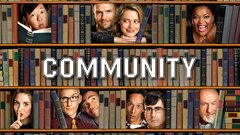 Powered by