'Darcey & Stacey': The Bliss Before the Storm (RECAP)
[Warning: The below contains MAJOR spoilers for Season 1, Episode 5 of Darcey & Stacey.]
Trouble is brewing below the surface as both Darcey and Stacey prepare for their futures. After a sensual evening with Georgi, Darcey decides to move forward with her move to Los Angeles. Stacey shows off her wedding gown, but both Florian and Mike have concerns about the twins' upcoming trip to California. Of course we're later left with a cliffhanger ending due to the COVID-19 pandemic. Hopefully the Silva twins reveled in their last few moments of normalcy this week before quarantine, cheating allegations, and more drama ensues.
A Bulgarian God
Darcey wakes up next to her new love interest Georgi in New York. "Oh, you made me smile," she giggles with an obvious double entendre. "I had a lot of meat last night…You can do that again! You're like a Bulgarian god."
"Of course, I'm Bulgarian, I like to have sex," Georgi tells the camera, citing the nation's top bodybuilding stats. Darcey also says that he exceeded both her exes Tom and Jesse's sexual prowesses. But she's coming to terms with how to fit Georgi into her life at the moment, especially after she and Stacey decided to move to L.A. for their brand House of Eleven. Georgi tells Darcey that he was considering relocating anyways and they might still have a future together.
"I feel like I could be falling in love, and that's all I really want in life is to have that ultimate feeling of being with someone who cherishes you and you cherish them," she gushes in a confessional. "The fact that Georgi is being very supportive is really nice to hear."
Darcey tearfully says goodbye to him, and he hopes they can meet again soon.
L.A. Confidential
Stacey and Florian go to the gym in Connecticut. "It's coming everything my body, rip-like," he somewhat jokes in a confessional. While donning a thermal t-shirt and long sweatpants, Florian attempts to act as Stacey's trainer.
She also announces that she and Darcey are going to "take a trip" to L.A. to test out a potential move there. "We're going to rebuild House of Eleven and to build our legacy for our family and our kids," Stacey explains. "That's always been part of our dream and our mission in life."
Florian asks the reasoning behind the twins' timing, especially since he is on the 90 day visa. He implies in a confessional that Darcey pressured Stacey into considering the move to Southern California and it is not with Stacey and Florian's best interests in mind. "Darcey is not your boss," he tells Stacey. She replies that if she doesn't put in the time now, Darcey could resent her later.
Florian eventually agrees to consider the move and also requests that he accompany Darcey and Stacey on their trip. "This is not for fun, this is for my future wife," he says to the camera.
Rebuilding Their House
Darcey tells her parents about the trip next week with Stacey and Florian. "I just feel like now is the time," she states.
Her father Mike is skeptical of the plan, especially since he was an investor in their clothing brand years prior. "Their level of interest and involvement started to wane and that's when things started to go down," he contextualizes in a confessional. "So from a business point of view, it was not good for an investment, and I don't want to see losing that level of money again."
He asks Darcey if she's created a "basic plan" to reinvent House of Eleven and voices his concerns for how a move will affect her daughters. "She wants to go from zero to 100. If it's just Darcey, fine, go, I don't care. You're old enough, you can strike out on your own. But my fear is the girls, my granddaughters. I don't see L.A. as a good place to live….Darcey is not a planner. I will be supporting them as much as I can, but I will not be investing."
Darcey stands by her decision to relocate and promises that she can balance rebuilding House of Eleven while still keeping her daughters grounded — even though she already promised her teens that she can connect them with TikTok influencers in Los Angeles. Darcey also tries to psychoanalyze her father, saying that Mike's concerns are because he wasn't there for Darcey and Stacey growing up. He just wishes her luck and says it's up to her as a middle-aged adult at this point to sink or swim herself.
Already Said Yes to the Dress
Darcey and Stacey take some twin time to sunbathe and spray tan. "Stacey and I are a twin force to be reckoned with in L.A.," Darcey confidently states.
The next day, a very blonde and very tan Darcey packs for L.A. with Stacey. Stacey also brings over her wedding dress, much to Darcey's dismay. "Obviously I know Stacey's getting married but I had no idea about a wedding dress. I'm not quite sure why she didn't include me with that decision," Darcey opens up. "It's not like we're the same person, but Stacey and I have always done the same things together." She also throws in that they both worked as Hooters girls in Manhattan during college.
Stacey explains in a confessional that she didn't go shopping with Darcey for her wedding gown because she knew Darcey would disapprove of the style of it. "I knew she wouldn't like it because it's not her style or her taste, and I didn't need to hear about it," Stacey stands her ground. "It's my wedding dress and I'm the one that has to wear it."
Stacey is rightfully defensive of the gorgeous sparkly voluminous gown; while she reminds Darcey that it's couture, Darcey calls the look "inappropriate" for the type of wedding Stacey should be having. Stacey explains that she wants to feel like a princess on her big day and Florian would expect a big dress, per Albanian custom.
"She's going to look like Miss Piggy," Darcey snickers to the camera. She then brings up her own wedding dress from decades ago. She also worries that Stacey is more concerned about her wedding (AS SHE SHOULD BE!) instead of their joint business venture…even though Darcey is the one who pushed this new House of Eleven timeline and subsequent cross-country move.
COVID Cancellation
Mike asks Darcey and Stacey to have a serious conversation about their travel plans. "The coronavirus is affecting the U.S.," he begins. "L.A. is done. It's finished. This virus, it's dangerous. It's not going to be a one or two week virus. China has taken four months and they're still not cured. So I think you should cancel the trip to L.A."
Mike confesses that he has private knowledge of how hard China has been hit by COVID-19, as he lives there. He pleads with his daughters to be cautious and stay home. They agree and voice their fear that the "whole world can shut down." They go to unpack their luggage.
Previews
This season, Darcey and Stacey adjust to their lives during the pandemic. Stacey and Florian move into a new apartment, and Georgi visits Darcey again during quarantine. Florian's supposed mistress also FaceTimes Stacey and Darcey separately, leading to Stacey telling Florian through tears that she's "done." Darcey also has her own cheating concerns about Georgi and discovers a secret of his while quarantining together.
Until next time!
Darcey & Stacey, Sundays, 10/9c, TLC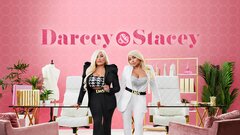 Powered by