'Darcey & Stacey': He Loves Me, He Loves Me Not (RECAP)
Arrivals & Departures
Season 1 • Episode 2
[Warning: The below contains MAJOR spoilers for Season 1, Episode 2 of Darcey & Stacey.]
As Florian arrives and Darcey gets closer to new man Georgi, it's clear neither Silva sister is living the fairytale they imagined. Cue the romantic clichés, it's going to be a twisted storybook kind of night.
Not Like the Movies
"I'm nervous. I'm happy-nervous," Stacey says as she twists her engagement ring around her finger, waiting for Florian. "Everyone dreams of a fairytale ending. I'm about to see the love of my life for the first time in America."
28-year-old Florian meets fiancé Stacey at the airport, where she embraces him with kisses. The Albanian native describes her past eight visits to his hometown over the five years they've been together, and finally Florian is excited to see where Stacey lives instead. "My plan is to marry Stacey and start new life in America," he tells the camera. He works as a fitness model and hopes to financially provide for Stacey in the U.S. Stacey also has been his first longtime relationship; his past exes he only dated for less than a month.
A subdued Florian deadpans to the camera that he's "so excited" to have arrived, but Stacey just teases that he could be a little more enthusiastic. "I guess I was expecting him to drop his suitcases and run towards me like you see in the movies," she sighs.
First Comes Love, Then Comes Marriage
Back at the house, Darcey, Mike, Aniko, and Aspen choreograph TikTok dances. "My mom, she tries SO hard," Aspen laughs in a confessional.
"She's not a regular mom, she's a cool mom," Aniko jokes.
Darcey and Stacey's childhood friends Debbie and Reina arrive for a visit. Darcey voices her concerns about Florian's fidelity and shows them the questionable social media photos of him with another woman. She also announces she's "falling a bit" for a man she's been talking to online. Her friends are skeptical of the timing.
"I think Darcey is a little competitive as far as like 'well, Stacey's got a man, now I need one,'" Reina confesses to the camera. Darcey tells them her new Bulgarian love interest is named Georgi ("like Curious George!" Reina responds) and shares his workout selfies.
"He's your type all the way," Reina smiles to Darcey. "Follow your heart and your gut. Take it slow."
The City That Needs to Sleep
Stacey takes Florian to New York City for their first two nights together. An exhausted Florian still awkwardly makes out with Stacey on their hotel balcony. "Although he doesn't really speak a lot of English, our sexual chemistry is like an unspoken language," she gushes in a confessional.
Florian is about to fall asleep, but Stacey is unsatisfied. "I just envisioned his first night in America to be like a fairytale," she comments. "I've been waiting five long years for this and he better not disappoint."
After it's clear they're not going to be intimate, Stacey still keeps Florian awake by asking his advice about whether to confess to Darcey that she met with Tom. Stacey decides to text Darcey inviting her to Manhattan so she can tell her.
New Man, Who's This?
In Connecticut, Darcey FaceTimes new beau Georgi while in a bubbly rose petal bath. He asks if she's naked and then muses that he wishes he was with her in the tub.
Georgi and Darcey connected via social media. He works as a masseuse in the D.C. area, and Darcey actually met him once in-person in Miami during the Super Bowl.
"He's been chasing me. I've never really had that before," Darcey reminisces. Georgi asks to see her in New York in a week or so, and she agrees.
Rebuilding Trust
The following morning, Stacey gifts Florian a new phone. However, there is one condition: she needs to be able to access it with her fingerprint. Stacey casually mentions that she hopes "nothing will happen again" like Florian posting photos with another woman.
Florian insists nothing happened in the first place. He still promises that she's his "angel" and can see his phone whenever she wants to.
"He Loves Me, He Loves Me Not"
Darcey revels in her 100 red roses that were sent overnight by Georgi. "It's so romantic, I feel like this is a romance novel," she coos as she sings "He Loves Me, He Loves Me Not." The card also makes Darcey tear up.
Could Have Been a Contender
Stacey and Florian meet Darcey at a rooftop bar. Darcey awkwardly makes a toast to "trusting each other," with an obvious dig at Florian's indiscretions. "I no start life with Darcey. I start life with Stacey. I don't f**king care what she says," he complains in a confessional.
Darcey also announces that she has a "new contender" in Georgi. While they should have been celebrating Florian's arrival, Darcey cheers again to herself and Georgi. Stacey senses the attempts for attention.
"Of course I want her to find love, of course I want her to be happy. I just don't want her to rush," Stacey explains to the camera. "Part of me regrets meeting Tom but sitting there hearing her talk about Georgi and how she's on to the next guy already, he might have a point. Maybe she's moving on too quick."
Stacey finally tells Darcey about her meeting with Tom. She tells Darcey that Tom reached out to her and she only met with him to ask him to stop communicating with either of them. "I cannot believe that she met up with Tom….I just feel like Stacey is trying to snub the fact that I'm happy and that I found a great guy too," Darcey complains.
Stacey asks point blank if Darcey is "chasing after" Georgi. She points out that Tom recommended Darcey go to therapy. "I'll go with you if you want to talk to somebody," Stacey pleads. Darcey says that she feels "triggered." Stacey apologizes but Darcey is ready to call the night off.
"She's being manipulated," Darcey vents to the camera about Stacey and Tom. "I went through a lot. How dare anybody say I need to work through problems. If I choose to go to a therapist, it's because I choose to. Unacceptable."
Previews
We get a glimpse at Florian's temper as he yells at Stacey for driving, and Darcey tries to recover from the night before. Mike also confronts Florian about the photos, and Reina and Debbie try to get to know Florian better.
Until next time!
Darcey & Stacey, Sundays, 10/9c, TLC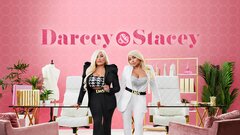 Powered by