'Darcey & Stacey': Sex, Lies & Instagram Videos (RECAP)
Caught on Tape
Season 1 • Episode 6
[Warning: The below contains MAJOR spoilers for Season 1, Episode 6 of Darcey & Stacey.]
The twins struggle to adapt to quarantine life, with Darcey yearning for Georgi and Stacey questioning her relationship after an Instagram video shows more of Florina's possible infidelity. Plus, Darcey confronts Florian's Albanian mystery woman, and things do not go well. We won't be able to look at honey the same again after this week's episode.
Built for Quarantine
COVID-19 has hit Connecticut, and Darcey mourns opportunities lost. "Everything changed at a drop of a dime. I mean, we were about to go to L.A., dream big, and now everything stopped," she tells the camera.
Darcey and her two daughters go to the grocery store to stock up for their weekly taco night plus search for necessities. Her teen girls tell her that she most likely won't be able to find toilet paper, but Darcey is confused: "How are you going to wipe your butt cracks?" While at the store, she also questions the purpose of masks, saying people could still get sick "through their eyes and maybe your ears" even if their noses and mouths are covered.
Darcey worries about how her glam will suffer during the pandemic. "I'm not quite sure if I'm built for quarantine," she jokes.
Keeping It Cool
The Silva family does outdoor yoga to center themselves amidst the uncertain times. Darcey's daughter Aniko leads the mindfulness session, including a full headstand from Darcey. The happy family enjoy their time together during quarantine.
But Darcey worries about her new beau Georgi as he's so far away from his own parents in Bulgaria. She announces that she's going to invite Georgi to visit them in Connecticut, inherently breaking the rules of quarantine. Mike especially is weary of Darcey's plans.
Sex, Lies, and Instagram Videos
Meanwhile, Stacey and Florian's apartment complex was shut down due to the coronavirus. They temporarily move into a hotel until they can find a permanent home. The couple break out into a fight while unloading the car during the move. "I'm doing the best that I can to make everything happen for us!" Stacey understandably stresses as Florian micromanages her.
Stacey also reveals that she found a video on Instagram of Florian and the same woman he had posted revealing photos with earlier. The clip shows him laughing in a hotel room as the mystery woman calls him "my sweet." Stacey wonders what else he is hiding from her. "I don't like the lies and I don't like deceit. I've always been open and honest with him, and I've always given him the benefit of the doubt, but if there's anything else, I don't know," she says to herself as she drives away.
"Don't Let Her Get Into Your Vision Board"
Later, Stacey opens up to Darcey about the video. "I don't like that," Darcey states. "It gets me fired up." Stacey still believes that Florian was not sexually involved with this woman in Albania, but Darcey has doubts. Stacey is more concerned that the supposed mistress is purposefully posting these videos while Florian is in the U.S. and ultimately can't be trusted.
"Don't let her get into your soul. Don't let her get into your vision board," Darcey warns. "She's not a part of it." Stacey recalls how Darcey has always stood up for her, even when Stacey was teased in middle school for having vitiligo.
Temperature Check
Darcey and Georgi are still going strong two weeks after their overnight date in New York. She hopes to see him again soon, and a clip from his home in Washington, D.C. looks "like Armageddon" to her. She quickly FaceTimes him to check in. Darcey starts crying and invites him to stay with her in Connecticut.
"I don't want to put anyone in danger," Georgi points out. "So I'll stay home for the next couple of weeks." Darcey pleads with him, trying to make sure he's not lonely. He assures her that he's fine.
"I'm craving that intimacy," she confides to the camera. "I hope he's feeling the same way."
Rebuilding Trust
Stacey meets with Florian to confront him about the video. "With this new video surfacing, I don't need to be dealing with this bulls**t," she starts. "You should have never met with her. Point blank, simple. Why the f**k did you meet with her? Why the f**k were you in her bed? I thought it was over months ago but she keeps exposing s**t with you…Is there anything else I need to know?"
Florian repeats that "nothing happened" and he never slept with her. He has a weird story about this woman "luring" him into her hotel room and admits that she tried to kiss him while posing for a photo. "It's not my life, this girl. I live life for you," Florian tells Stacey. He also lets Stacey check his phone; however, Florian has to translate some texts.
"I don't want to talk about it anymore, I just want her to stop posting this stuff, making it look like what it's not," Stacey explains. She believes Florian and calls the video a "set up" from the woman.
He gets down on his knees again to ask her to marry him, and they kiss. "We will not be defeated. We want to be together. We are stronger than this," Stacey states in a confessional. "She's not going to break me down, that's for sure."
Honey Problems
Simultaneously, Darcey plays detective and investigates Florian's mystery woman. Darcey finds her phone number and FaceTimes the supposed mistress. The best part: The number is saved as "Bitch" in Darcey's phone. Darcey asks for the other side of the story and what really happened between the woman and Florian.
"When Florian met me through Instagram, he was like texting me messages…He was complaining that he's four years in a relationship with your sister Stacey, that he gets tired to be on the leash, just like a puppy," the woman tells Darcey. "He makes me believe that he's not together with Stacey. I am so mad at Florian too…I'm not a home wrecker, I'm a strong woman."
Darcey asks specifically how those photos and video were taken. The woman claims that she's a "victim" and Darcey should ask Florian instead. "Keep it simple, honey," Darcey responds.
The woman does not take the pet name lightly: "I am not your honey, okay? And it's not my fault that Florian's sugar want to taste my honey, OK?" Wait, what? So they did sleep together?
"Why would sugar want honey?" Darcey questions to the camera. "Wouldn't honey want bees or something? I don't know." To the woman, Darcey calls her statement a bluff and asks point blank if Florian had sex with her. The woman plays coy and says that the pictures "said it all."
"The pictures look fake, honey, just like you," Darcey claps back. "It's just staged photos so you can get attention…Stay out of our life, honey." The woman, apparently named Shanti, just laughs and sips her cocktail. Darcey hangs up without answers.
Previews
Next time, Darcey asks her daughters if they approve of Georgi moving in during quarantine. "It is going to look crazy that we're moving in together after just a couple dates," Darcey admits, "but this is the risk we have to take."
Stacey also has to find someone to marry her and Florian during their 90 days even with courthouses and churches being shut down. They plan to elope, which is not a good idea especially after Darcey's interaction with Shanti. Stacey is shown donning her wedding gown, but a last minute legal issue arises and they have to drive to a different town before midnight to be officially wed.
And in a huge surprise, Shanti emails Darcey more videos of herself with Florian, claiming once again that she believed he was single. Darcey urgently states that Stacey needs to see them, but unbeknownst to her, Stacey might have already tied the knot.
We can't wait for next week!
Darcey & Stacey, Sundays, 10/9c, TLC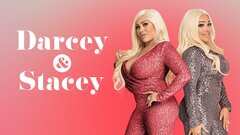 Powered by