'Sharknado' Producers and Mark Cuban Team to Bring 'Elvis Lives!' to AXS TV
Sharks flew. Now Elvis Lives!
Shark Tank star Mark Cuban's AXS TV will partner with The Asylum—the same folks who brought you the camp-tastic flying sharks/Ian Ziering/Tara Reid mashup that is the Sharknado film series—to develop the net's first ever original movie. One that turns The King from a corpse to a crimefighter.
RELATED: Shark Tank Knits Together Some Bearded Hat Fun (VIDEO)
According to this morning's announcement, Elvis Lives!—commissioned by Cuban, himself, after he got to play the POTUS to Ann Coulter's V. P. in Sharknado 3—"takes the legend of rock n' roll icon Elvis Presley to the next level, bringing one of the most infamous conspiracy theories to life and asking the question, 'What if Elvis never really left the building?' Plagued by a heavy drug addiction and his failing voice, The King is desperate to make things right with himself, his deceased brother and God. His attempts to get back on track are thwarted, however, after he helps the cops bring down a powerful crime syndicate — putting his family in danger and sending him on a journey that will change his life forever."
"They're the perfect fit to bring this wild ride to life, as we celebrate the life and legacy of The King's reign, crafting a unique and original storyline that explores the well-known conspiracy theories and allows our viewers to form their own conclusions," said Cuban of his Asylum partners Paul Bales, David Michael Latt and David Rimawi, who co-produce along with David Garber.
RELATED: And the Next Sharknado Title Is … The 4th Awakens!
There are plenty of theories to choose from. Some believers cite the lack of specificity about the way in which Elvis left the … um … universe. Drugs? A wonky heart? Suicide? A desperate need for Ex-Lax? What is the official story? Others say his dad's insistence that the death certificate and autopsy results be sealed for half a century sounds awfully suspect. Some swear they saw the corpse sweating in the casket. Or maybe it was melted wax.
And everybody who knows somebody who knows somebody who knows somebody who swears they saw an elderly Elvis buying Funyuns at the gas station, raise your hand. No? Maybe that's just me.
In any case, it's not the first time that The King lived on — literally — in the movies. Our personal favorite? Bruce Campbell mummy-fighting Presley in 2002's Bubba Ho-Tep.
Thank you, Bruce Campbell. Thank you very much.
Your move, Mr. Cuban.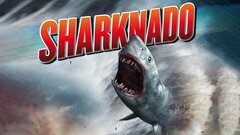 Powered by